We're drinking our morning coffee, still rubbing the sleep from our eyes, when we spot two male lions, lying high up on the bank, on the other side of the Luangwa River. It's hard to tell who is watching who. Are we the watchers or the watched? Rapidly finishing our coffee, we drive the one minute journey from the lodge to the river crossing point, where a team of young men are waiting to pull us, on a pontoon, across the water. The morning air was chilly and still, the river flowed like silk and a brilliant sunrise lit the sky with streaks of red, pink, purple and orange. Immediately we reach the opposite bank, we clamber into the game drive vehicle, and head off in search of the lazy lions.
In these days of consumerism, depletion of the natural world, pollution and global warming, when we seem to be gobbling up the earth's resources at an alarming rate, travellers have started taking stock of the environmental impact of their holidays. They've become more conscious, and conscientious, in their choices, and are looking to travel in a way that strikes a balance between satisfying the desire to see the world, and doing so in a way that doesn't negatively impact the very places they've travelled to see. Choosing a sustainable approach to a safari is a good way to start. A sustainable safari supports and empowers local communities, protects the natural environment, advocates wildlife conservation, and leaves behind it a minimal footprint.
Luxury and amazing wildlife adventures don't have to come at the expense of sustainability. An increasing number of African lodges have started prioritising eco-friendly practices as much as they do show-stopping wildlife experiences. This is why I had come to Green Safaris' Shawa Luangwa Camp in Zambia's South Luangwa National Park. South Luangwa National Park, often referred to as the 'Valley of the Leopard' for its high density of leopards, covers 9,050km2 in eastern Zambia. The park holds the highest carnivore population in Zambia, as well as the largest hippo population in Africa. This is also a dream destination for birdwatchers, with over 469 species of birds found here.
The spot where the lodge stands was handpicked, after many years of searching, by Jacob Shawa. After leaving school Jacob embraced his passion for wildlife by qualifying as a safari guide, a role he came to excel at, ultimately being recognised as one of the world's top eight safari guides by Wanderlust magazine. In recognition of this achievement, Senior Chief Nsefu of the Luangwa Valley, offered Jacob the opportunity to choose for himself a piece of land in his chiefdom on the Luangwa River, and from these humble beginnings Shawa Luangwa Camp was born.
Jacob partnered with Green Safaris, a pioneering and passionately eco-friendly safari operator, with a strong commitment to reducing its footprint on the environment, and focusing on sustainable initiatives. The company's goal is to leave the areas they operate in as untouched as possible. Most of Green Safaris' seven lodges are run by solar farms, utilise water reticulation and bio-gas systems, and have banned single use plastics, amongst other eco measures. Shawa Luangwa Camp itself is 100% sustainable, running completely off the grid, with a large solar farm powering the entire lodge and also recharging their other innovation, electric Land Cruisers. The lodge operates the only 'eCruisers', electric game drive vehicles, in South Luangwa. These are not only more environmentally friendly, but also mean you experience your safari in an entirely new way… silently. A quieter, more immersive and more enjoyable experience. Indeed the loudest sound we heard from our vehicle when out on game drives, was the crunch of gravel beneath the tires. It was also interesting to see the animals' reaction when we gave them the 'silent treatment'; usually we got up pretty close before they even noticed our presence, and once the startled realisation that they were being watch had worn off, they just went right on back to what they'd been doing before we'd arrived!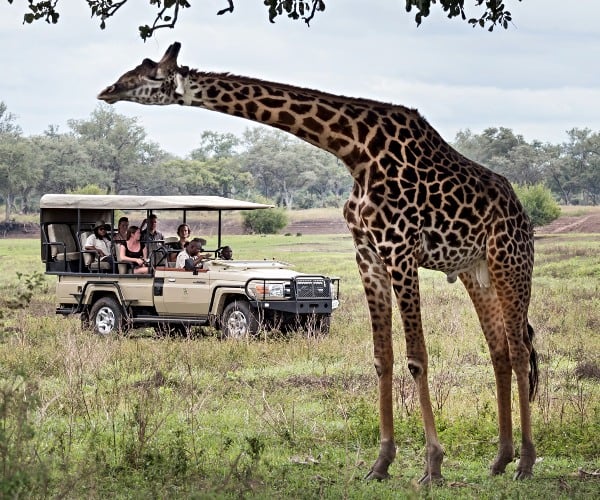 Now, back to those lions on the bank… Having crossed the river we set off in search of them. Our search was in vain. They clearly weren't as lazy as they'd looked. Reaching the spot where they'd been lying, not a trace of them was to be found. Whilst the lions may have been elusive, there was plenty else to see. Two of the parks endemic species, Thornicroft's Giraffe with their white legs and faces, and Crawshay's Zebra, were spread across the plain. Impala, waterbuck and a lone Cookson's Wildebeest (another endemic species) dotted the landscape. A huge herd of buffalo, almost a thousand strong, crossed the road, surrounding us on all sides. A spotted hyena lay sleeping in the sand, illuminated by a ray of sunlight. Helmeted guinea fowls trooped across the grassland like soldiers. Village weaver birds' nests hung like Christmas decorations in the umbrella shaped acacia trees. And then, just as we returned to the pontoon on our way back to camp for brunch, a young female leopard appeared alongside us, clearly not having heard our almost silent approach.
Brunch on safari is of course not complete without a post brunch siesta, and we retired to our 'tent' to digest. Our tent made me think of an enormous, yet elegant 'teepee', raised on a platform, with canvas sides that could be lowered or raised on demand, depending on your preference. We elected to keep ours open so we could enjoy the view, and were rewarded by a visit from a huge troop of baboons. The trees above and around us were full of swinging, jumping and snacking baboons. On the ground below more baboons foraged and ate. Beyond the baboons we could see hippos and wading waterfowl in the river. A pied kingfisher repeatedly dived for fish in the shallow waters, and a pair of young male kudu stood amongst the trees on the opposite bank.
Our afternoon was spent with more buffalo, impala, giraffe, zebra, wildebeest and a sizable herd of elephants, ranging in size and stature from the large matriarch, right down to the smallest of babies. Later in the day, we would see more than our fair share of leopards. A young female using a gully to stalk a puku, a young male lying in the shade by the side of the road, and finally a large male, who under cover of darkness sauntered down the road ahead of us as we made our way back to camp, liberally marking his territory as he went. As we crossed the river on the pontoon, heading back to the lodge, the air was still and all around us was silent. Overhead a blanket of stars shone in the night sky. It was so beautiful you wanted to hold your breath in amazement and it was a magical way to be reminded of how small we were, in such vast open spaces. This was our last night in South Luangwa and this was a perfect way to say goodbye to the park.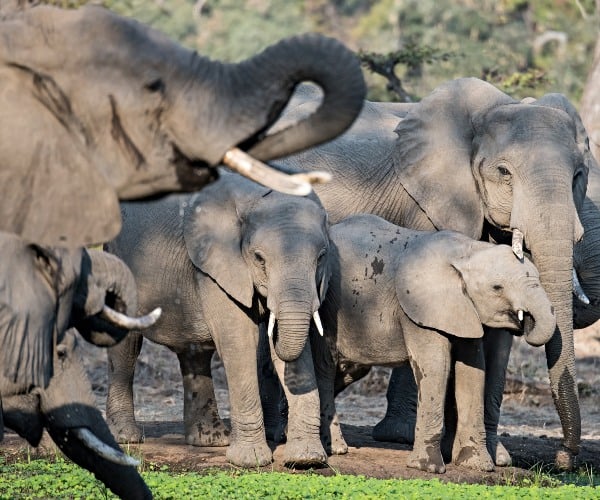 If you love the beauty of the African bush, and the opportunities it presents for wonderful encounters and experiences, you want to protect these magical places. Fortunately there are people and places like Green Safaris and Shawa Luangwa, working to create a sustainable future for tourism in South Luangwa.