Recognized for its stellar reputation as a destination committed to providing healthy and safe travel for residents and visitors, Finland has proven to be the ideal post-pandemic destination for travelers looking to visit countries that provide the perfect balance between sustainable practices and immersive experiences. With pent up demand for international travel growing, Finland offers the space, cleanliness and stand-out offerings that allow travelers to truly enjoy immersive Finnish experiences. From remote and stylish forest hideaways and off-the-grid lakeside retreats, Finland is the perfect place to escape from everyday life and reconnect with nature.
Finland is already known for its amazing destinations and outdoor adventures, and the country is expanding its offerings to include new, off-the-beaten-path places to recuperate and explore this year where space, privacy and the great outdoors come as standard. Here are the top six new places to keep top of-mind when planning a nature-bound vacation in Finland.
Barö Archipelago Hotel
The Barö Archipelago Hotel located in Uusimaa, Barösund, Inkoo, Finland opened on June 1st, 2021. This luxury boutique hotel is only an hour away from Helsinki and will showcase the beauty of the surrounding archipelago including the Elisaari area, the site of one of the largest natural oak forests in Finland. The hotel will have 20 separate rooms with incredible panoramic views and the option of a suite with a private sauna and hot tub. The hotel also has contactless check in and check out systems, digital food ordering and activities can be booked via an app to minimise contact.
Kuru Private Resort
Luxury meets the wilderness at the new adults-only Kuru Private Resort in Saimaa, Finland, the first one in the country. Stay in one of the 16 elevated private villas situated on the edge of Lake Saimaa surrounded by nature. These secluded retreats include a private sauna and allow guests to completely switch off with no televisions and optional Wi-Fi in the rooms. Guests can also make the most of the pristine wilderness throughout the year with experiences such as ice fishing, ice swimming, hiking and seal spotting safaris to catch a rare glimpse of the endangered Saimaa Ringed Seal.
Haltia Lake Lodge
Bringing nature to Helsinki, Haltia Lake Lodge is due to open in Summer 2021, located in Nuuksio National Park, just a 20-minute drive outside of the city. The hotel offers guests experiences such as a two-day kayaking safari, an expert led Spring birding trip or even a simulation exercise for surviving a snowstorm. What's more, sustainable practices and environmental values are at the heart of the hotel and the property runs on 100% renewable energy, doesn't use any plastics and aims to be carbon negative by 2023.
Majamaja, Helsinki
Off the coast and off-grid, Majamaja is a minimalist's dream, offering a secluded retreat in the heart of Helsinki archipelago. The inspiration for Majamaja comes from the Finnish archipelago itself and its minimalistic tradition. At Majamaja, guests may wake up to the subtle sounds of seabirds and the gently rolling waves of the Baltic sea. A blend of harmony and coastal nature is combined with the wooden Majamaja design, it offers a comfortable shelter as well as a sophisticated, yet modest, immersion in nature.
Sunday Morning Resort, Pyhä
Located in a private forest setting in the tranquil area of Pyhä in Lapland, Sunday Morning Resort is an exclusive lakeside holiday resort. The resort is located about a 5-minute drive away from Pyhä ski resort and Pyhä-Luosto National Park. The resort consists of a spacious and stylish main lodge and four hotel apartments made of old pine timber, and all the interiors are newly renovated. The resort is carbon neutral due to its eco-friendly heating systems and surrounding 6-acre forest, plus guests can enjoy carbon zero emission activities such as electric snowmobile safaris and tours with electric fat bikes. Whether you are looking for a peaceful holiday spot or an active getaway, The Sunday Morning resorts offers the best of Lapland all year round.
Ollero Eco Lodge, Rovaniemi
Home to more reindeer than it is people, Finnish Lapland is the perfect place to escape the crowds and relax in privacy. Ollero Eco lodge, sits in a secluded beauty spot by the Ounasjoki river, allowing guests a 'wilderness feel' despite being only a 10-minute drive from Rovaniemi city centre. Comprised of three separate buildings in total (main cottage, glass igloo and sleeper cabin), Ollero Eco lodge is a completely eco-friendly retreat, its design combining comfort with local building heritage. Ollero Eco Lodge is ideally placed to chase the famed Northern Lights as well as other winter activities such as ice fishing, snowshoeing and traditional Finnish sauna. During the Summer months, guests can try their hand at fishing, paddle boarding, kayaking or they can experience a scenic hike or cycle. What better base for travellers desperate to get off-the-grid and reconnect with their beautiful natural surroundings?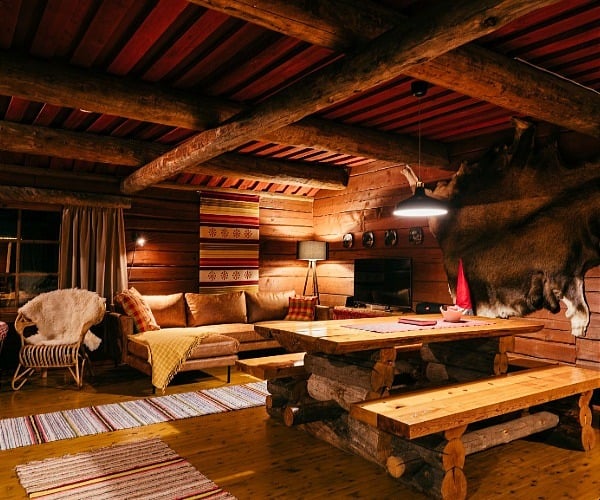 Lake Hotel Lehmonkärki – Haasi Mirror Houses, Lahti
Situated in Asikkala (Lahti Region), Lake Hotel Lehmonkärki provides adult-only mirror houses on the peaceful Lake Päijänne, the second largest lake in Finland. With a restaurant, bar, lakeside hot tub spas and hot spring baths, this 5-star hotel offers guests everything they need to unwind and relax in the beautiful surroundings of Finland's famous lakelands. The surrounding areas of the property invite guests to indulge in adventure activities such as skiing (the hotel offers free ski hire) as well as hiking, or they can simply recline on the hotel's private beach front. Located nearly 20 miles from the nearest major city, Lake Hotel Lehmonkärki offers travellers a blissfully secluded escape from civilisation.