Despite its status as the world's nightlife capital, Ibiza is a small Spanish island with a tremendous following. Whatever your interests, you can find them in Ibiza. From exploring the island's natural splendor, visiting Mediterranean coastal towns to learning about the culture, anything is possible here.
Take advantage of the island's extensive network of bike paths and trails to sample the island's diverse culinary offerings. Dance the night away at some of the world's most prominent clubs. Hike up Dalt Vila and meander through the maze of centuries-old stone walls.
Listed here are our picks for the five top hotels in Ibiza, each of which may cater to different moods.
ME Ibiza
On the east coast of Ibiza, Spain, the ME Ibiza is a luxury beachside hotel. Chic contemporary extravagance abounds in this white L-shaped hotel suite. ME Ibiza is also a five-star hotel, making it one of the world's best. Moreover, the entrance to the hip bar is via the foyer, which boasts brilliant contemporary sculptures, an exotic birdcage, and other wooden accents.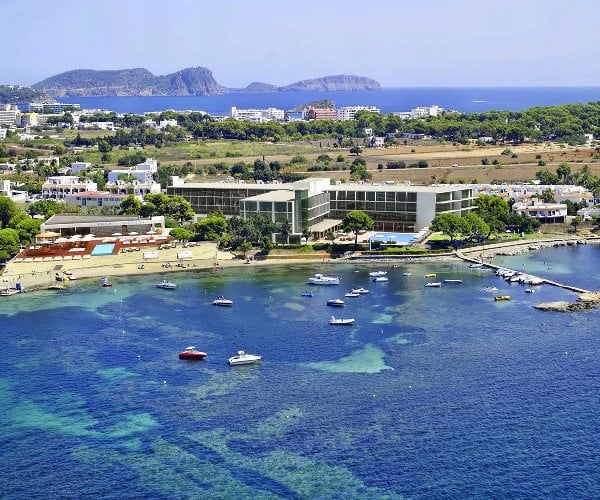 Guests will also appreciate the efficiency and friendliness of the employees and the concierge service's extensive expertise. At Me Ibiza, there are 176 opulent rooms and 24 luxurious suites. In keeping with the overall motif of light and air, the decor has soothing pastels and whites and large windows that allow natural light to flood the room, in addition to the rooftop restaurant, a bar, and lounge on the upper level.
Furthermore, guests may go to the main pool. This is a hot area for DJs, an all-day restaurant, and a cocktail bar open to the public. All of the hotel's swimming pools are a standout feature. Besides, you can find an adults-only infinity pool with sun loungers on the hotel's rooftop. Guests may also rent cabanas and a poolside bar, and stunning views.
Nobu Hotel Ibiza
For those looking for an escape from the partying environment of Ibiza, the Nobu Hotel Ibiza Bay is an ultra-luxurious contemporary bijou hotel. Celebrities, families, couples, and solo travelers flock to the resort. This is due to its beachside setting and high-end facilities. There are 152 guest rooms in all, with 74 being luxury suites. They are made of soft, natural materials and include aqua/white and gold accents in a color palette of aqua and white.
Additionally, spacious suites surround glistening swimming pools, which sparkles the crystal-clear sea. With its proximity to the ocean, the patio/veranda design is ideal for bringing in rattan and wicker chairs, as well as whites and blues.
Furthermore, it's not just about the rooms and suites. There's a kid's club, sailing and boating expeditions, top-notch service, and great food. Nobu Matsuhisa's culinary prowess is evident throughout the experience.
The hotel's laid-back ambiance allows guests to dine whenever they like. There are also several high-end restaurants open throughout the day and 24-hour room service.
7 Pines Resort Ibiza
On Ibiza's west coast, between Cala Conta and Cala Codolar, is the pine-forested 7 Pines Resort. You may find unparalleled views of the Mediterranean Sea and the mysterious rocky isle of Es Vedrà here. This makes it an ideal spot to take in the sunset. The 56,000square-foot resort has 185 rooms, 4 bars, and two restaurants. An Ibizan town of whitewashed cottages also inspires a spa and wellness center.
Additionally, there are 3 Pershing Yachts for charter. Pure Seven, the Spa at 7 Pines Destination by Hyatt Ibiza, is the heart of the resort, surrounded by pine trees and overlooking the sea. Inspired by the Ibizan way of life and energy, this wellness retreat aims to re-establish harmony between the physical and mental selves.
Furthermore, the pampering sanctuary is open to hotel guests and visitors alike. It is devoted to holistic wellness experiences that impart a feeling of purity and tranquility.
W Ibiza
The W Hotel Ibiza is in Santa Eulalia del Rio, a quiet island area. The island's capital is just 10 miles away if you want to go out. Moreover, the hotel's amenities follow what you'd expect from a high-quality, worldwide chain hotel. Wi-Fi, currency exchange, safe deposit lockers, and a concierge desk are all in these services. Laundry, dry cleaning, valet, and room service are also available.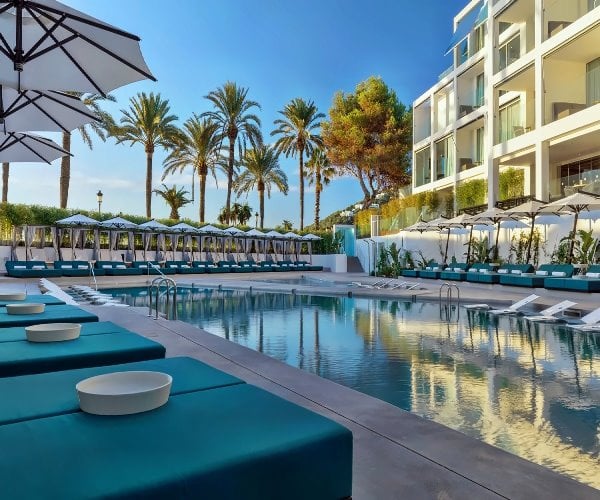 Moreover, elevators also ensure that persons with disabilities are well-served throughout the building. The hotel's more than 162 guest rooms and suites are divided into four distinct categories. There is the Wonderful Room, the Mega King Room, the Fantastic Suite, and the Fabulous Room, to name just a few options.
Guests may also choose from a wide range of eating selections and experiences at all times of the day. This implies that W Ibiza has something for everyone's palette and taste senses. Besides, if you want to get away from it all, the Away Spa is the place for you. Away Spa makes your vacation more relaxing. In addition, it offers a variety of therapies for adults and children in various treatment rooms.
Bless Hotel Ibiza
Ibiza's five-star luxury hotel is ready to welcome sybarites in pursuit of sensory overload and global nomads searching for spiritual renewal. Inspired by Coco Chanel's designs, each room will transport you to an iconic, eclectic Mediterranean atmosphere. Moreover, the rooms' interior decor revolves around restored classics. Chef Martin Berasategui's Etxeko Restaurant is one of the menu's two a la carte restaurants.
Moreover, on-site, Magness Soulful Spa with six treatment rooms, Rossano Ferretti Hair Salon, and a FITNIC power gym. The App Bless Hotel Collections was also built for the convenience of clients after the hotel had a complete renovation in 2019. Magness Soulful Spa offers a Turkish bath, hammam, hydrotherapy, aromatherapy showers, and a Jacuzzi for your relaxation.
There are also Ibiza-inspired treatment rooms, where you can enjoy cutting-edge massages and cosmetic procedures. Furthermore, don't forget to visit the health bar and the Rossano Ferretti beauty center for a total pampering experience.
Most visitors to Ibiza come for the sun, the beaches, and the nightlife. This Spanish island is a popular spot for jet-setters in the Mediterranean Sea and delivers the world's hottest uninterrupted parties. There are a wide variety of accommodations available. These range from beachfront houses with DJs pumping the beats to historic inns in the heart of the city. There are also secluded villas on the cliffs above the town. They all have breathtaking vistas and are celebrities, and the affluent and famous often flock to them. Ibiza has a plethora of beautiful hotels, so enjoy our compilation of a list of the finest.
Guido Graf is Founder of Privateupgrades. Privateupgrades is a global luxury travel club with over 20 years of experience in luxury hotels, ensuring exclusive VIP privileges like upgrades, free breakfast, free nights, rate discounts, free airport transfers, free massages and much more.
If you would like to be a guest blogger on A Luxury Travel Blog in order to raise your profile, please contact us.