Can't decide what to buy your partner for Valentine's Day? Celebrate love's infinite power and treat that special travel enthusiast in your life with one (or more!) of our 20 Valentine's gift. Our selection consists of gifts for him that he'll actually want to receive, regardless of where he travels to next.
Click here for our Top 20 luxury travel gifts for her this Valentines Day (UK edition).
Kenda Decorative Globe from nkuku
A globe conjurs up visions of explorers and adventurers; it is also a great accessory for a living room or study for the travel-loving Valentine in your life. The Kenda decorative globe captures the nostalgia of bygone adventurers and will help him plan his own new ones. The soft sand-coloured tones of the globe are complimented with the brass-hued axis, and the warm natural tones of its chunky mango wood base.
Nordsjo Parka from Helly Hansen
Modern, warm and weatherproof, this parka delivers protection on the coldest days. Built it with Helly Hansen's trusted HELLY TECH® Protection construction, so it's waterproof/breathable and windproof, it is made with the environment in mind; the water-repellent treatment is PFC-free and the insulation is made from 100% recycled materials. Extra features include fold-up reflectives on the sleeves for visibility and knitted wrist gaiters for extra warmth, plus a detachable faux fur to the hood,
combining style and functionality by creating a warm microclimate around your face when you put your hood up. RRP £300.
This water-resistant and spacious weekend bag from Sandqvist's Urban Outdoor series is constructed in Cordura® EcoMade polyester with leather patch details. It can carry up to 30L and features interior pockets for keeping his passport and wallet within reach. It can be brought as carry-on luggage and the durable material will allow his bag to stay good looking regardless of how many times he travels with it.
Nike Air Force 1 Low Love Letter from The Edit LDN
The Valentine's Day Air Force shoe is a simple execution that features an all-white upper with a gushing red heart with a pendant-style border on the heel. This AF1 is a bit different with the pink suede and a bright red leather Swoosh, but what sets these apart is the special tongue label that doubles as a love letter to arguably the greatest Nike shoe ever made.
Personalised leather camera bag from Vida Vida
This handmade leather camera bag is perfect for keeping your SLR camera safe whilst showing off a bit of vintage style. This gorgeous, hand-crafted bag is made from Vida Vida's signature "sun-tanned" leather, which has a wonderful vintage character that works well with this functional design.
You can securely fit your SLR camera inside as well as an extra lens and chargers etc and all sides are padded for extra protection. If you're not taking your camera with you it still looks great as an everyday bag. There are 3 pockets on the outside for extra storage and the shoulder strap is long and adjustable. And for that extral special Valentines touch, you can have it personalised too.
Evoc bike travel bag from Bikeinn
The Evoc bike travel bag, available from Bikeinn, is the perfect solution for transporting almost any type of bicycle. As a hybrid construction, it combines the advantages of a rigid case with the properties of a soft bag. And with interior dimensions measuring 130 x 27 x 80 cm, it fits almost all bikes. It is available in bright red to make the perfect Valentine gift.
Taylor of Old Bond Street luxury leather manicure set from Farrar & Tanner
This elegant set, available from Farrar & Tanner, has been handcrafted in the German metalworking capital, Solingen. Ideal for getting ready before evenings out or travelling for business trips, the set includes nail scissors, nail clippers, slanted tweezers, a sapphire dust nail file and a cuticle pusher/nail cleaner. Kept in a leather zip case this is a compact but stylish addition to his grooming routine.
Presented in a special gift box, add a unique touch he can take anywhere with a short engraved message on the nail clippers.
Tartan travel mug from Barbour
Cut down on waste in classic style with this reusable travel mug. Made from a sustainable bamboo-based material with silicone grip and lid, it's detailed with classic Barbour tartan on the outside for a unique look.
Gems of Modern Alchemy from ESPA Skincare
Sacred rituals and ancient wisdom, reimagined for modern day souls thanks to ESPA Skincare. A deeply sensorial bodycare collection of jewels that explore healing rituals and transformative textures. Letting nature cocoon you with its precious ingredients as you emerge beautifully restored.
Ettinger Bridle Hide Travel Shoe Horn from D.R. Harris & Co. Ltd.
This foldable metal shoe horn comes with a leather handle and a leather pouch and makes for an extra-special Valentines gift. It is made especially for Ettinger with fine bridle hide that is dyed through and much finer in all respects, meaning it is much better for making small leather goods in the refined way that characterises Ettinger.
This regal G-shock timepiece is highly durable with a Dura soft Fluoro-rubber band and finished with a traditional Japanese bishamon kikko pattern printed on the band, making this an unmistakably unique piece. The titanium used is subject to deep –layer hardening making it five times harder than normal titanium, titanium carbide coating increasing its wear resistance and diamond like carbon coating on its buckles giving this timepiece an exquisite finish. Both intricate in design and technology, this piece contains GPS navigation, Bluetooth connection and solar powered charging.
Calvin Klein classic men's hip briefs from Pants&Socks
Gents often forget to buy underwear for themselves so this is guaranteed to be a welcome Valentine gift for the man in your life. This Calvin Klein 3-pack of hip men's briefs from Pants&Socks come from the Cotton Stretch range – classic designs and everyday style cut from soft cotton with enough stretch to ensure a superior fit.
Canvas wash bag dopp kit from Bennett Winch
With a host of thoughtful features, the Bennett Winch canvas wash bag brings their unrivalled attention to detail to a travel essential. Lined in waterproof Italian nylon, this made in England wash bag has an internal clip-out wet compartment – perfect for razors and beard clippers. An internal pocket provides secure space for smaller tools, whilst the wide mouth opening of this dopp kit offers easy access to all your toiletries. Seen here in bonded cotton canvas, you can be sure everything will be kept safe and secure underneath the YKK brass zipper.
Flight Essentials Kit from Dr. Barbara Sturm
Whether your Valentine is taking a short or long-haul flight, cabin pressure, recycled air, higher exposure to radiation and a lack of oxygen can leave his complexion dehydrated, puffy and irritated. Dr. Barbara Sturm's Flight Essentials Kit is the go-to solution to keep skin moisturized and radiant throughout your journey and after you land.
Featuring six deluxe-sized products in a chic, holographic travel bag, the cleanser, anti-pollution drops, face cream rich, face mask, super anti-aging serum and calming serum will have your partner's skincare routine covered from the moment he boards the plane and throughout his journey.
Vegan Chocolate Truffle Selection, 90g from Fortnum & Mason
Truly love at first bite, these decadently smooth vegan Praline and Caramel Truffles from Fortnum & Mason are simply irresistible. Inside the heart-shaped box you'll a selection of silky hazelnut praline centred truffles – lavishly coated with Original Beans Virunga 70% chocolate, boasting notes of Morello Cherry and Black Tea. And the lavish flavours of a vegan caramel, dusted with this exceptional chocolate variety that provides extraordinary depth of flavour.
From the all-female cocoa cooperative in the Eastern Congo where the beans are expertly grown, to the family-owned chocolatier in England where they were transformed into these delicious truffles, these chocolates have been lovingly produced with exceptional flavour in mind.
International travel adapter from Grandado
This universal travel adapter and wall charger comes with 5.6A Smart Power and 3.0A USB Type-C for travel in the United States, EU, UK and Australia. This multifunctional device is easily portable and comes with a large range of options, meaning that he'll be able to charge multiple devices at the same time, no matter where in the world his travels take him.
Pendleton travel chess set from Selfridges
Challenge your travelling companions with this chess and checkers set from Pendleton. Made from canvas, this game features a signature Native American inspired print in blues and oranges. With everything you need for a game of chess or checkers, it can also be rolled to make it perfectly compact.
Bulldog swim shorts from Orlebar Brown
This is Orlebar Brown's original tailored swim short with side fasteners. The Bulldog short was in the very first OB collection and to this day is their best seller. Based on the pattern of a traditional man's tailored trouser, the Bulldog is not just a swim short – but a short you can swim in. A perfect bridge short, tailored for style, comfort and performance that he can wear on and off the beach.
The Cream from Augustinus Bader
The Cream from Augustinus Bader is a light, refreshing, deeply hydrating daily moisturizer. It supports cellular renewal to dramatically improve the complexion's appearance and is backed by 30 years of research and innovation.
Staying true to the great stories that are intrinsically woven into the Curv technology and its iconic design, Samsonite proudly introduce C-Lite. This top-notch and made in Europe collection now ensures an even smoother travel experience offering double wheels and an elongated double pull handle. Its incredible lightness and outstanding comfort will make your loved one's journey even more delightful.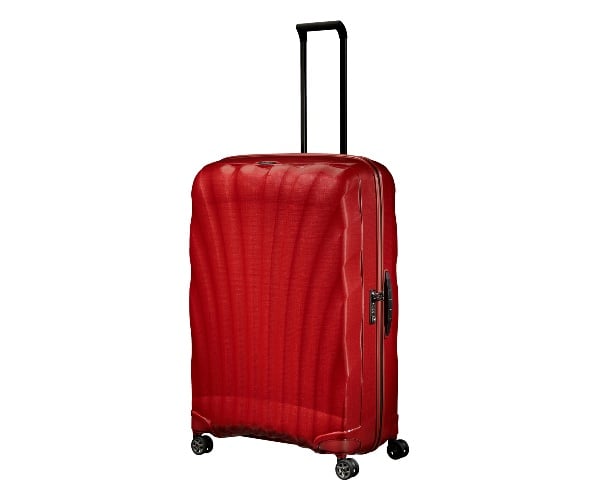 Retailers and PR agencies interested in being included in similar articles and round-ups to this one on A Luxury Travel Blog should join our mailing list and complete this form. Thank you!