As Southeast Asia drops many restrictions and welcomes back tourists, now is the time to start planning an adventure to this enchanting region. Slowly, country by country, the COVID based entry requirements are being reduced (and in some cases removed altogether) meaning that travel is once again a reality. So whether you already live in Southeast Asia and are planning a city break to one of your neighbouring countries, or you are once again dreaming of a long haul trip to a tropical location, there has never been a better time to visit. As tourism restarts, you can expect to enjoy your chosen destination without the crowds, and also to enjoy some excellent deals at some of the finest hotels and resorts in the region. In addition to this, you will be welcomed by staff teams, tour guides and locals that are as excited for tourists to return as you are to travel.
Below are four of our favourite countries in Southeast Asia that have recently re-opened, some of our favourite luxury hotels and resorts for you to to chose from, and the current situation regarding post covid entry rules for each location. We hope this gives you the inspiration you need to book a flight and come and join us in Southeast Asia!
Cambodia
The Kingdom of Wonder is home to the remarkable Angkor Wat, the largest religious monument in the world, and for many people a 'bucket list' destination. But this incredible country has so much more to offer. From the mighty Mekong river, to the jungles of Ratanakiri, the Cardamom Mountain rainforests or the coast that stretches from Thailand to Vietnam and boasts picture postcard tropical islands, there is so much more to see in The Kingdom of Wonder.
Entry rules for Cambodia
Current entry rules for Cambodia are simple, if you are vaccinated, you are free to visit with no restrictions. Combined with a number of international flights, this has made Cambodia a popular option and at the forefront of post covid travel to Southeast Asia.
Where to stay in the city
Since Jaya House River Park opened in 2016, this luxury boutique hotel has sat proudly as the number one option in Siem Reap on Tripadvisor. With just thirty six rooms, two swimming pools and an enviable riverside location, your stay at Jaya House River Park will be a memorable one. Perfectly located to explore the temples of Angkor, yet just a short distance from the restaurants and bars of Siem Reap, this luxury boutique hotel is number one for a reason.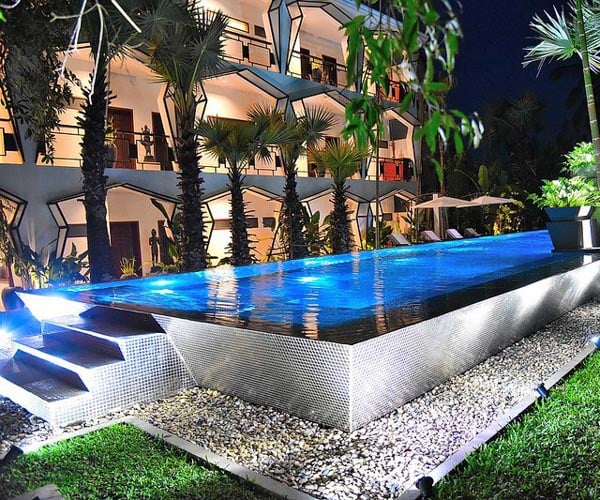 Where to stay in the jungle
The word 'unique' is used too often in the travel industry, but when it comes to the peerless Shinta Mani Wild it truly is the perfect word to describe this mesmerising ultra-luxe tented camp. Located at the crossroads of Kirirom, Cardamom and Bokor National Parks, Shinta Mani Wild is at the heart of wild Cambodia in more than one way. Working alongside the Wildlife Alliance, protecting the 350 hectares river valley from poaching and logging is a core value of this Bill Bensley designed resort.
Thailand
Thailand is a country that offers something for everyone. The excitement and metropolitan vibes of Bangkok are hard to rival, whilst the endless beaches and countless tropical islands are some of the finest on the planet. Combine this with a world famous cuisine, and jungles, mountains and rivers waiting to be explored, it's not hard to see why Thailand has been a favourite travel destination for many years.
Entry rules for Thailand
From May 1st the entry rules from Thailand have been further relaxed making travel much easier once again. For all vaccinated travellers, there is no longer the requirement for tests either pre travel or upon arrival. Just buy an accepted health insurance policy and register via the Thailand Pass website and you're free to visit.
Where to stay in Bangkok
The Peninsula Bangkok is an iconic luxury hotel that exudes elegance and style, with the riverside location offering an alternative to central Bangkok that allows a sense of peace and calm, this is escapism at it's finest. Spectacular views of the Bangkok skyline and the Chao Praya River are ever present from the luxuriously appointed rooms, whilst the three story spa facility and the 88m riverside pool provide the perfect place to relax and pamper yourself.
Where to stay on the beach
Just a 5 hour drive from Bangkok will see you arrive at the stunning Soneva Kiri where all of your luxury travel dreams are surely to come true. This exquisite island resort offers unparalleled levels of luxury and a collection of exclusive and environmentally friendly villas complete with private pools and first rate facilities. The multi award winning Soneva Kiri is considered by many to be one of the finest resorts in the region, and rightly so.
Indonesia
The Republic of Indonesia is made up of more than 17,000 islands that stretch from Singapore to the north coast of Australia. It would take a lifetime to explore them all but there are a handful that are popular and varied tourist destinations. Bali is the most well known, and welcomed more than 6 million tourists annually pre covid, but it's still possible to find that seclusion and tranquility that many desire on their vacation.
Entry rules for Indonesia
With Indonesia recently re-opening for tourism there is no requirement to undertake a covid test or quarantine upon arrival for those who are fully vaccinated. You are still required to have a covid test before you travel, and you must upload the details to the PeduliLindungi mobile app.
Where to stay in Bali
For the aforementioned seclusion and tranquility that many desire on their Bali vacation head to the wonderful Puri Ganesha in Pemuteran, on the northwest coast. This collection of four beautifully designed beachfront houses (each with a private pool and direct beach access) offer the perfect oasis for those that wish to escape the crowds. Expect fresh, creative and nutritional food from owner and renowned chef Diana von Cranach during your stay, and furthermore, expect to not want to leave at the end of your stay.
Explore Komodo on a live-aboard
Another way to escape the crowds is by joining a live-aboard that explores Komodo and the surrounding islands, and what better way to do this with the wonderful crew of Wunderpus. This once in a lifetime trip is suitable for both divers and snorkelers alike, and will see you discovering Komodo at it's very best with a crew that have sustainability as one of their core values.
---
IMPORTANT NOTICE:
If you are reading this article anywhere other than on A Luxury Travel Blog, then the chances are that this content has been stolen without permission.
Please make a note of the web address above and contact A Luxury Travel Blog to advise them of this issue.
Thank you for your help in combatting content theft.
---
Vietnam
Vietnam has a huge and varied coastline that longs to be explored, bustling cities where old meets new and jungles, mountains and rivers that stretch from north to south. Choosing where to visit and fine-tuning your itinerary is the only way to ensure that you don't miss the myriad of experiences that Vietnam has to offer. This southeast Asian country certainly has something for everyone which makes it the perfect holiday destination.
Entry rules for Vietnam
Recent changes have seen quarantine and arrival covid tests removed for vaccinated travellers to Vietnam, a test before departure and the purchase of appropriate health insurance is all that you now require. This combined with a 15 day visa exemption for residents of 13 nations makes travel to Vietnam much easier once again.
Where to stay in Hanoi
Hanoi is the capital of Vietnam with a long and storied history, and located in the heart of the capital is a hotel that has well and truly stood the test of time. Sofitel Legend Metropole Hanoi has welcomed esteemed guests for well over 100 years, and this iconic hotel with its French-colonial style in Hanoi's old quarter, is considered by many to be one of the finest hotels in the region. This is the perfect choice for those who wish to experience refined service in a luxury hotel that will impress even the most discerning of travellers.
Where to stay on the beach
Just a short drive from Nha Trang international airport and a private boat transfer will see you arrive at Six Senses Ninh Van Bay. This luxury beach resort from one of the leading eco and environmentally conscious brands in the world is truly breathtaking. The secluded and private horseshoe shaped bay is home to a series of stunning villas, some with private pools carved into the rock and others with multiple bedrooms and ocean vistas to die for. A stay at Six Senses Ninh Van Bay will create memories that will last a lifetime.
You may already have your favourite country in Southeast Asia or you may be planning to explore somewhere for the first time, either way we hope that your post covid travel dreams finally become a reality. We know that we are super excited to start exploring again, more than two years without travel was way too long! Wherever you choose, please make sure to take extra time to check (and check again) the entry restrictions as of course they are subject to change.
Paul Eyers is Founder of Vegan Food Quest. Vegan Food Quest have become luxury vegan travel specialists as they continue to find, eat and write about the best vegan food in the world.
If you would like to be a guest blogger on A Luxury Travel Blog in order to raise your profile, please contact us.