5 of New Zealand's best food and wine regions
New Zealand is a small island nation located in the Pacific ocean renowned for its breathtaking landscapes, Maori culture, friendly people, and let's not forget its national rugby team. Travel to New Zealand is mostly for adventure: bungee jumping, whale watching or glacier trekking to name just a few. However, did you know that it also produces some of the world's best food and wine? 
With a favourable climate for wine growing, it has over 700 hundred wineries throughout the country and six major grape growing regions which are all surrounded by incredible scenery. In fact, few places can boast of the bounty of natural wonders as those offered by land and sea in New Zealand. Now imagine being on a culinary adventure with this jaw-dropping landscape as your backdrop.
Food is a huge part of New Zealand's culture
The combination of Maori and western cooking techniques, with the use of indigenous ingredients have given rise to a distinctly Kiwi cuisine. It has gained a reputation for producing award winning wines and having an innovative food culture. Making it a fascinating destination for discerning food connoisseurs.
With so much on offer, where do you begin? Perhaps with five of New Zealand's best food and wine regions: Central Otago and Queenstown, Marlborough, Hawke's Bay, Wairarapa and Kaikoura.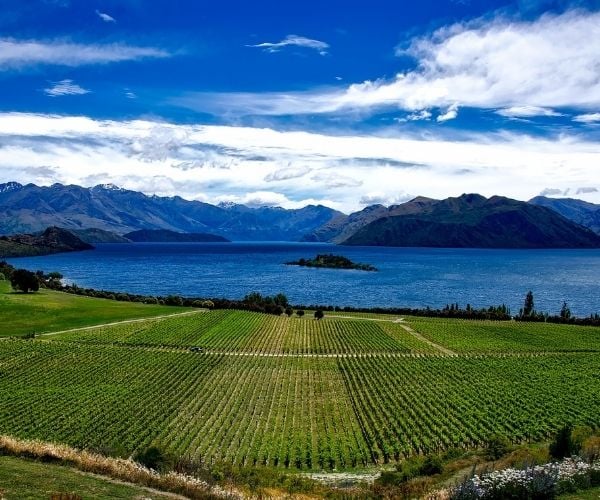 1. Central Otago & Queenstown
Central Otago has an extreme climate ranging from being the hottest, coldest, and driest wine growing region in the world. Surprisingly, the pinot noir grape thrives in such a climate and the region produces some of the world's best pinot noir wine. There are over 200 wineries around Queenstown which is in the heart of the Central Otago wine region.
Queenstown is a quaint town on the shores of Lake Wakatipu, surrounded by rugged mountains. Considered the adventure capital of the world, it has many exciting activities for thrill-seekers and outdoor enthusiasts alike.
Not to be outdone though, the food scene is buzzing with some of the best restaurants in the country. It has been an appealing destination for award winning chefs for decades.  Described as New Zealand's most cosmopolitan town, and with over 150 restaurants and bars, it has something for all tastes.
It serves outstanding dishes in both fine dining restaurants and casual cafes. From farm to table feasts and seasonal tasting menus to locally brewed craft ale.
2. Marlborough
Imagine sipping on some crisp wine within minutes from touching down at the airport. With over 100 wineries and 30 cellars to choose from, it is a wine lover's dream destination.
Situated at the northeastern tip of the South Island, it is the largest wine region, producing more than 80% of all New Zealand wines. After exploding onto the world's wine stage in the early 1980's with its Sauvignon blanc, it is the place that put New Zealand on the international wine map. Offering a huge range of varieties from chardonnay, pinot noir, and riesling as the most common.
Blenheim is in the heart of Marlborough
And is the perfect place to start your explorations of the nearby wineries and lunch alfresco amidst the vines. You could indulge in a leisurely soiree with fresh seafood prepared by the world's finest chef's. Or you could try something a little different and forage for gourmet local produce. Wander through the local orchards (in the summer months) and pick your own fruit or fill your baskets with honey, pine nuts and saffron.
3. Hawke's Bay
A region renowned for beaches, wine and local food producers, Hawke's Bay is wine country. It is notably New Zealand's second-largest wine region and the country's oldest winemaking region. If you are looking to delve into traditional Maori food, this is the place to be.
The sunny weather makes it a popular place for bicycle wine tours
Many of the region's cellar doors are connected by 200km of easy riding trails. For the active foodie, the perfect way to taste your way around the region.
The Hawke's Bay farmers market comes to life every Sunday and with its growing popularity it has become a year round must-do for any visitor. Mingle with locals in the tree-lined grounds of Waikoko Gardens and spoil yourself with goods from the region's best artisan producers. See, smell and taste the locally roasted coffee, freshly baked breads, special cheeses, seasonal fruit, wood-fired pizzas and so much more.
4. Wairarapa
Martinborough is the Wairarapa's charming wine village. It is located on the southern part of the North Island and is full of character. Producing premium quality wine with some of New Zealand's best pinot noir.
Part of the charm is that the wineries and cellar doors are all within walking or cycling distance. But what makes Martinborough, in particular, so unique is that most of the wineries and farms are family-owned.
One of these is Olivo, the oldest commercial olive grove in Wairarapa. Spend an afternoon meandering through the grove on a tree to table tour and taste internationally renowned olive oils.
The town may be small and quaint but it is big in quality. The boutique, family wineries lend a personal touch with carefully tended vineyards and warm welcomes. Experience delicious pinot noir paired with gourmet food in friendly, relaxed settings.
5. Kaikoura
Located in the Canterbury region, the small seaside town of Kaikoura has a rich history with over 800 years of Maori tradition. This beautiful area is popular for whale spotting and swimming with dolphins. In fact, unlike other places where whale sightings are rare, there is a 95% chance of spotting giant sperm whales, orcas and humpbacks. However, there is also a very different reason to visit and that is all in the name.
In Maori 'kai' means food and 'koura' means crayfish
And yes, this town lives up to its name and has some of the best crayfish in the world. You can indulge in fresh crayfish from a local street van or in a restaurant overlooking the Pacific Ocean.
One of the most famous street vans to savour sustainably caught crayfish is 'Nin's Bin'. It is family owned and has been in operation for over four decades. Their menu is simple, serving fresh crayfish and mussels. A true taste of the ocean. And with the unbelievable views, it is an authentic Kiwi experience. 
There is no shortage of exciting things to see, do and explore in the 'land of the long white cloud.' Least of all, taking your taste buds on a journey through the best food and wine regions. From the seafood, succulent lamb and manuka honey to the outstanding wine.
Andrew Morten is Founder of A Journey DownUnder. A Journey DownUnder creates bespoke, tailored trips to Australia and New Zealand.
If you would like to be a guest blogger on A Luxury Travel Blog in order to raise your profile, please contact us.
Did you enjoy this article?
Receive similar content direct to your inbox.