It's Sunday morning and we're out kayaking, just off Paternoster, one of the oldest fishing villages on the west coast of South Africa. The water is crystal clear. Huge smooth, grey boulders loom above us, covered in sea birds, all squawking and calling. Black Oystercatchers, with long red legs, forage for food among the rockpools. Cormorants, with their wings spread to dry, sit in the morning sunshine. Gulls swoop and dive overhead. We see the spray from a humpback whale surfacing, and two Heaviside's dolphins, with their striking black, grey and white markings, dive in and out of the water beside us. There can be as many as 400 whales in the bay during the season we were told, though we're delighted with one! A perfect morning, a perfect way to start the day – all part of a perfect weekend in Paternoster.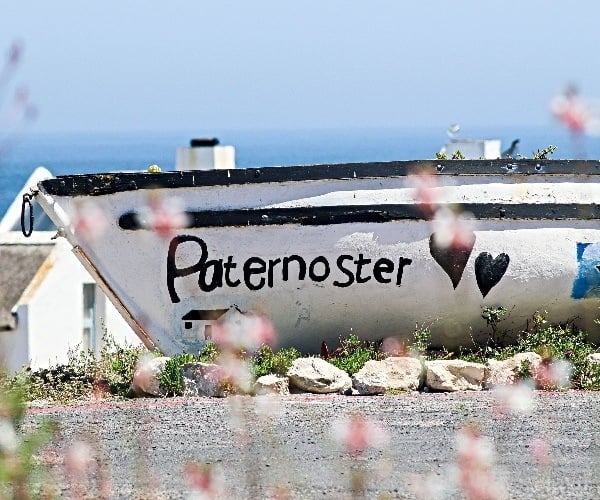 About a 90min scenic drive from Cape Town, through fynbos, wheat fields, wildflowers and the West Coast National Park, Paternoster is a wonderful destination for a weekend away, a mid-week break, or part of a longer itinerary. Known for its lobster, and the white-washed fisherman's cottages that fringe the cobalt-blue waters of the bay, Paternoster is a friendly vibrant little town full of colour and charm. With a coastline of sandy dunes and beaches, this is a really beautiful spot on the South African West Coast.
After our morning's kayaking, and after drying our damp clothes, we visit the Art Shed at the Crayfish Wharf, for locally made crafts, paintings, ceramics and jewellery. I'm really only 'window shopping', as I've no spare space to speak of in my luggage for anything extra when I fly out of the country in a few days' time. I call in at the eclectic antique shop. It's full of old toy cars, model trains and an interesting mix of other bits and pieces. There's shop had a sign outside that reads 'husband's day care centre', I wish I'd seen it a little earlier, as I might have had a bit more success shopping without my husband in tow, and being 'practical' about luggage space every time something took my fancy! Retail therapy complete, it's back to the hotel to freshen up before we're off to an operatic concert at the atmospheric Die Koelkamers Teater (theatre), also housed in the Crayfish Wharf.
Concert over, we headed to lunch at Leeto Restaurant. Leeto, with renowned Chef Garth Almazan at the helm, focuses on contemporary West Coast cuisine, with sustainable seafood and free-range meat. Freshly shucked oysters, prawn and calamari risotto, Malay spiced west coast mussels, smoke springbok carpaccio – lunch was wonderful. Sunshine, stunning views of the ocean and the surrounding fynbos, this was fuss free food, simple, but with a subtle sophistication.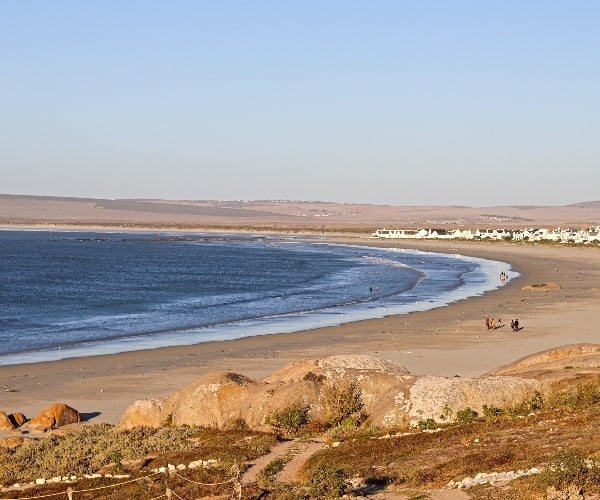 A relaxed, long lunch, was followed by a sunset stroll along the long, sandy beach. White washed cottages and colourful fishing boats gave way to a wide sandy beach, fringed with dunes and rugged fynbos. As we left the buildings behind, we had the beach to almost to ourselves, occasionally passing families out walking dogs. They all greeted us with a smile and a wave. As the sun dropped closer to the horizon, the water lit up in a shimmering kaleidoscope of colours.
The Cape Columbine Nature Reserve, 263 hectares of beautiful views and a diverse collection of flora and fauna, is just a 15 minute drive from town centre. You can hike along the rocky stretch of coastline, looking for whales or dolphins, or perhaps call in at the Cape Columbine Lighthouse. Built in 1936 and casting a beam visible from as far as 50km away, Cape Columbine Lighthouse is one of the last manually operated lighthouses in South Africa. In Spring, after the first rains fall, the Cape Columbine Reserve is covered with a dense blanket of brightly coloured wildflowers, something definitely worth seeing. (There are several pretty campsites on the water's edge in the park for self-drivers.)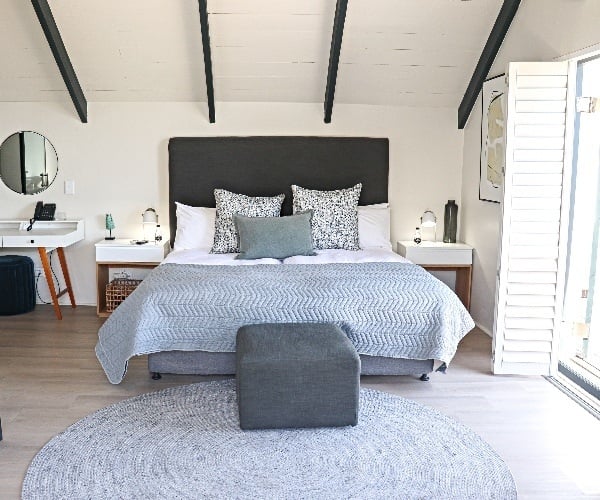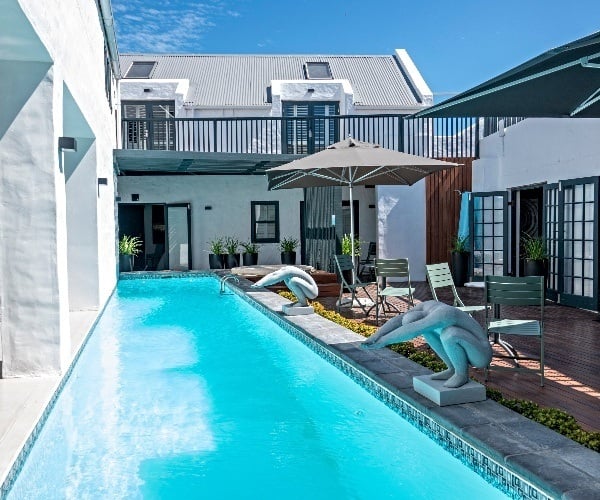 Only 200m from the ocean, and with direct access to the beach, the whitewashed Abalone Boutique Hotel & Villas might look low key from the outside, blending perfectly with the surrounding cottages, but on the inside it's a five-star retreat. With fabulous staff, the Abalone Boutique Hotel offers bright, modern rooms, situated around a beautiful sheltered, sunny, central courtyard, that contains a sparkling blue swimming pool. Comfortable beds with crisp white sheets, each room has a separate seating area and ensuite bathroom. Designed with the ocean in mind, the hotel's decor is an eclectic mix of funky modern and smooth luxury. The restaurant has great views looking out over the glistening water, and if the sea is too cold, then the hotel's swimming pool is the perfect alternative. For the perfect end to the day, a glass of South African wine on the rooftop terrace, with its stunning sunset views, is highly recommended.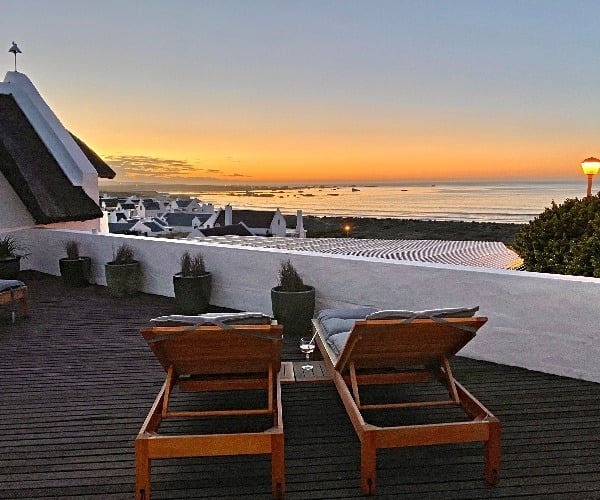 ---
IMPORTANT NOTICE:
If you are reading this article anywhere other than on A Luxury Travel Blog, then the chances are that this content has been stolen without permission.
Please make a note of the web address above and contact A Luxury Travel Blog to advise them of this issue.
Thank you for your help in combatting content theft.
---
A short stroll from the hotel, on Gaatjies Beach, is the world famous Wolfgat restaurant. Voted top restaurant in Africa and in the top 50 restaurants internationally, if you hope to eat here you will need to book many months in advance.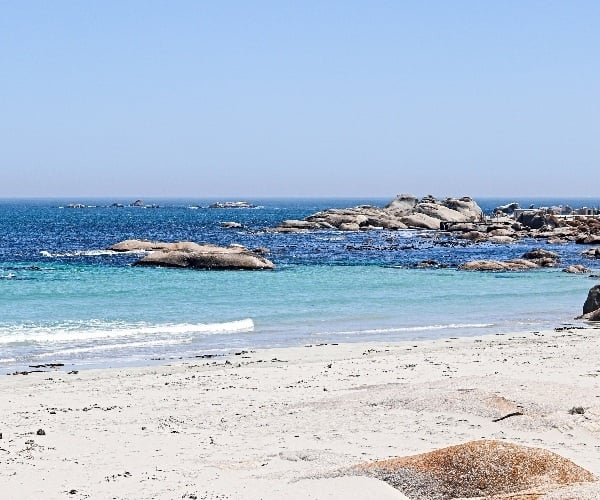 For a weekend or mid-week break, or when you've finished exploring all of Cape Town's sights and drunk your fill in the Cape Winelands, Paternoster is just the place to kick back and unwind. Relax, immerse yourself in nature, enjoy the laid-back beach vibe, feast on gourmet food, experience the town's art scene, and enjoy the best of South Africa's pristine West Coast. There's a different pace of life here, but it won't take long till you're really in the swing of Paternoster life.
Did you enjoy this article?
Receive similar content direct to your inbox.