When snorkeling becomes a passion, a quick excursion off a resort beach or a crowded boat tour to a generic site isn't enough. Avid snorkeling enthusiasts want pristine reefs away from the crowds, where ideal conditions and diverse ecosystems provide hours of in-water enjoyment. This is exactly what they find at Wakatobi Resort.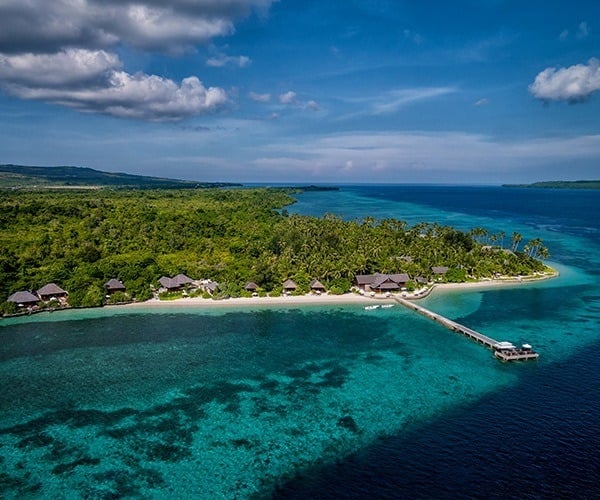 Wakatobi is a beachfront oasis located on a small island in Indonesia's Southeast Sulawesi region, home to some of the world's most pristine and bio-diverse coral reefs. The resort is surrounded by a private marine preserve that is widely known as a premier diving destination. But unlike some SCUBA-centric meccas, Wakatobi is equally attractive to avid snorkelers.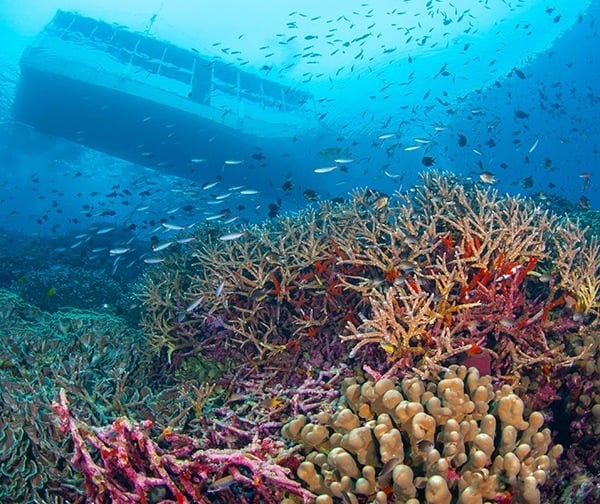 To understand Wakatobi's appeal to snorkelers, you don't need to look beyond the beach. Directly in front of the resort, a swath of shallow water stretches for more than a mile to the left and right of the dive center. This is the famous House Reef, which has been named the World's Number One Shore Dive.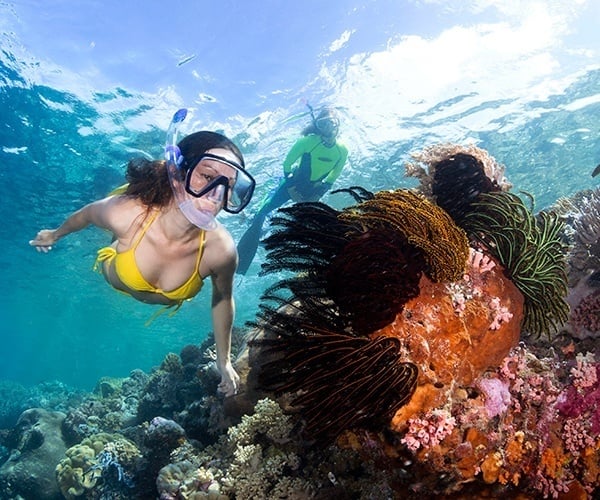 This House Reef encompasses several hundred acres of sand flats, grass beds and patch reefs that hold thousands of unique species of marine life, from fascinating subjects like grazing sea turtles to treasured finds such as pygmy seahorses and pipefish. Snorkelers have 24-hour access to this shallow-water playground, with easy entries from the beach or from the resort's jetty. Because the House Reef is both easily accessible and monitored by Wakatobi's attentive staff, it is an excellent option for novice snorkelers and children alike.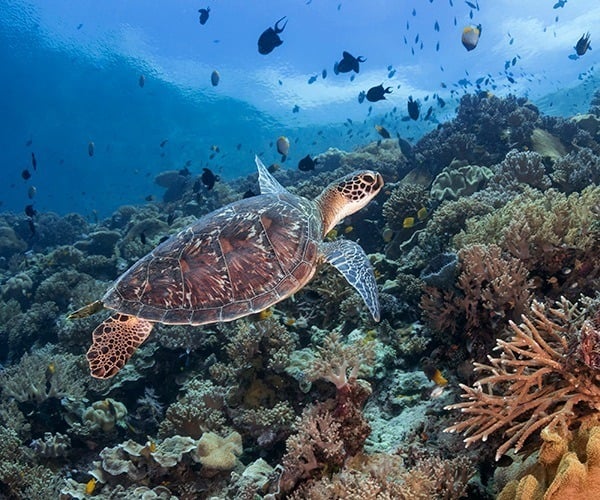 Snorkelers can also take advantage of Wakatobi's Taxi boat service. This fleet of small launches carries guests to and from the more distant areas of the House Reef. The shallows of the House Reef extend some 200 feet from shore, at which point the marine landscape suddenly plummets into the ocean's depths. Here, steep coral and sponge-encrusted slopes and ocean walls transport snorkelers into an entirely different world where creatures such as frogfish, stonefish, crocodilefish, blue-ringed octopus, moray eels, blue-spotted stingrays, ghost pipefish, shrimp, and goby pairs can be seen along the upper lip of the drop-off.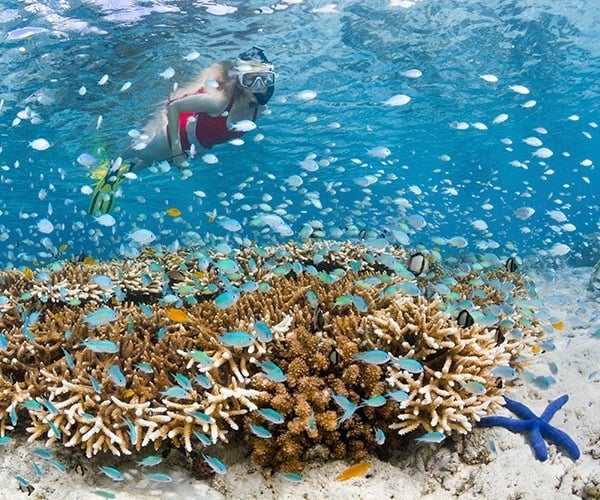 The resort's jetty is a great place to kick off snorkeling adventures on the House Reef, as it provides easy access to the water regardless of tide conditions, and a shelter for a wide variety of marine life. It's not uncommon to see giant clams and colorful anemones around the jetty, and the clear water provides creates unparalleled views of the upper rim of the reef.
Snorkelers have been known to devote entire days to exploring the House Reef, but that is just the beginning of Wakatobi's appeal to snorkelers. One of the defining characteristics of many dive sites within the resort's marine preserve is a dramatic reef profile that begins in water less than six feet deep, then plummets into the depths in a series of slopes and walls. This juxtaposition of shallow and deep terrains creates unique opportunities for snorkelers. Rather than being consigned to a separate boat that visits a limited range of sites, snorkelers at Wakatobi are welcomed aboard the resort's fleet of spacious day boats, where they have access to more than two dozen sites where reefs begin in the shallows.
When divers and snorkelers share the same boat, it creates unique opportunities for couples and families. A diver with a snorkeling partner can enjoy the same site as one stays shallow while the other goes deep. Young snorkelers can enjoy shallow reefs in the company of a parent or one of the resort's attentive dive guides while other members of the family dive on the same site. Often, the snorkelers are able to see the divers descend in the clear, sun-lit waters.
One of the most popular nearby snorkeling destinations is Turkey Beach, which is about a half-mile south of the resort and accessible by either water taxi or dive boat. The primary reason guests flock to Turkey Beach is its resident population of majestic sea turtles, which can often be spotted right along the edge of the reef drop-off, along with eagle rays and bumphead parrotfish.
Exceptional in-water experiences are just one of the reasons why snorkelers love Wakatobi. Ashore, guests enjoy a true tropical island getaway, where picturesque Indonesian-style bungalows are nestled into a beachfront coconut grove, and luxurious private villas perch on the shore to deliver sweeping ocean views.
Wakatobi's hospitality team takes great pride in delivering personalized five-star service and warm welcomes. For team members it is a point of pride to anticipate guest needs and exceed expectations by going above and beyond the expected. The resort is also family-friendly, with dedicated nanny services and a stimulating children's program.
In addition to snorkeling and diving, guests can enjoy water sports such as standup paddleboards and kayak tours along the coast. Seasonal trade winds create an opportunity to learn the sport of kiteboarding, and Wakatobi has created a dedicated kiting center, providing equipment and instruction and support for everyone from first-time kiters to experts.
Land activities can include nature hikes on nature trails surrounding the resort, birdwatching sessions, village tours on nearby islands and cultural activities such as Indonesian cooking classes. There is an on-site spa offering a range of massage services and treatments, a library and lounge, and available Internet and phone services for those who need to stay in touch with the outside world.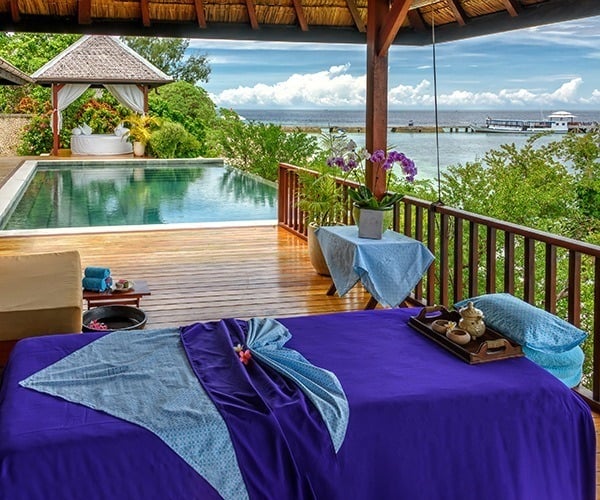 Mealtime is a particular favorite at Wakatobi. The resort's dining room provides beach and water views that create a relaxed atmosphere. The culinary team is known for creating exceptional menus that showcase a tempting range of both international and Indonesian cuisines. In addition, the chefs are happy to fulfil special requests and can accommodate a range of special dietary needs. As an added treat, Wakatobi has a dedicated team of pastry chefs that concoct mouth-watering culinary confections daily.
Another highlight of daily life at Wakatobi are the stunning sunsets, which are best viewed from the iconic Jetty Bar, which is located at the far end of the resort's pier. It's the ideal place to enjoy an evening libation while watching the sun sink below the waters.
A final reason why Wakatobi appeals to both divers and snorkelers is the convenience of travel. Unlike many remote island destinations in the Indo-Pacific, getting to Wakatobi doesn't require long layovers and multiple land, sea, and air connections. When guests arrive at Bali's international airport, they are greeted by members of the Wakatobi concierge team. All details of entry, arrival and baggage transfer are handled by the team as guests enjoy an overnight rest. The following morning, they are escorted back to the airport to relax in a private lounge as they await a private guest flight that delivers them directly to Wakatobi's own airfield in about 2.5 hours.
Interested in visiting Wakatobi Resort?
For those who are interested in experiencing Wakatobi Resort for themselves — we have fantastic news. The resort has recently reopened for year-round bookings. In addition, an excellent opportunity for avid snorkelers to experience the resort is with the Snorkeling Report's Wakatobi excursion, which still has space available for its 2022 trip.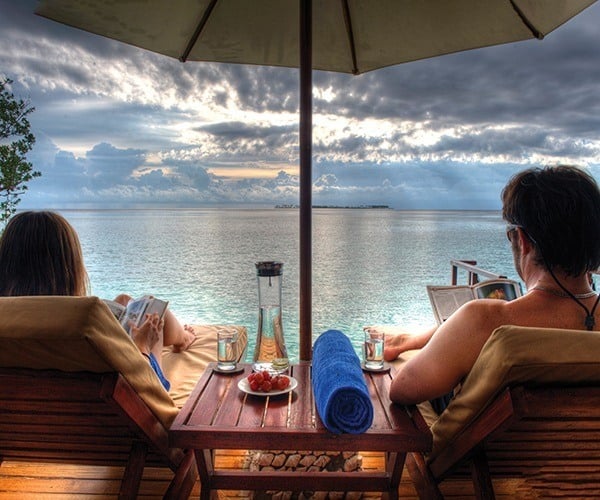 In addition to the impeccable service, amenities and gourmet dining provided to all guests, this excursion includes four days at pre-selected snorkel sites away from the resort and one guided night snorkeling session on the Wakatobi House Reef. You can learn more about the upcoming excursion here.
Disclosure: This post is sponsored by Wakatobi Resort.