Over the course of the last 10 days or so, historic building and monuments across the country have thrown open their doors to the public as part of Heritage Open Days, England's largest festival of history and culture, a chance for you to see hidden places and try out new experiences.
This year, Heritage Open Days ran from 9 – 18 September with events taking place in every corner of the Lake District, from Carlisle to Cartmel, Ambleside to Appleby. Although this year's event has now finished, we thought this was the perfect opportunity to stick with the cultural and heritage theme and put together our top ten list of historic houses in Cumbria. And as we're based in Windermere, we thought this was the perfect place to start.
Blackwell, The Arts & Crafts House, Bowness-on-Windermere
Originally designed as a holiday home for Manchester brewery owner Sir Edward Holt, Blackwell later became a school and then an office space. Nowadays, it's one of the UK's finest examples of Arts and Crafts movement.
When you visit, you'll discover beautiful furniture and objects from leading designers and makers of the time, including MH Baillie Scott, Archibald Knox and William de Morgan. There are also pieces by local makers and designers such as Annie Garrett and Arthur Simpson of Kendal.
After your visit, soak up the wonderful views of Lake Windermere and the Lake District fells beyond while you enjoy a tasty treat in the tea-room.
Hill Top – Beatrix Potter's farmhouse home
On the other side of Lake Windermere is Hill Top, Beatrix Potter's former home and a time capsule of her life in the Lake District. It almost appears as if the author has just popped out for a walk.
Managed by the National Trust, Hill Top was bought by Beatrix Potter with the proceeds of her Peter Rabbit book in 1905. The house and its surroundings went on to provide the inspiration for so many of her books. If you're a true fan, you'll recognise the rhubarb patch where Jemima Puddle-Duck laid her egg, as well as the garden where Tom Kitten and his sisters played.
Sizergh Castle, Kendal
Another one of the properties managed by the National is Sizergh Castle, a few miles south of Kendal.
The house started life as a pele tower, built by the Strickland family around 1350. But in the mid-1500s, the family undertook a major rebuilding programme, transforming it into a fashionable Elizabethan residence. This included fitting out the interior with some of the finest carved and inlaid decoration ever to be seen in the north of England. This exceptional wood panelling culminates in the Inlaid Chamber, internationally recognised as one of the finest examples of Elizabethan craftsmanship in the world.
Outside, the 647-hectare estate includes wetlands, orchards and breath-taking gardens, home to a mirror lake, topiary yew trees and a superb limestone rock garden.
Levens Hall
Just a few miles down the road from Sizergh Castle is Levens Hall. Like Sizergh, Levens Hall began life as a thirteenth century pele tower, before being expanded and rebuilt towards the end of the sixteenth century.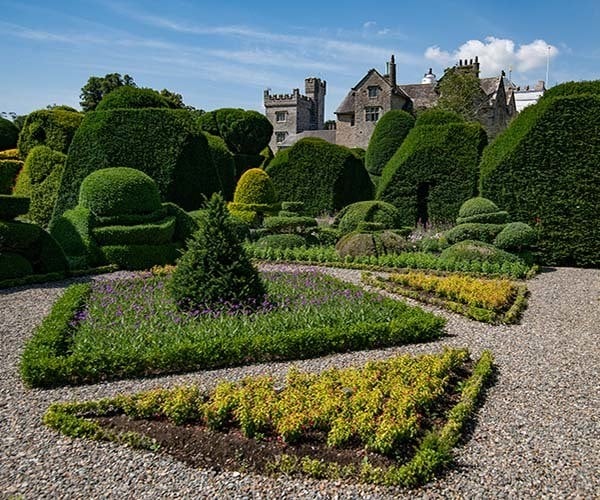 Levens Hall is also home to the world's oldest topiary, laid out from 1694 by Guillaume Beaumont, gardener to King James II and Colonel James Grahme, former owner of Levens Hall. The design, which features over one hundred pieces of topiary (some over nine metres high), remains largely unchanged to this day.
Inside the house, visitors are treated to fine panelling and intricate plaster work, period furniture, paintings by Rubens, Lely and Cuyp, and the earliest English patchwork.
If you are planning on visiting, make sure you pop in to Levens Kitchen, where much of the delicious food on offer comes from the estate and the gardens of Levens Hall.
Holker Hall, nr Grange-over-Sands
Holker Hall can be found a few miles from Grange-over-Sands. Currently the home of Lucy Cavendish, Holker Hall dates backs to the 1600s and has been passed down by inheritance from generation to generation.
In 1871, the entire west wing was lost when a fire broke out. Despite the actions of the servants and family members, it soon became obvious that a new house would be needed. The result is what we see today. The exterior is very much a Victorian residence with large bay windows, towers and cupolas, while inside the house retains much of its Georgian elegance and refinement.
Outside, the gardens are a mix of Italianate design mixed with English tradition. Look out for the 17th century Great Holker Lime, which measures 7'6" at its widest and is one of Britain's 50 greatest trees. Other highlights include land art feature "Pagan Grove", the peaceful Sunken Garden, and the wonderful labyrinth.
After your visit, pop along to the Courtyard Café where a warm and welcoming atmosphere awaits, not to mention delicious local and seasonal food.
Brantwood, Coniston
Before we make our way towards the north and west of the Lake District, we'll call in at Brantwood, former home of artist, writer and social reformer, John Ruskin.
Ruskin's love affair with the Lake District started when he was just 5 years old. At the age of 52, he bought Brantwood and set about expanding and renovating the house, including the addition of the famous turret on the south west corner, from where he could take in the spectacular views.
Filled with paintings, furniture and some of Ruskin's personal treasures which he'd acquired on his travels, including medieval manuscripts, Turner watercolours and his fabulous mineral collection, a visit to Brantwood really helps you to get to know its famous former owner.
Ruskin was also a keen horticulturalist and had a part to play in the design of the extensive gardens. The house is set in 250 acres of woodland, so there are plenty of walks to be explored. And why not finish your trip with a visit to the Jumping Jenny Restaurant?
Our top tip for your visit to Brantwood is to travel there by water aboard the National Trust's Steam Yacht Gondola. You can board the Gondola at the Coniston Pier, where you can buy a ticket to Brantwood at the same time.
Lowther Castle, nr Penrith
Lowther Castle is arguably one of the most intriguing visitor attractions in the county, possibly even in the UK. Built at the turn of the 19th century, the castle boasted a room for every day of the year and its gardens were the envy of people far and wide.
However, in 1957 the castle was demolished and for the last half century or so, just the façade and outer walls remain standing, while the gardens were left to grow wild.
For years, the castle decayed until a charitable trust was established to restore the castle and the grounds as a visitor attraction. Opened in 2011 following the initial restoration, it's now a spectacular Gothic ruin set in 130 acres of ancient and romantic gardens, packed full of treasures such as the garden-in-ruins, the parterres and the Great Yew Avenue.
As the website states, "Bring your children. Bring your grandchildren. Bring friends and bring dogs (on leads). Dress sensibly, wear stout footwear and outdoor clothing and big smiles and expect to stay a while."
Hutton-in-the-Forest, Penrith
Hutton-in-the-Forest near Penrith is a beautiful country house set in woodlands and extensive gardens that have evolved over more than three centuries.
Like Sizergh, the house has been built around a medieval pele tower with substantial additions from the 17th to the 19th centuries, meaning any visit to Hutton is a remarkable journey through time, where the rooms represent a succession of historical eras and styles. This journey extends to the contents of the house where fine period furniture sits alongside contemporary ceramics, as well as an extensive portrait collection, amazing examples of needlework and fierce decorative weaponry.
Outside, it's surrounded by magnificent woodland with the feel of a medieval forest. The layout of the gardens hasn't changed since 1705 and boast some excellent tree specimens, including a Wellingtonia which stands at 128 feet.
After your trip, be sure to visit the Cloisters Tea Room where you can choose from a range of delicious, home-made light refreshments.
---
IMPORTANT NOTICE:
If you are reading this article anywhere other than on A Luxury Travel Blog, then the chances are that this content has been stolen without permission.
Please make a note of the web address above and contact A Luxury Travel Blog to advise them of this issue.
Thank you for your help in combatting content theft.
---
Muncaster Castle, Ravenglass
No list of historical Lake District houses would be complete without the inclusion of Muncaster Castle, which lies a mile or so from the coastal village of Ravenglass.
Muncaster Castle has been home of the Penningtons since 1208, possibly due to the magical 'luck of Muncaster', a glass drinking bowl belonging to Henry VI. He gave it to the family in 1464, saying that as long as it remained intact, Penningtons would live and thrive at Muncaster.
As you would expect for a building steeped in such history, this is not the only legend associated with Muncaster Castle. In fact, Muncaster is one of Britain's most haunted castles, with many tales associated with Tom Fool, aka Thomas Skelton, who was Court Jester at the castle in the 16th century.
The original pele tower has been extended and refurbished over the centuries and today the castle offers visitors plenty to see and do. A tour of the inside comes with audio commentary provided by the current owner, who describes what can be seen in the Great Hall, the Library, the Drawing Room and the bedrooms.
Outside, there are over 70 acres of garden to explore – the rhododendron, camellia and azalea collections are amazing in the springtime, splashing the landscape with a riot of colour. You can also visit the Hawk and Owl Centre and, for the children, the MeadowVole Maze is a must see.
Mirehouse, Keswick
Our final historic house is Mirehouse. Situated between Skiddaw and Bassenthwaite Lake and described as a "Manor from Heaven" by Melvin Bragg, Mirehouse offers formal gardens, woodlands, meadows and shoreline to explore.
Inside the house, you will find live piano music as well unusual photographs and manuscripts which highlight the literary connections between Mirehouse and famous writers such as William Wordsworth, Alfred Tennyson and Thomas Carlyle.
For those with children, let them burn off energy in the woodland adventure playgrounds or follow the nature trail in a bid to spot red squirrels, deer or woodpeckers.
While for those in search of a little tranquillity, take a stroll along the Poetry Walk, sit on the shores of the lake or visit the walled Bee Garden.
As you can see, we are spoilt for choice when it comes to historic houses in the Lake District. Our top 10 list is by no means exhaustive, so please do let us know if you feel we should have included one which isn't there. We may be able to put together an updated list in the future.
We have made every effort to check the accuracy of the information, but please do contact any of the houses listed above to check they're open before making your trip. We'd hate for you to be disappointed.
Rachael Thomas is Managing Director of Matson Ground Estate Company Limited, which has a number of Lake District holiday cottages, including Birkdale House. Birkdale House is a luxury Victorian residence at the heart of a privately owned estate in the English Lake District.
If you would like to be a guest blogger on A Luxury Travel Blog in order to raise your profile, please contact us.