Review: Hotel Kriunes, Near Reykjavik, Iceland
The family-run Hotel Kriunes is a unique luxury hotel that is often overlooked by visitors heading directly for Reykjavik, yet it offers a lovely alternative on the capital's outskirts. Nestled on the shores of Lake Elliðavatn, popular with migratory birds as well as fishermen looking to catch char, trout and salmon, the hotel provides a more rural alternative to suburban Reykjavik.
The welcome
An unexpected hacienda-styled entrance greeted us on arrival – the owners, we later discovered, have a love of Mexico. Once inside, the Mexican décor continued and we were warmly welcomed by a gentleman on reception who hailed from Lithuania, and given the keys to our rooms which were downstairs.
The room
We stayed in Room 28 which is a Superior King suite on the corner of the building spanning 37 square metres and with a door leading out to a private patio beside the lake. Large, floor-to-ceiling windows afford guests exceptional panoramic views across the lake and to the mountains beyond.
The bedroom was ultra-comfortable with separate single duvets on the large double bed, something which seems quite commonplace in Iceland and surprisingly practical!
The suite has a separate seating area, some nested tables and a SmartTV with Netflix, Nespresso coffee machine and a tea maker.
There's even an in-room bath (as well as a separate bathroom) with Ebony London toiletries – honey and mango shampoo, body wash and conditioner.
…and something I don't believe I've ever encountered in a hotel room before, recycling facilities – a nod to Iceland's eco-friendliness and respect for sustanability.
Our sons were in room 26, a similaly styled twin room, also with a view of the lake.
All rooms come with air conditioning, ample bedside sockets, SmartTV, free WiFi, mini bar, Nespresso machine, safe and suitcase rack.
The bathroom
Whilst we had a bath in our room, we also had a separate bathroom with shower, basin and WC. A feature wall depicted one of Iceland's many iconic waterfalls – Svartifoss in Vatnajökull National Park, I think it was – cascading over basalt columns.
Gowns, slippers, fluffy towels, flannels and a hair dryer are all provided, as are Tranquillity™ hand soap and lotion, shampoo, shower gel and conditioner from The Comfort Zone, chosen because all their production is sustainable and in harmony with the environment.
Our sons' bathroom was similar, depicting another of Iceland's stunning waterfalls.
The facilities
Although we didn't have time to use it during our brief stay, our accommodation came with free access to the hotel's sauna and outdoor hot tub.
The hotel also has a restaurant on the ground floor which enjoys slightly elevated views of the lake.
The same room is used for a buffet-style breakfast each morning.
---
IMPORTANT NOTICE:
If you are reading this article anywhere other than on A Luxury Travel Blog, then the chances are that this content has been stolen without permission.
Please make a note of the web address above and contact A Luxury Travel Blog to advise them of this issue.
Thank you for your help in combatting content theft.
---
Location
Hotel Kriunes is only a 40 minute drive from Keflavik International Airport, and a 15-20 minute drive from Reykjavik city centre which is to the north-west. Located on the western shore of Lake Elliðavatn, the hotel lies on the fringe of the Heiðmörk conservation area which covers 3,200 hectares and is home to numerous hiking, biking and horse riding trails, small forests, and lava formations.
Other nice touches
We had arrived too late for dinner service on our first night, and the chef had already clocked off, but the receptionist very kindly went into the kitchens fixed us up with a lovely smoked salmon salad. This was much appreciated as, having just climbed up the Fagradalsfjall volcano site shortly after landing at Keflavik, we weren't really in the mood for driving into Reykjavik to try to find something to eat.
Cost
Rooms at Hotel Kriunes start from 26,000 ISK.
The Superior King suite that we stayed in starts from 56,000 ISK.
The best bit
The best bit for me was the element of surprise when we arrived. The approach to the hotel takes you through a not-too-inspiring residential area and we found ourselves wondering whether we had taken a wrong turn. On arrival, we went downstairs from reception into what felt like a basement, walked down a corridor, again wondering where we were heading, before opening the room to our suite and being pleasantly surprised by its amazing lake view just yards from our accommodation.
The final verdict
Hotel Kriunes is a conveniently-located upscale hotel on the outskirts of Reykjavik. By being on the outskirts, just a 6-minute drive from the country's Route 1 ring road, it is ideal if you have just arrived in Iceland (as we had) or are about to depart, but equally if you want to get slightly swifter access to places such as the Golden Circle than you would if you were located in the city centre.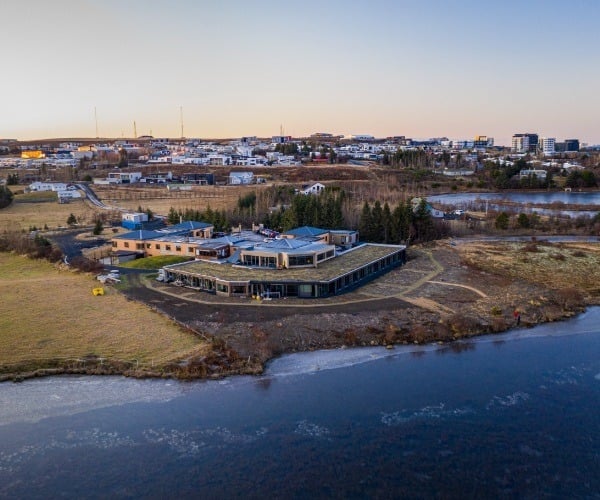 Planning a trip to Iceland yourself? You can watch a video from our trip to Iceland here:
Disclosure: This post is sponsored by Hotel Kriunes. Our trip to Iceland was also sponsored by Helly Hansen.
Did you enjoy this article?
Receive similar content direct to your inbox.