Dubrovnik, situated along the gorgeous coast of southern Croatia, is renowned for its fascinating history, breath-taking architecture, and delectable cuisine. The food and wine of the region seamlessly blend traditional Croatian and Mediterranean flavors with modern techniques, reflecting the city's rich culture and heritage.
Visitors can indulge in a variety of fresh seafood, including octopus, shrimp, and mussels, typically served grilled or with pasta, savour meat specialties, or enjoy vegetarian and vegan options with fragrant herbs and fresh, seasonal vegetables. Indulge in the flavourful cuisine of Dubrovnik by trying out some of the must-try dishes from the region.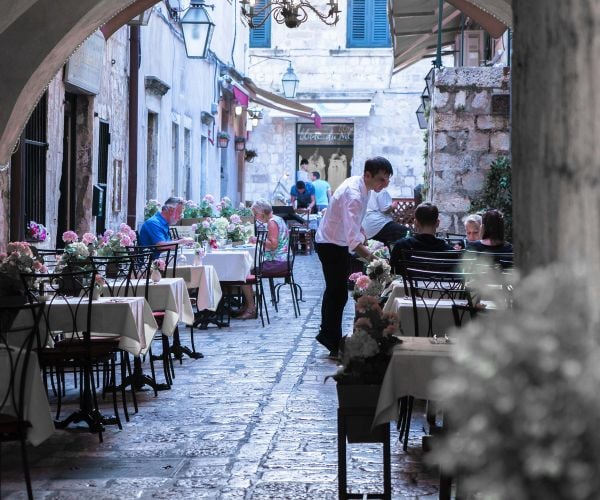 First on the list is the classic Pašticada – a slow-cooked beef dish that boasts a mouth-watering combination of red wine, vinegar, vegetables, and spices. Usually paired with gnocchi or palenta, this Dalmatian delicacy is a must-try.
For seafood lovers, Crni rižot or black risotto is a dish not to be missed. Made with squid ink, rice, onions, garlic, and a variety of seafood such as squid, mussels, and shrimp, this dish has a unique flavour and striking black colour that will leave a lasting impression.
Zelena menestra is a hearty stew that is perfect for the chilly winter months. Made with smoked pork, sauerkraut, potatoes, and other vegetables, this dish is often served with crusty bread and is sure to warm you up.
Another seafood dish that will tantalize your taste buds is the Octopus salad. This light and refreshing salad typically includes chopped octopus, onions, tomatoes, and parsley, dressed with olive oil and vinegar.
Finally, end your meal on a sweet note with Dubrovnik rozata. This creamy custard dessert is similar to crème brûlée and is made with eggs, milk, sugar, and caramelized sugar on top. Served chilled, it's the perfect way to wrap up a satisfying culinary experience in Dubrovnik.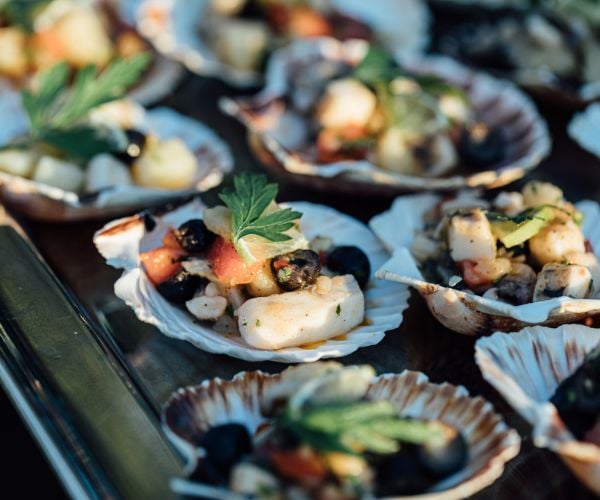 These five dishes are just a glimpse into the rich culinary heritage of Dubrovnik. Each dish is packed with flavour and provides a glimpse into the unique local cuisine that is sure to satisfy any foodie's cravings.
The Dubrovnik region is also a renowned wine-making region, with several wineries situated in and around the city. This success can be attributed to several factors, including the region's favourable climate, fertile soil, and a long-standing wine-making tradition.
Mediterranean climate, characterized by mild winters, warm summers, and an extended growing season, makes it an ideal location for grape cultivation. Grapes require plenty of sunlight, warm temperatures, and a moderate amount of rainfall, all of which are plentiful in this region. The soil in the Dubrovnik area is predominantly limestone, rich in essential minerals and nutrients that are vital for the growth of grapevines. Furthermore, the soil's excellent drainage system prevents waterlogging and ensures that the vines receive the right amount of water and nutrients.
Dubrovnik has a rich wine-making heritage that dates back to ancient times. The local community has inherited wine-making techniques and skills from generations before them, resulting in a diverse and unique wine culture that is deeply ingrained in the region's traditions. Growth in tourism has also contributed to the success of wine production, with visitors keen to explore the wine-making traditions and sample local wines. This has sparked interest among local wine producers, who are working tirelessly to maintain and enhance the quality of their wines.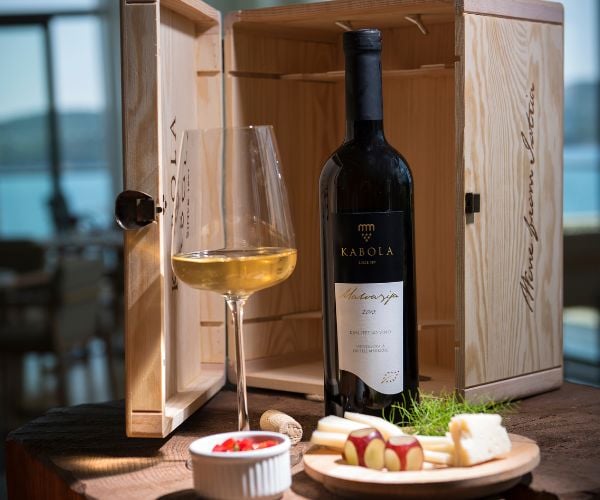 These factors have made Dubrovnik an ideal destination for wine lovers, with several essential wine regions and wineries to explore and sample some of the region's most exceptional wines.
---
IMPORTANT NOTICE:
If you are reading this article anywhere other than on A Luxury Travel Blog, then the chances are that this content has been stolen without permission.
Please make a note of the web address above and contact A Luxury Travel Blog to advise them of this issue.
Thank you for your help in combatting content theft.
---
The Konavle Valley is a charming wine region located just outside of Dubrovnik, boasting several local wineries. This region is famous for its production of red wines made from the Plavac Mali grape variety and white wines made from the Malvasia Dubrovačka grape.
The Pelješac Peninsula, located an hour's drive from Dubrovnik, is home to some of Croatia's most well-known wine producers. The region is renowned for its production of red wines made from the Plavac Mali grape, as well as Dingač, a red wine exclusively produced in this region.
Korčula Island, situated off the coast from Dubrovnik, is another crucial wine region in the area. The island is famous for its production of white wines made from the Pošip grape variety and red wines made from the Plavac Mali grape.
Exploring these wine regions is an opportunity for visitors to delve into the rich wine-making traditions of Dubrovnik and sample some of Croatia's most unique and delectable wines.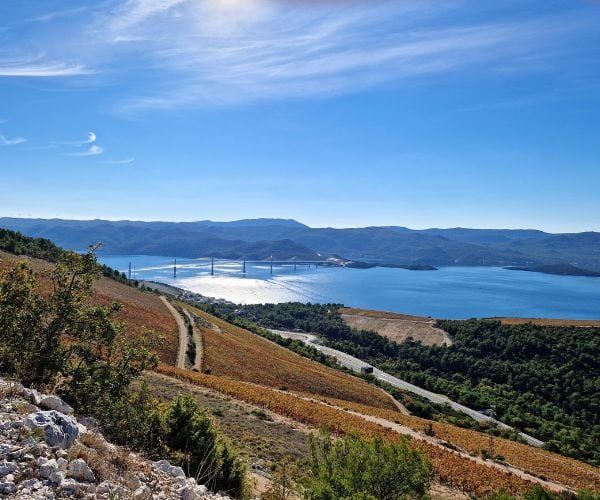 Dubrovnik's coffee culture is another significant element of the city's history and daily life. Whether you're a local or a tourist, you can experience the vibrant coffee culture in the city by visiting one of the many cafes and espresso bars scattered throughout Dubrovnik. The city's coffee culture has a fascinating history, dating back to its days as an important trading centre that imported coffee from the Ottoman Empire. Over time, coffee became an integral part of Dubrovnik's cultural identity, and today, it is an essential part of daily life. One of the most noticeable aspects of the coffee culture in Dubrovnik is the custom of savouring each sip slowly, rather than consuming it as a quick pick-me-up.
Dubrovnik's coffee culture is an essential part of the city's social life, with locals gathering in cafes to chat, catch up with friends, or conduct business. As a visitor, you can immerse yourself in the city's coffee culture by striking up a conversation with friendly locals or simply enjoying the relaxed atmosphere and people-watching.
To truly experience the essence of Dubrovnik, indulging in the local specialty, rakija, is a must. This potent fruit brandy is an integral part of the region's cultural heritage, enjoyed by both locals and visitors. Its history in Dubrovnik dates back to the city's days as a significant trade centre, where diverse cultures from around the Mediterranean converged. Overtime, rakija became an essential part of the region's cultural identity and is now a beloved local specialty enjoyed at every celebration, from weddings to funerals.
The Dubrovnik region's food and wine scene is an exquisite blend of tradition and innovation, showcasing the best of Croatian cuisine and hospitality. Whether you're a food enthusiast, a wine connoisseur, or merely seeking a memorable culinary experience, this region offers something for everyone.
Christian Larss Kreković is a General Manager at Sun Gardens Dubrovnik. Sun Gardens Dubrovnik is a luxury resort on the Adriatic coast in Croatia offering bespoke guest experiences.
If you would like to be a guest blogger on A Luxury Travel Blog in order to raise your profile, please contact us.