By
Jozef Verbruggen
on May 29, 2023 in
Alaska
,
Arctic
,
Canada
,
Europe
,
Finland
,
Iceland
,
North America
,
Norway
,
Polar Regions
,
Regions
,
USA
,
Western Europe
The Northern Lights, also known as Aurora Borealis, is a magical natural phenomenon in shades of green, blue and sometimes red, that only occurs in the northern hemisphere.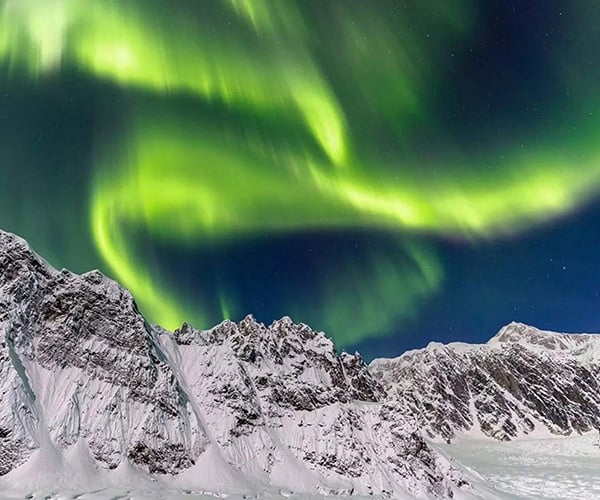 What causes the Northern Lights?
Many studies have been devoted to it, but simply put, what you see is the reaction of electricity-charged particles from the sun sent to earth by the solar wind, which collide with parts of the outer atmosphere, with oxygen and nitrogen. The amount of charged particles shot into space along with the speed of the solar wind determine how likely it is to see this natural phenomenon and in what strength.
Collisions with oxygen at more than about 300 kilometers altitude produces beautiful red auras, nitrogen at lower altitudes makes you see blue light, and when particles collide with this gas at even higher altitudes, brilliant purple and violet hues are created. When these colors are mixed in the air, there is also a chance of seeing the colors pink and white.
A fairytale experience
To experience this colorful spectacle in person was always high on my wish list. In April 2023, my dream finally came true. I was lucky enough to admire the bright dancing lights of the aurora twice(!) during my adventures in Swedish Lapland. Above the frozen Lule River in Luleå, I enjoyed swarming green streaks that finally broke up like a falling curtain in the night sky. A fairy-tale experience that will stay with me forever!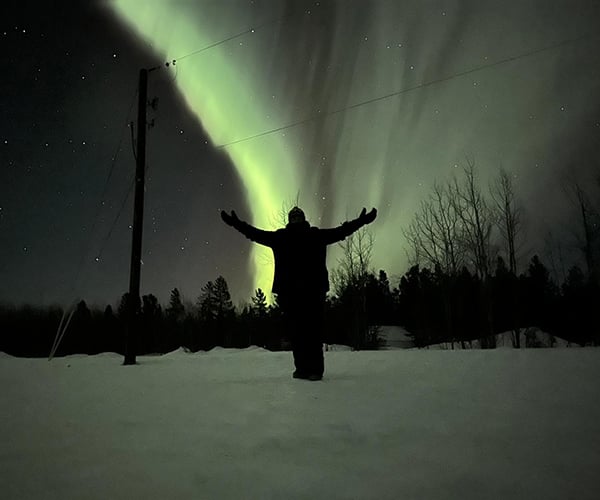 Can't wait to experience this extraordinary light show for yourself? Then you're in luck! We have entered a new solar cycle that researchers predict will become one of the most powerful ever with spectacular auroras that we can enjoy until about 2027. This means chances of seeing this unique phenomenon are high in the coming years, so book your trip shortly and start looking forward to this unforgettable experience! To get you started, we've listed the eight best places in the world to observe Aurora Borealis:
Alaska
Rugged Alaska is sparsely populated and therefore has little light pollution, making the far north, the Arctic, a perfect location to witness the Aurora Borealis. Fairbanks, located about 240 kilometers south of the Arctic Circle and the pristine Denali National Park offer the best chance of seeing the Northern Lights when the sky is clear.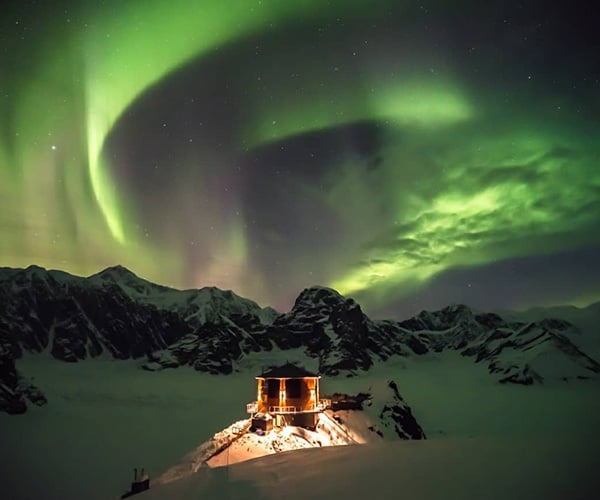 Other activities: visit the cities of Anchorage, Fairbanks and Juneau, relax in hot springs, go cross-country skiing and explore the landscape of the fjords.
Best travel time: from mid-August to the end of April.
Yukon
The aurora borealis is regularly spotted in much of northern Canada, but the best spots for it can be found in the very remote Northwest Territories. One of my colleagues was traveling in Yukon last March and he was lucky enough to witness the sky lit up in every color imaginable. Reportedly it was the most spectacular aurora in years.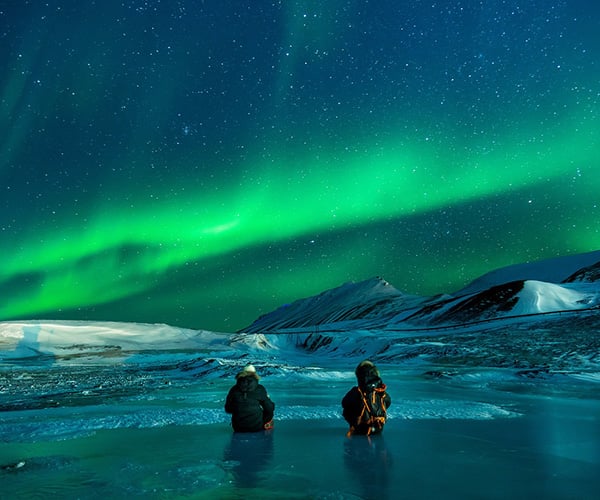 Other activities: visit capital city Whitehorse, traverse mysterious gold mining towns, hike in Kluane National Park and Miles Canyon nature preserve, visit Takhini Hot Springs and marvel at the striking Sign Post Forest with road signs from around the world.
Best travel time: from late August to mid-April.
Finnish Lapland
Due to minimal light pollution, the northern lights are visible as many as 200 nights a year in Finnish Lapland, the area bordering Sweden, Norway and Russia. You can witness it from your luxurious tent at Aurora Glamping or in a glass Aurora Cabin at Northern Lights Village Saariselka or Lev.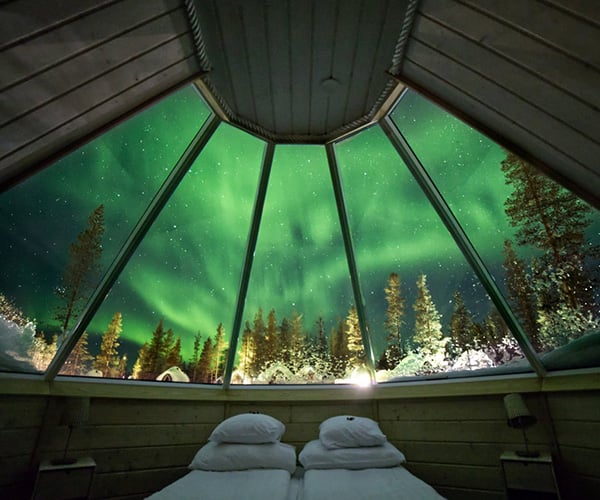 Other activities: visit Santa Claus in Rovaniemie with your children or take a husky safari or snowmobile ride.
Best travel time: from early September to late March.
Travel from Reykjavik through Iceland's diverse landscapes. Good places to admire the northern lights are the Snæfelsness Peninsula, Thingvellir National Park, the Jökulsárlón glacial lagoon and the black sand beach of Reynisfjara.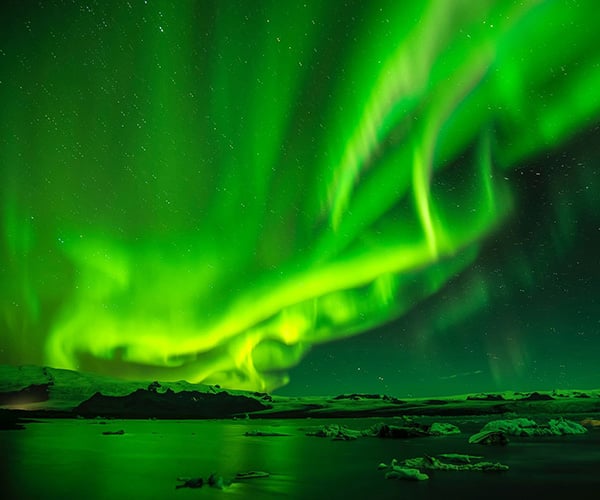 Other activities: go snowkiting and ice fishing, hike through the lava-covered Landmannalaugar valley on the edge of the Hekla volcano and drive the panoramic route the 'Golden Circle'.
Best travel time: from early September to late April.
---
IMPORTANT NOTICE:
If you are reading this article anywhere other than on A Luxury Travel Blog, then the chances are that this content has been stolen without permission.
Please make a note of the web address above and contact A Luxury Travel Blog to advise them of this issue.
Thank you for your help in combatting content theft.
---
Greenland
Greenland is largely within the Arctic Circle, hence it is a prime location to witness Aurora Borealis. The best place for this is in the small town of Kangerlussuaq.
Other activities: meet the Inuit and visit the Russel Glacier in Kangerlussuaq.
Best travel time: from September to early April.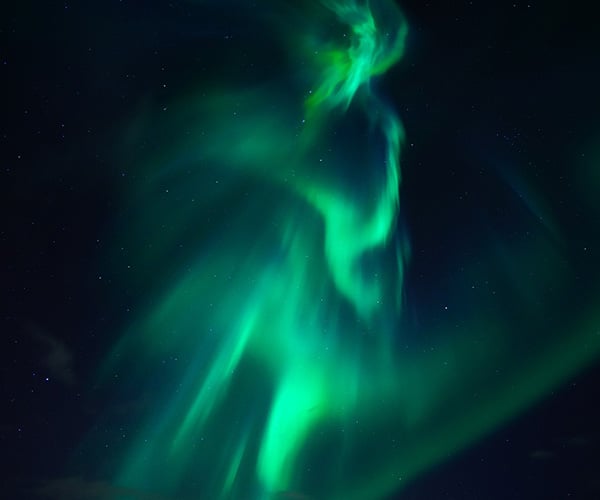 Swedish Lapland
I saw the northern lights in Luleå, the place where the Luler River meets the Bothnia Sea. Other famous places to spot this light spectacle include Kiruna and Abisko National Park where the Aurora Sky Station is stationed. Jokkmokk, Jukkasjärvi and Porjus are also great places to see the northern lights.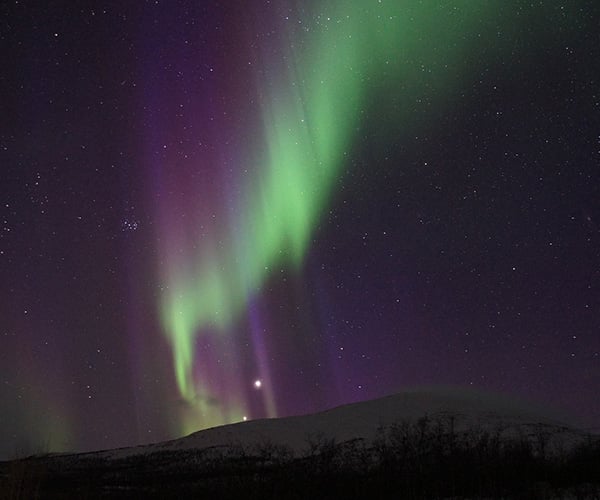 Other activities: go ice skating and ice stepping on the frozen Bothnia Sea in Luleå, try ice fishing and ice bathing, take a tour by snowmobile or husky and meet the Sami.
Best travel time: from early December to early April.
Norway
With a location right under the Northern Lights oval and a stable continental climate with clear skies, the northern lights are visible most nights in Alta. Tromsø, located above the Arctic Circle in the center of the aurora zone and the remote Svalbard archipelago off the coast of Norway are also great places to see the northern lights. Preferably from your bed in an "aurora dome" or during a night in an igloo hotel.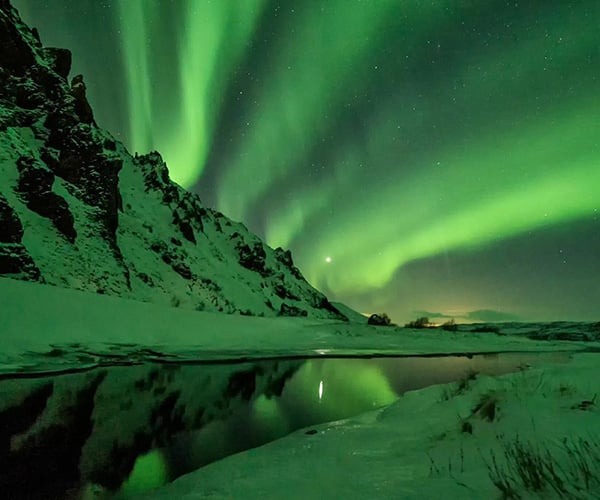 Other activities: spot polar bears, arctic foxes and reindeer in the Svalbard archipelago, conquer the snow by fatbike, meet the Sami, go ice fishing and join the unique twelve-day 'Huritgruten' cruise along the characteristic Norwegian fjord coast.
Best travel time: from mid-August to the end of April.
There are nine Dark Sky Discovery Sites on Skye, making it one of the best places in Scotland for stargazing and seeing the Northern Lights. Further north, you can also see the northern lights in Shetland, Orkney and Caithness.
Other activities: visit the mystical stone circle of Stone of Stennes and the ancient settlement of Skara Brae in the Orkney Islands, monumental rock formations and unique cultural heritage in the Shetland Islands.
Best travel time: from early October to late March.
Jozef Verbruggen is Director and Owner of Untamed Travelling. Untamed Travelling is a travel designer that specializes in high-end bespoke travel experiences around the globe.
If you would like to be a guest blogger on A Luxury Travel Blog in order to raise your profile, please contact us.