The 2023 Southeast Asian Games in Cambodia was a momentous occasion that the whole country had been looking forward to ever since it was announced in 2016. This was the 32nd SEA Games and this prestigious event had never been hosted by Cambodia before. In 1963 the 3rd SEA Games was due to be hosted by Cambodia but the political situation led to its cancellation. They've waited ever since to proudly welcome the teams from 10 other Southeast Asian countries to compete in 37 sports over 2 weeks and to celebrate this historical event in true Khmer style. This kind of event was one of those unique experiences worth travelling for and offered a unique way to experience a country which is famed for its friendly people and rich culture.
Cambodia has seen huge changes over the last 60 years. The peace and stability of modern day Cambodia which followed the tragic genocide and civil wars that rumbled on for decades has brought extensive development throughout the nation and an ever growing passion for sport amongst a relatively young Cambodian population. It was the perfect time for the eyes of the region (and the wider sporting world) to be on Cambodia and for this popular travel destination to also finally be back on the world sporting map.
But hosting a major sporting event can mean so much more to a country than a showcase of sporting talent which people travel far and wide to see. In the lead up to the games, events were hosted nationwide to raise awareness and promote the SEA Games and Cambodia as a destination for tourism and investment. Using the hashtag #BeyondTheGames the host country aimed to use the opportunity to tell the world just what Cambodia has to offer and to encourage travellers to place Cambodia firmly on their travel wish lists.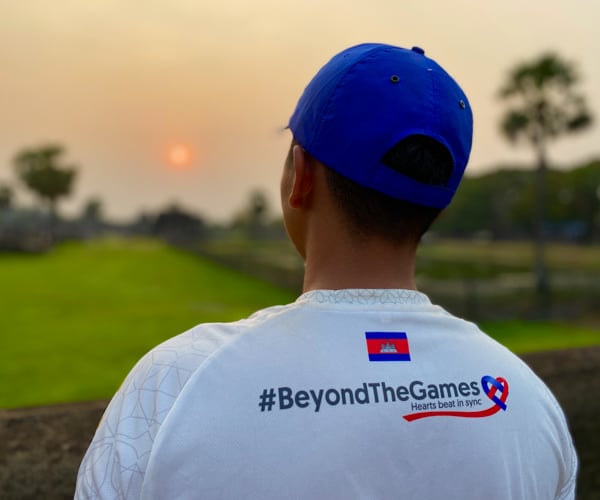 One such event saw a new Guinness World Record being set in the grounds of Angkor Wat with nearly four million origami hearts being created and displayed for all to see. These hearts were made by volunteers from all over the country to show support to the athletes competing in the games, showing the true spirit and heart of the Cambodian people.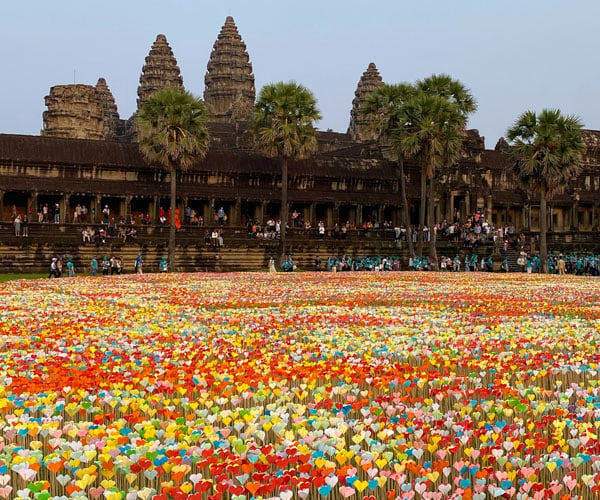 As the games fast approached, the SEA Games torch finally returned to the host nation having being initially ignited by King Norodom Sihamoni at Angkor Wat. Having visited the other competing nations, it then toured Cambodia before arriving at the opening ceremony which was held at the magnificent Morodok Techo National Stadium. This futuristic 60,000 capacity stadium in Phnom Penh remained the showpiece during the SEA Games and will most certainly leave an important sporting legacy for Cambodia for the future.
Like all major sporting events, it's what happens during the competition that truly captures people's imagination and the 32nd SEA games was no different. The Cambodia men's team entered the football tournament with low expectations. Their record in recent years under ex-Japan international Keisuke Honda had been somewhat below par. So when they won their first group game 4-0 against Timor-Leste at the literally bouncing Olympic Stadium, excitement and expectation grew. In their next game they led the Philippines 1-0 with a couple of minutes to go but conceded a late goal. Needing to win one of their final group games against Myanmar or Indonesia to qualify for the semi-final, the stadium was packed and the atmosphere was electric for each game. But it wasn't to be, they lost both games and their dream was over, with the final being fiercely contested by Indonesia and Thailand. It's this kind of hope, heartbreak and intense competition that shows a side of a country that can go unseen during a typical visit to a destination. It was impossible to deny Cambodia's passion for football after witnessing their journey through the competition.
Many other sports were showcased during the SEA Games, including a multitude of combat sports which were at times nothing short of jaw-dropping. The region's finest went head to head in their chosen disciplines, literally fighting their way to the gold medal glory that all athletes dream of. Martial arts which are hugely popular in the region including Pencak silat, vovinam and Cambodia's famous bokator were on display, alongside the more well known taekwondo, karate, boxing and ju-jitsu. It was the ju-jitsu that stole the hearts of the nation, with Khmer American superstar Jessa Khan taking home silver and gold medals during the games. Other gold medals in the ju-jitsu for the host nation included Kongmona Mithora and Touch Pikada in the men's duo offering another wonderful opportunity to witness the emotional and collective national pride for these achievements.
One of the few sports at the SEA Games to be hosted away from Phnom Penh was the cycling. Cycling is hugely popular with Cambodian people and both the mountain biking held at Mount Kulen and the road races held within the Angkor Wat complex offered a unique opportunity to see some of the country's most popular tourist destinations in a different light. Indonesia dominated the mountain biking winning four of the five gold medals and they also won the men's criterium. Comprising 30 laps around a 1.8km circuit, Terry Kusuma from Indonesia took the gold with Malaysia and the Philippines winning silver and gold respectively. Set against the backdrop of the world-famous Angkor Wat, it was a once in a lifetime opportunity to watch this fast paced and exciting event in the most unique of settings.
---
IMPORTANT NOTICE:
If you are reading this article anywhere other than on A Luxury Travel Blog, then the chances are that this content has been stolen without permission.
Please make a note of the web address above and contact A Luxury Travel Blog to advise them of this issue.
Thank you for your help in combatting content theft.
---
On the sporting field, the Southeast Asian Games 2023 in Cambodia was a huge success for the host nation. Winning 282 medals including 81 golds they far surpassed their previous games best of 53 medals and 17 golds 52 years ago at the 1971 SEA Games in Malaysia. But the 'off the field' impact in a country like Cambodia is hugely significant. Did Cambodia take the opportunity to show themselves as an exciting tourist destination to those looking to this region for their next travel adventure? They most certainly did. Let's hope that #BeyondTheGames Cambodia continue to see increased visitor numbers and those new visitors to this wonderful country can create their own memories in this truly unique country.
Paul Eyers is Founder of Vegan Food Quest. Vegan Food Quest have become luxury vegan travel specialists as they continue to find, eat and write about the best vegan food in the world.
If you would like to be a guest blogger on A Luxury Travel Blog in order to raise your profile, please contact us.