The Queensland Government today announced the official name change of one of the State's most treasured and culturally significant destinations to its Traditional name 'K'gari' (formerly Fraser Island). The announcement formally recognises the Butchulla People's connection to the island and the creation story that has been passed down for generations.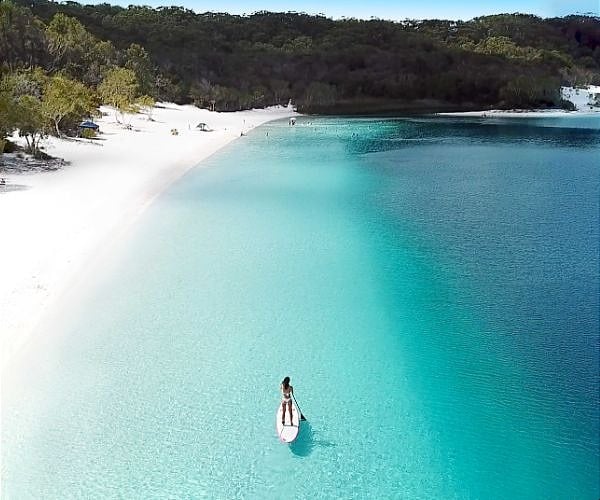 In traditional Butchulla culture, the island holds immense history in its lakes, waterways, coastline, skies and rainforest. Gaining UNESCO World Heritage Area status in 1992, it was formed from sand accumulation over 750,000 years – becoming the world's largest sand island. The Butchulla People have understood its significance for an estimated 20,000 years, forging an incredible connection with the land, sea, flora and fauna that live harmoniously.
In the lead up to the reinstatement of the original name, Dr Rose Barrowcliffe, a Post Doctoral Research Fellow and Butchulla Woman explained the importance of returning the original place name to Butchulla People.
"K'gari is one of those places that is incredibly well known, not just nationally but internationally. We have a huge amount of international visitors that come to see K'gari every year. So, what we are doing when we are respecting Indigenous place names, is we are respecting Indigenous culture," Dr Barrowcliffe said.
"Australia has the oldest continuously living cultures in the world. It's the most unique thing about us as a continent and a destination. So, by honouring Indigenous cultures and using place names, we are raising up the culture and saying we are proud of it. And we are showcasing a unique part of our offering to the world."
Located just 300km north of the Queensland capital, Brisbane, K'gari is and will continue to be a popular destination for both domestic and international visitors. In 2022, more than 800,000 visitors travelled to the Fraser Coast, including a record number of interstate visitors from around Australia.
Tourism and Events Queensland CEO Patricia O'Callaghan said K'gari was one of Queensland and Australia's most spectacular places to visit.
---
IMPORTANT NOTICE:
If you are reading this article anywhere other than on A Luxury Travel Blog, then the chances are that this content has been stolen without permission.
Please make a note of the web address above and contact A Luxury Travel Blog to advise them of this issue.
Thank you for your help in combatting content theft.
---
"K'gari is the world's largest sand island and she has ancient stories to tell and breathtaking moments for visitors to enjoy," Ms O'Callaghan said. "The return to the island's traditional name is a significant step in its history and reflects Queensland's unique position as the only place on earth where our two ancient cultures continue to live side-by-side. Visitors to K'gari are spoiled for beautiful scenery but most importantly they can embrace the culture of the Butchulla People who have called the island home for tens of thousands of years. We welcome visitors from around the globe to visit and see for themselves why this place is so special. We also look forward to working with the Butchulla People to continue to showcase their culture to visitors."
Before clarifying the pronunciation of the traditional place name, Butchulla Aboriginal Corporation Language and Cultural Coordinator, Aunty Joyce Bonner, also explained what K'gari means to the Butchulla People.
"K'gari means to me, home. Home amongst my People, the descendants, the ancestors, the Midiru (Traditional Owners). It's our place. It's what we call home. K'gari is spelt with a K or a G. The K is a silent K as in know, knew, knife," Aunty Joyce Bonner said.
The Butchulla People of K'gari abide by three lores which visitors can also observe when visiting K'gari.
"'Minyang galangoor gu, djaa kalim baya-m' which is about country, 'what is good for country must come first," Aunty Joyce Bonner explained. "'Minyang waa nyinung, waa bunmalee dhama-n' is about 'do not touch or take anything that is here on country', it's there for a reason, it's for the sacredness of our ancestors and it's our duty to perform and look after it. And our third lore, 'wangou nyin gamindu, biralunbar nyin wumga-n', 'if you have plenty, you must share'. So, what we mean by sharing it's sharing of values, the cultural assets that we have here and it's about sharing the education of culture to ensure the island is protected for the next generation."
Part of the Great Sandy Biosphere designated by UNESCO in 2009, K'gari is one of the most unique and naturally stunning places on earth. There are no roads on the island and visitors are guided by the sand tracks and the waterways leading to all corners of this World Heritage Listed Wonder, including the crystal-clear freshwater of Boorangoora (Lake McKenzie) – just one of approximately 100 freshwater lakes on the island. The world's largest perched lake, known to the Butchulla People as Lake Boomanjin, is also found on K'gari. At the northern end of the island, visitors can bathe in the bubbling Champagne Rock Pools before trekking along 75 Mile Beach beside towering coloured sand cliffs and floating down the cool waters of Eli Creek. Finally, turn the compass inland and leave only footprints on tracks to find the only known place in the world where rainforest grows on a sand island.
Head to queensland.com for more information and to start planning the next K'gari adventure.