Top 5 luxury wine experiences in South Africa 
South Africa is one the most popular destination in Africa and for good reason. Here you can encounter incredible game, fascinating local culture, cool cities, great beaches and of course, fabulous wine. It has long been hailed as one of the world's top wine producers and there is no doubt that the South African winelands make for a wonderful destination. Located just over an hour's drive from the gorgeous city of Cape Town, the Cape Winelands are a must-see in South Africa not only for the excellent wines but the stunning scenery, charming towns and of course, the luxury hotels. Read on to hear about our favourites.
La Residence
La Residence is a stunning property located on a 30 acre estate in the Franschhoek Valley and part of The Royal Portfolio which has several hotels in South Africa. Its sister hotel, The Silo in Cape Town is known for its private art collection and for championing South African artists. This theme is continued to the winelands and La Residence features many unique works of art. The design exudes the opulence of 18th century France, with an eclectic twist. Jill Biden, the owner of the The Royal Portfolio is known for her expert eye for design, and this is evident as soon as you enter La Residence. The hotel sits in beautiful gardens and is surrounded by spectacular scenery. Food here is of the utmost importance from breakfast and lunch through to afternoon tea and dinner. The executive chef takes a sustainability-based approach to the menu here. The emphasis is on local produce, the local people and indigenous produce, much of which he forages from the surrounding area.
La Residence supports a number of charities and community initiatives in the area from the Cape Leopard Foundation to a local school and several feeding programmes.  This is an exceptional hotel in one of South Africa's most beautiful locations where guests can be sure that they are supporting the local community, an important part of any luxury holiday.
Babylonstoren 
Babylonstoren is perhaps the most famous wine estates in South Africa. Located in the Franschhoek Valley, it is one of the oldest Cape Dutch farms in South Africa. The property is a working farm, a luxury hotel and a beautiful collection of lifestyle and farm shops. It is hands down one of the leading luxury hotels in the area. Its design is very different from that of La Residence, emulating the classic Cape Dutch design of whitewashed walls, tiled floors, pale wood and crisp, clean linens. The rooms are bright and spacious and extend up to private villas complete with its own pool and kitchen, perfect for family gatherings of groups of friends. A stay at Babylonstoren is a whole experience. There are several restaurants to choose from, all serving delicious cuisine using ingredients predominantly sourced from the farm and gardens. They produce their own wine and guests are invited to enjoy a tour and tasting during their stay. The farm shop is the perfect place to pick up some gourmet treats from olive oil to baked goods, honey and much more.
Babylonstoren goes way beyond a luxury hotel to provide an authentic and unique experience in the Cape Winelands.
Monument House 
The newest addition to the luxury hotel scene in the South African winelands, Monument House is a design-lovers dream and a beautiful, tranquil spot to spend a few days exploring the surrounding area. Built by husband and wife team Wendy and Nishan, Monument is an homage to Cape Dutch architecture with a touch of the opulence of Versailles. The stunning interior design by Wendy, herself an internationally acclaimed interior designer. Each of the five bedrooms is individually designed and decorated with stunning features including 3d-printed Christian Lacroix wallpaper and bold, bright colours. The rooms are named after words from the Welsh language (Wendy is Welsh) chosen to evoke a feeling of home and tranquillity. The buildings sit in 4 acres of beautiful gardens, laid out in a modernist Cape Dutch style and filled with indigenous plants. The pool is a focal point and offers stunning views over the surroundings of the Franschhoek Valley.
Sustainability is key at Monument House and the owners pride themselves on the sustainable luxury offering they have created in conjunction with sustainability expert Janet Leslie. Solar power provides most of the energy for the property including the heated pool. They have on site bore hole for water and effective water treatment tanks for water and solid waste.
Monument House is situated just outside of Franschhoek and close to the famous Huguenot Monument. It does not have an in-house restaurant but instead guests are given the option of 'Breakfast As You Like It' where fresh local ingredients are provided for them create their own, or 'Breakfast Odyssey' where reservations are made for them at a range of the best restaurants in town.
Monument House is a little bit of a different offering and a little slice of paradise in this stunning part of the world.
Delaire Graff 
Part of the exclusive Relais and Chateaux collection, Delaire Graff is a luxury wine estate and hotel located in Stellenbosch in South Africa's Cape Winelands. Set amidst stunning landscaped gardens and surrounded by the natural beauty of the countryside, this is an exceptional property. Each of the rooms – known as lodges, provides complete exclusivity and intimacy. The design here is stylish and luxurious and the property and gardens are decorated with pieces of art and sculpture from Laurence Graff's personal collection.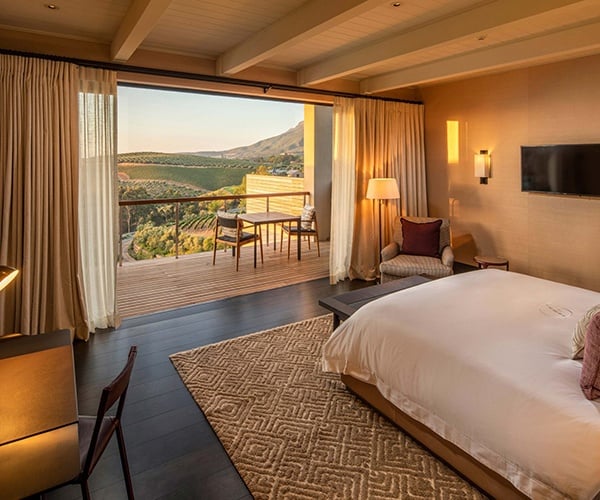 Guests can enjoy world-class cuisine at Delaire with Hoseki offering Japanese cuisine with a creative flair or the Delaire Graff restaurant offering South African favourites with a beautiful vie and paired with exquisite wines. The luxury does not stop here and guests can enjoy shopping in the hotel's boutiques including luxury clothing, homewares and accessories.
Sustainable luxury is important at Delaire and the hotel funds a foundation that supports local children and communities in South Africa.  This is a wonderful property offering luxury experiences with heart.
Mont Rochelle 
Mont Rochelle is part of the Virgin Limited Edition collection of properties. Like each of the properties, the estate was personally chosen by Richard Branson and today is one of the leading luxury hotels in the Franschhoek Valley. Sitting on a 39-hectare estate at the foot of the Klein Dassenberg Mountain Range, this is a delightful hotel. The 26 bedrooms are bright and airy with a clean and stylish design and offering views over the gardens or the mountains beyond. There is also a four-bedroom villa – The Manor House, built in the traditional Cape Dutch style which can be booked for exclusive use.
Mont Rochelle produces its own wine and guests can enjoy tours and tasting during their stay. The property is known for its restaurants serving exceptional dishes. MIKO provides 180-degree views of the surrounding mountains and a culinary introduction to South African flavours. The Country Kitchen is a more laidback offering but equally popular with delicious cuisine paired with excellent wines.
This hotel encapsulates everything that is wonderful about this part of South Africa with beautiful architecture, spectacular scenery and delectable food and wine. It is a haven of peace and tranquillity and the perfect addition to any luxury holiday in South Africa.
Did you enjoy this article?
Receive similar content direct to your inbox.