Review: Rosyth Estate House, Kegalle, Sri Lanka
Colonial charm meets Vogue tropical-photo-shoot-style at Rosyth Estate House. Two hours north of Colombo airport, Rosyth Estate House is the perfect soft-landing spot for a Sri Lanka arrival.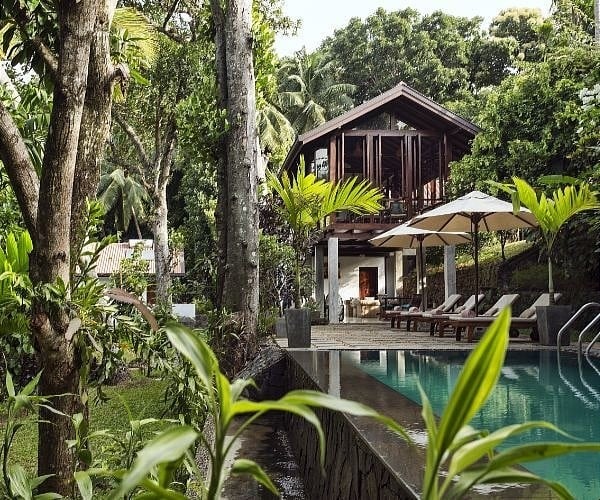 Owners Farzana and Neil Dobbs creatively combine the retro style of the original 1926 tea planter's bungalow with contemporary design flair.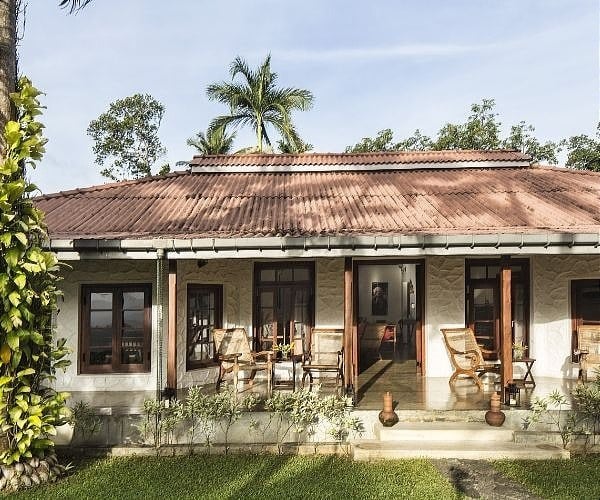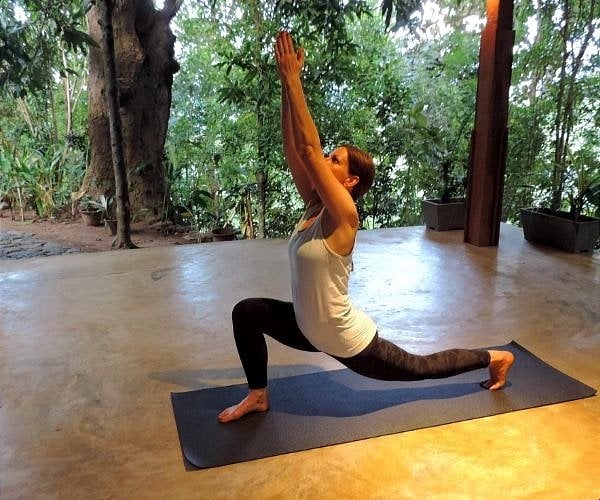 Set within the 62 acres of a tea and rubber plantation, Rosyth provides a range of onsite Sri Lankan experiences: early morning yoga, cookery classes, a plantation walk, spa treatments, tea-tasting at their new tea-factory and superb locally inspired cuisine.
The welcome
Rosyth Estate arranged for a driver to meet us at the airport and deliver us to this luxury boutique hotel a couple of miles from Kegalle.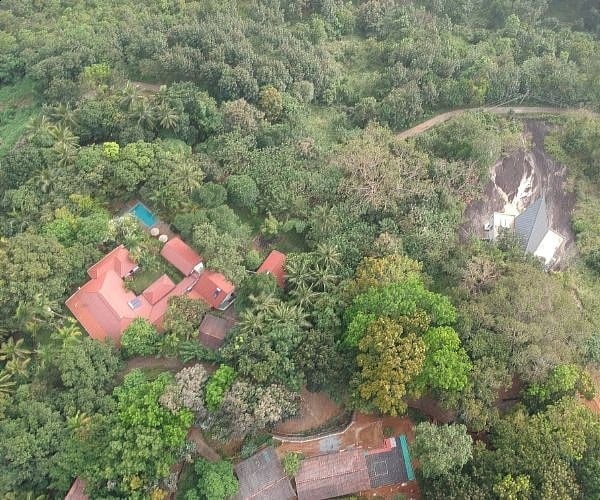 Whilst porters take luggage to our suite, we are welcomed with a chilled ginger and cinnamon tea. Plus a massage for tired feet.
Many a weary traveller, soothed by the masseur's hands, immediately book their first spa treatment.
The suite
Clove plants, wrapped with pepper creeper, and tea trees appropriately line the path to the Tea suite. Jack tree wood, easily mistaken for the rich deep tones of mahogany, frames the large windows and doors.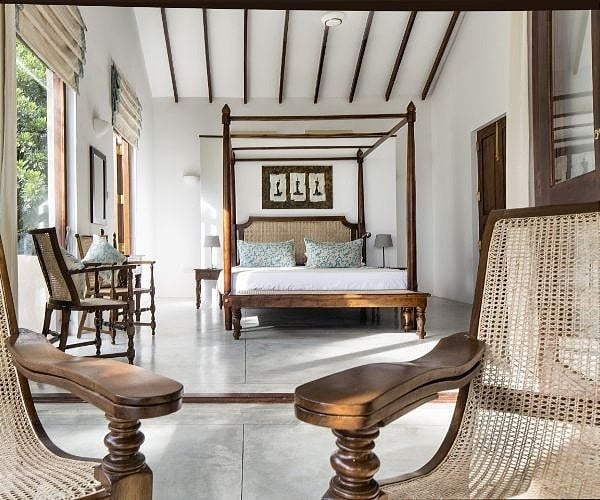 Every line of sight within the light room focuses on a dramatic plunging valley of mahogany, palm and yet more clove and tea trees. White wisps of cloud partially obscure a distant craggy peak.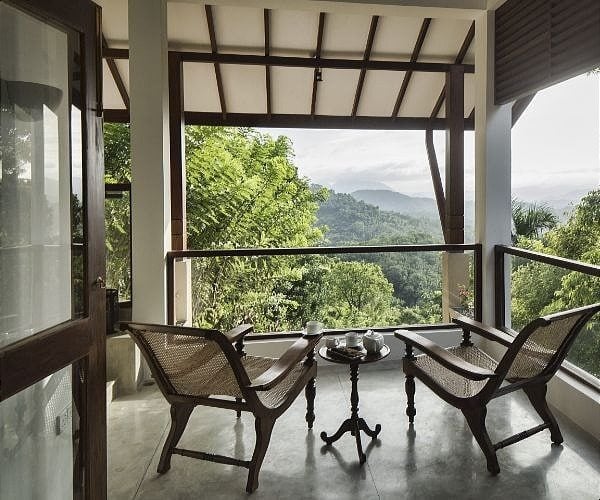 Textured oriental rattan runs from the bedhead, through the suite and out onto the chairs and sun-loungers on the terrace. A gentleman's valet stand, with a drawer for cufflinks, is a Somerset Maugham days-of-empire touch. Burnt orange blinds bring dashes of colour to the simple colour scheme.
A wall behind the bed provides storage and effectively a dressing room. A discreet alcove neatly houses the fridge as well as the tea and coffee facilities. Nothing is allowed to detract from the main attraction: the panoramic view.
The bathroom
The interior bathroom has two wash basis and a shower.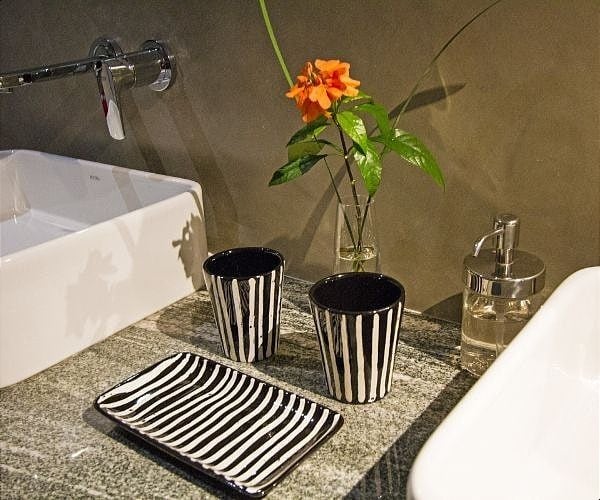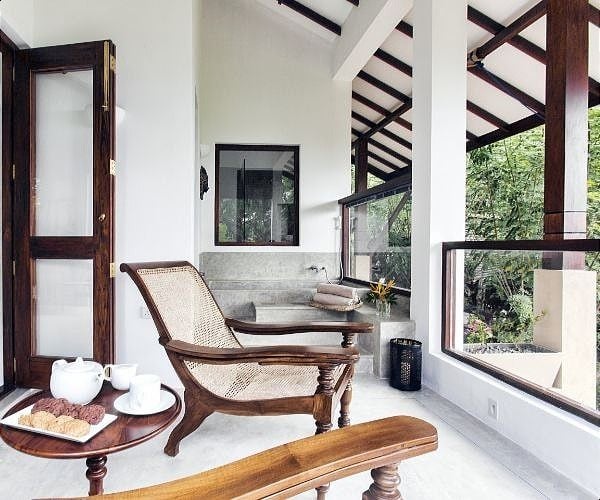 Outside, on the terrace, an indulgent deep bath again looks out over the valley.
The facilities
Fresh fruit platters alongside Sri Lankan egg hoppers are the stars of breakfasts served in the dining pavilion. Burgers, salads, soups and wraps are available throughout the day.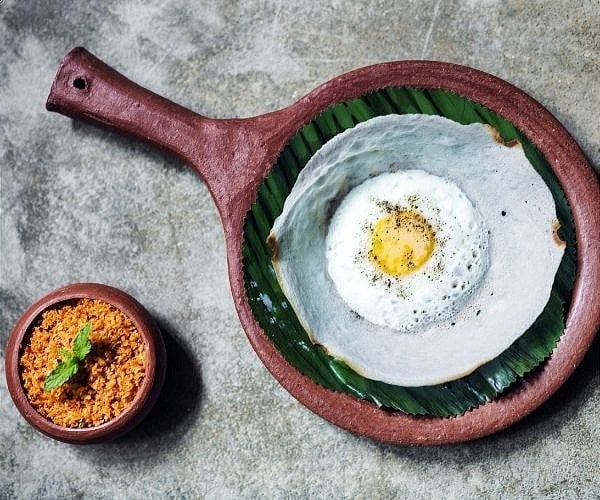 In the evenings, a team of experienced chefs run through a repertoire of traditional Sri Lankan favourites. Dinner for Sri Lankans is not just rice and one curry of beef, chicken, fish or vegetables but an array of perhaps bean, aubergine, red lentil and spinach curries as well as a sambal speckled with chilli flakes. And, then of course, a dahl too.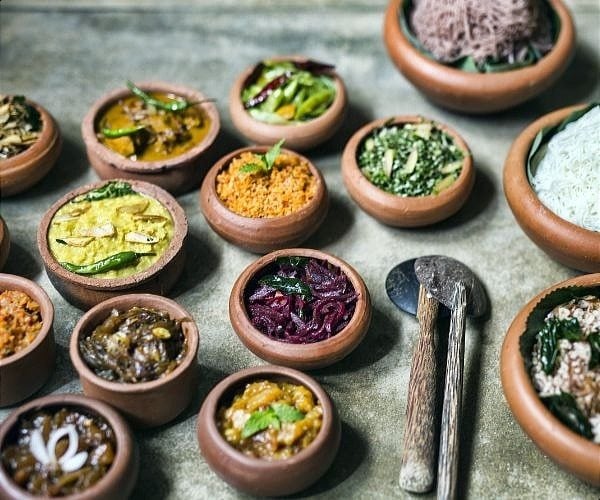 Stay three or four evenings and you'll enjoy the flaming food-theatre of Sri Lankan street food, as chefs' chopping knifes clash like cymbals.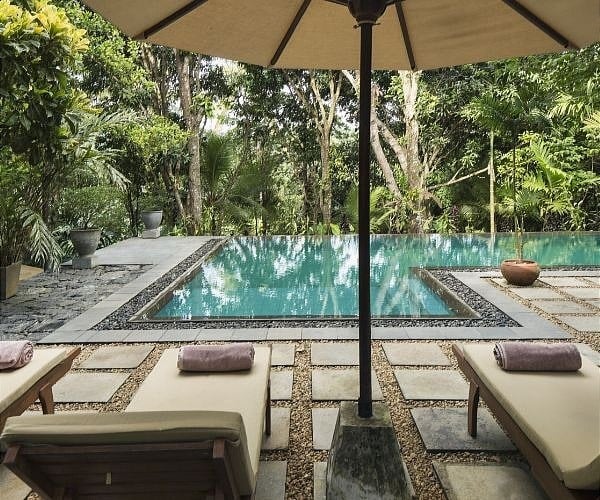 Sun-loungers surround a sapphire of a swimming pool. Select a book from the library and relax for an hour or two.
Take a plantation walk with naturalist Hetti past the organic vegetable gardens. Then he'll demonstrate how the estate's rubber trees are tapped. Some of that rubber will find its way into latex surgical gloves.
Location
A 20 minute drive leads to Pinnawala where you can walk with elephants and feed them an outsize fruit salad. A mere aperitif for the 150kg of food they eat every day. Help with elephant bath time too.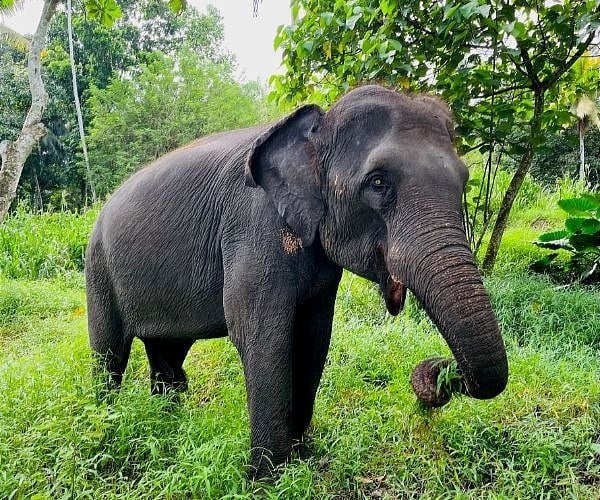 Kandy, home of the Temple of the Sacred Tooth with its manmade lake, is only an hour away. Cover your legs and shoulders, hire a guide and take off your shoes for an introduction to the legacy of the 28th Buddha. Our guide emphasises that followers do not pray. They worship.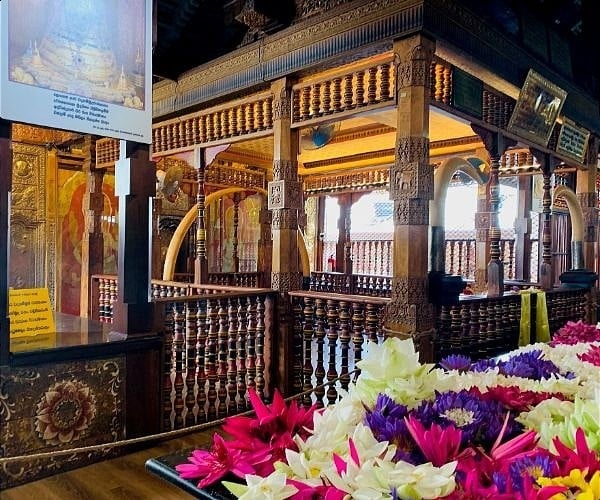 A free tour round Kandy's Herb and Spice gardens is a detailed introduction to the side-effect-free wonders of Ayurvedic medicine but you may wish to resist the sales pitch on red oil for arthritic knees, baby pineapple for weight loss and remedies that work to smooth skin.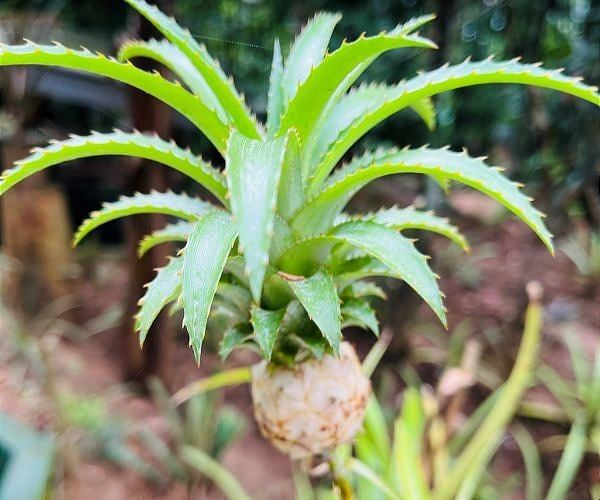 "No Nivea, no Ponds," exhorts our guide eyeing up our wrinkles. On a grander scale there are the Royal Botanical Gardens at Kandy.
Other nice touches
This is gentle and sincere Sri Lankan hospitality at its very best. Half the staff emerge to wave goodbye, as if we were royalty.
The Dobbs offered work on the estate to the 70 families who had lost jobs when the nearby tea factory burnt down, even though they were not the owners. They continue to supply breakfast for local school children three times a week.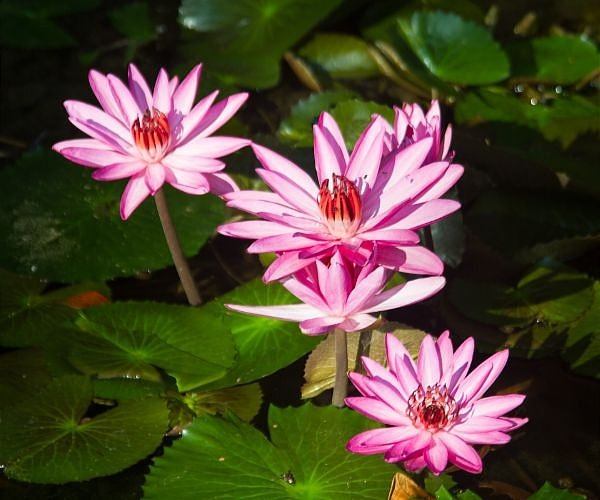 Hetti, the naturalist, knows the whereabouts of every frog and gecko around the estate house, knowing too when the pond lilies will open their flowers.
The best bit
The Dobbs are working to redesign one small part of Sri Lanka's troubled tea industry. Increasingly, recruiting pluckers, willing to receive a mere £3 a day for long hours in tough tropical conditions, is becoming difficult.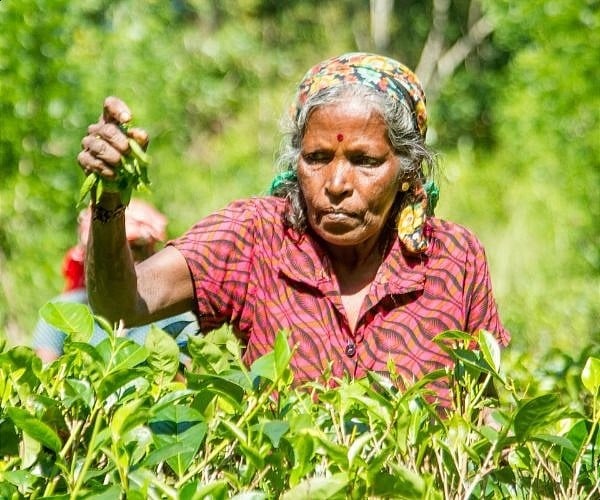 Rosyth's pluckers pick one leaf and a bud, rather than the traditional two leafs and a bud, to produce a hand-rolled artisan tea. Profits from this high-end product are shared between the employees.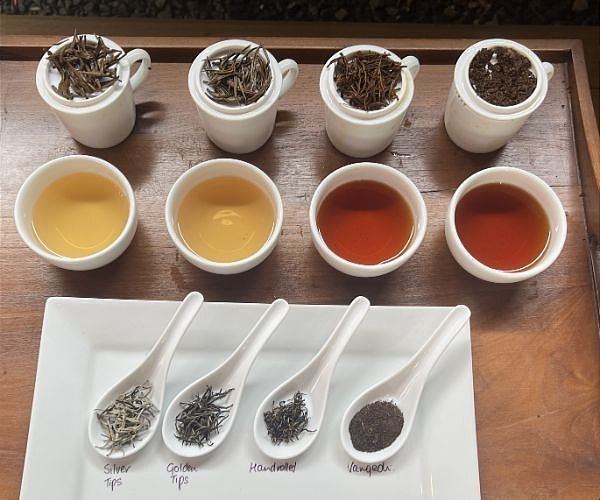 Guests on the tea-tasting experience, learning how to roll and slurp, move through green tea to medium quality teas and finally to a pink-rimmed clear amber liquid free of any bitter hints. Far removed from everyday builder's day this is the Dom Perignon of teas.
The cost
A three night stay in low season begins from £390 per person, based on two sharing a Classic Room, excluding flights and transfers.
The final verdict
Rosyth's 10 rooms range across budgets from the original simple rooms in the bungalow to the uber-luxurious Rock Villa.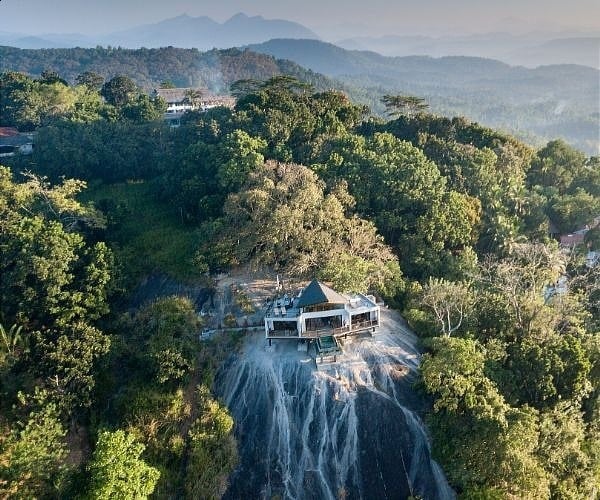 Featuring superb Sri Lankan food, Rosyth Estate House is a luxurious base camp for a tour of the island or for a final few days of relaxation before heading for the airport.
Disclosure: Our stay was sponsored by Rosyth Estate House.
Did you enjoy this article?
Receive similar content direct to your inbox.