Home > Travel Guides > Australia Travel Guide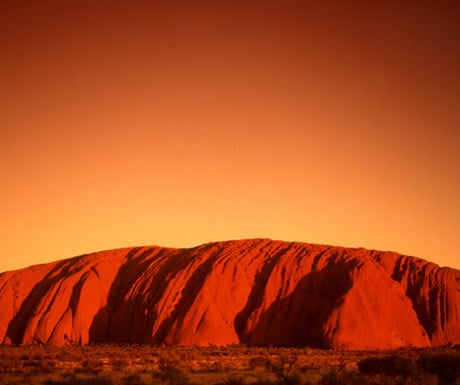 LUXURY TRAVEL
Australia Travel Guide
A vast sun-drenched land ringed by blue waters and sandy beaches. Australia is a fun-loving, laid back place which enjoys life to the full but also knows how to work hard and protect its history and culture. From its modern cities to its coral coasts and desert interiors, Australia also knows how to do luxury and offers great travel experiences for those who visit.
Introduction to Australia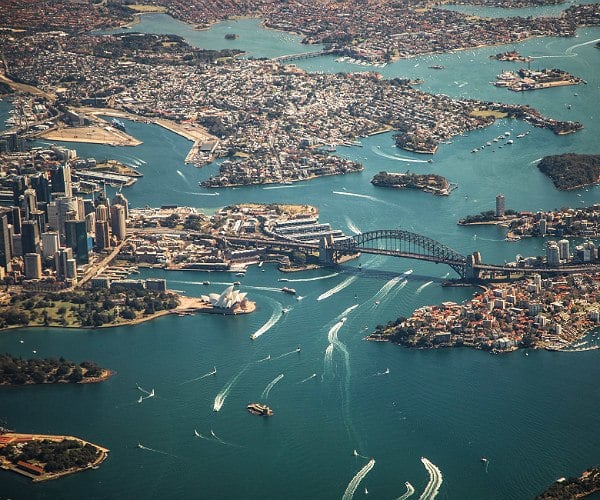 Comprising the main island and the smaller island of Tasmania, Australia is the largest country in Oceania, yet only has a population of 28 million living mostly in its main cities – Adelaide, Brisbane, Melbourne, Perth, Sydney and the capital of Canberra. The most developed area is the east coast of the country, in the states of Queensland, New South Wales and Victoria.
Much of Australia's interior is a vast, desert land which is inhospitable to all but the best prepared. Yet it does have some gems that must be seen and experienced, from the town of Alice Springs to the giant sandstone Ayers Rock (or Uluru).
So big is Australia that, while the interior is a warm desert, parts of the north comprise tropical rainforests, and at the southern extremes there are islands to the south that are sub-Antarctic.
Of Australia's cities, Sydney is the best known, largest and most visited. It is one of the world's great cities, with sights like Bondi Beach, the Harbour Bridge and Opera House. But it's also a wonderful place for dining and shopping.
Melbourne is another of Australia's great cities. A modern metropolis, it also preserves much of its history and is popular for its laid-back coffee culture, bars, restaurants and arts.
Perth is the west coast's only major city – an oasis of modernity and culture in a vast desert of sand. Its surroundings enjoy sandy beaches and sweeping views of the sea and the city.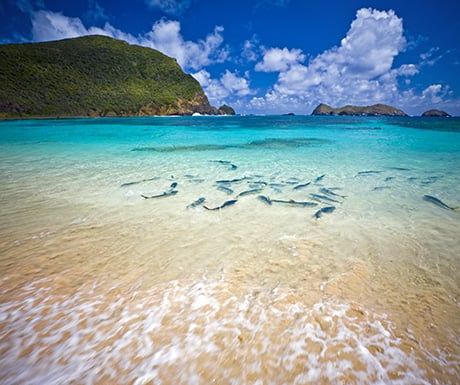 Brisbane is another modern city on the east coast. The neighbouring Gold Coast region is a popular holiday spot for both Australians and foreigners. Many will also choose to venture north to the Great Barrier Reef – the largest of its kind in the world, stretching over 2,000km.
Another of Australia's most important aspects is its wildlife. Many species seen in few other places can be found here, like the kangaroo, koala, wombat, dingo and platypus, and these draw many visitors in their own right.
Australia can be seen in bite-sized sections, or on one large journey. Its size and distance from Europe and America means it's best to take your time and make the most of your visit. There is lots to see, but it's thankfully easy to get around and there are even some luxurious travel options to make the journey that bit more enjoyable.
History of Australia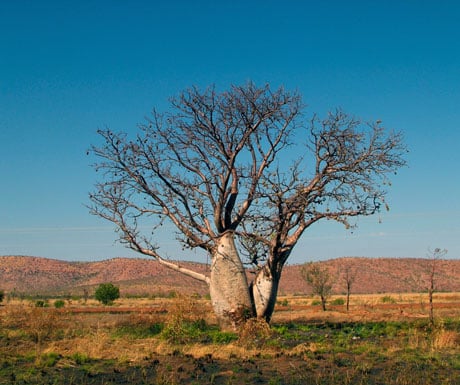 Much of what we know and think about Australia occurred in the past couple of centuries, when this vast island was 'discovered' by European explorers. But the true history of Australia dates back possibly as far as 70,000 years when the first Aboriginals arrived and began to populate this new land.
These people, along with Torres Strait Islanders who arrived from Papua New Guinea, became Australia's indigenous population, developing its traditions and culture through art, music and use of the land.
Gradually over the next century more of Australia was explored and colonized by Europeans. In a tragedy echoing that of the United States, much of the indigenous population was subdued or killed, either by disease or battle, as the settlers spread further across the land.
Discoveries of gold brought many new settlers, but Australia remained a place to send convicts until the late 1800s. Only then did more development begin with the establishment of towns, churches, institutions and the cultivation of the land.
The modern country of Australia was founded in 1901 when the different colonies combined to form a federation. Since then, it has become a place which welcomes emigrants from many nations.
Where to stay in Australia
Where you stay on your visit to Australia depends on what your itinerary involves. As it is such a large county, with vast distances between some cities and popular tourist areas, it often makes sense to move around and find new accommodation.
Sydney is the largest and most visited city in Australia. It is geared towards tourists and business travellers and has many hotels throughout the city. Those in the centre tend to be more expensive, but outlying parts of the city often have more unusual, affordable and quirky options.
Melbourne is also a popular city to stay in. Its downtown is the business heart and has hotels to suit, but in the surrounding regions there are many different hotel options which offer something different.
If you are visiting the Great Barrier Reef, the best places to stay for easiest access are Cairns, or the smaller town of Port Douglas, where boat tours originate.
Brisbane is another modern city with a built up centre and plenty of decent hotels. However, 40 miles away is the resort city of Gold Coast which has long, sandy beaches and many hotels and resorts to choose from.
In central Australia, Alice Springs is one of the larger centres of population and it is well used to accommodating visitors. Thanks to its many hotels, plus golf courses and nearby desert resorts, it is a comfortable place to stay, despite being so far from the populated coastal regions.
Uluru, or Ayers Rock, is similarly remote and it's not really worth trying to do in a day trip from Sydney or Melbourne as you should try to spend time taking in its majesty and enjoying a sunset or sunrise. It is located in the Uluru-Kata Tjuta National Park, so the local town is not built up. But there are some country hotels and resorts nearby, like those at Yulara.
Perth is a city largely on its own in the south west of Australia. It is large enough to offer all kinds of accommodation, with the city centre having the best options.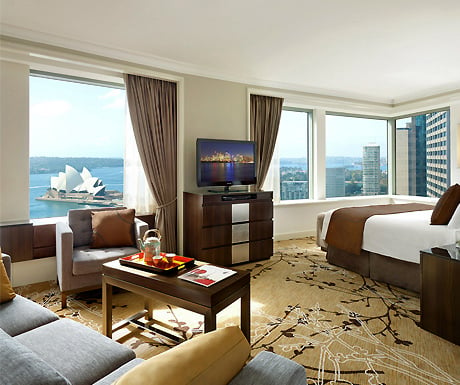 Accommodation in Australia
Australia welcomes millions of tourists every year and is well-prepared to accommodate them wherever they go. All major cities have a range of hotels, from backpacker hostels to major chains, high quality luxury hotels, self-catering apartments and boutique hotels.
Rural areas in Australia also have plenty of accommodation options where tourists travel, usually in the form of roadside motels, lodges, camping and glamping areas, B&Bs, farm stays and luxury resorts.
It is common in Australia to refer to a pub with accommodation as a hotel. You should bear this in mind, particularly in rural areas when looking for somewhere to stay since these are the more basic forms of accommodation.
When looking for country B&Bs and farmstays (including working farms that provide accommodation), most can be found on popular travel websites and agencies.
Like many countries, there is a growing trend for eco-friendly hotels and Australia is no exception. Emirates One&Only Wolgan Valley in the Blue Mountains was the first to be accredited as carbon-neutral, and the Ramada Eco Beach Resort near Broome has various experiences, from glamping to luxury villas with ocean views.
Among the best hotels in Sydney are the Shangri-La with views of the harbour, or the classic style of the InterContinental. In Melbourne try the Langham Hotel or Crown Towers, where a complimentary bottle of wine will be waiting.
In Perth COMO The Treasury is a 48-room hotel in an elegant former State building with balconies, a pool, restaurants and library at the heart of the city. At Ayers Rock, Longitude 131 is a desert retreat with lodges, spa treatments and some of the world's best sunsets.
For a resort experience, highly regarded options include Peppers Cradle Mountain Lodge in Tasmania, the InterContinental Hayman Island Resort in Queensland, Qualia on Hamilton Island, near the Barrier Reef, and Jackalope in the Mornington Peninsula, Victoria.
Places to visit in Australia
A trip to Australia, particularly for a first-time visitor, should consider some of the country's most important and spectacular attractions to give you a flavour of the place. But bear in mind that some travel will be necessary to cover the sometimes great distances between.
Sydney is Australia's largest city and a good starting point. Built around a natural harbour stretching inland from the Pacific Ocean, this is where modern colonization of Australia began. In fact, the runways of the main Kingsford Smith International Airport stick out into Botany Bay, where Captain Cook arrived in 1770.
The centre of Sydney is a modern metropolis of skyscrapers and commerce, set behind The Rocks, where the town first began. Circular Quay is the central harbour area where ferry boats sail to and fro around the city, and where both the Sydney Harbour Bridge and Opera House form the city's main landmarks. Visitors love to stroll around this area, which is a short distance from the shops, hotels and restaurants of downtown, and easily reached by Metro.
You can take a seaplane flight around the harbour or hop on a ferry to the district of Manley, where there's a lovely beach, quaint shops and cafes, and excellent fish and chips! To the south is the world-famous Bondi Beach which is a very popular place with visitors and locals alike.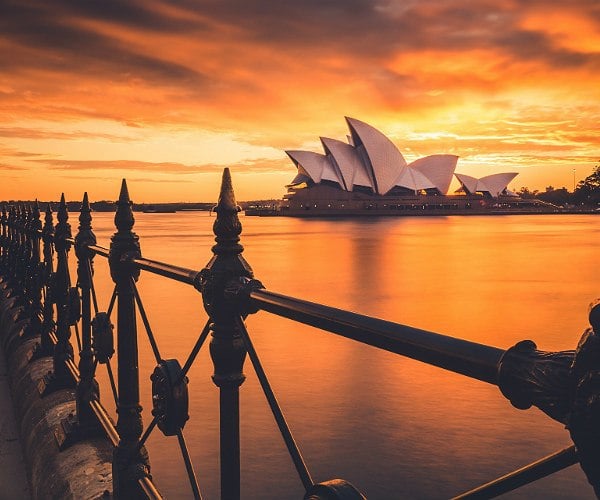 One of the easiest ways to experience the great outdoors from Sydney is in the Blue Mountains National Park. This is a magnificent region of great canyons, waterfalls and forests of eucalyptus trees stretching as far as the eye can see; the droplets of their oil mixed with water vapour gives the air over the park its blue hue.
Melbourne is Australia's second largest city and experiences a different climate. It has monumental buildings, an important art and coffee scene, wonderful museums and botanical gardens, and fantastic shopping. You can even experience the country's largest air show each spring at nearby Avalon.
From Melbourne you can take the Great Ocean Road – a 243km coastal route passing through small towns and beach resorts like Lorne, the Great Otway National Park, the famous Twelve Apostles ocean stacks, and ending at the lighthouse in the small town of Port Fairy.
Further along the south coast is Adelaide with its large botanical gardens and zoo, café culture and shopping.
The east coast is dominated by Brisbane and Gold Coast – two modern cities and beach resorts famed for relaxing and enjoying the sea. Heading further north you'll come to Cairns – a gateway to both the Great Barrier Reef, and the Wet Tropics World Heritage Rainforest, where Australia's tropical zone begins. You can enjoy snorkeling and diving, island-hopping cruises, rainforest hikes, or time enjoying the region's amazing seafood.
Along Australia's northern coast you'll find a quieter region. This is off-the-beaten-track Australia, where you're unlikely to see many people on the beaches, or high-rise resorts. It is a region where you can arrange tours to offshore islands, wildlife areas, or parks like Garig Gunak Barlu or Kakadu National Park. Many visitors arrange helicopter tours to see as much of this territory as possible, and enjoy the civilization of cities like Darwin and Broome.
Perth is a major city, but sometimes feels all alone. But don't let that stop you visiting as it has a lot to offer (and the benefit of non-stop flights from the UK). At its heart is the Swan River which meanders to the Indian Ocean at Perth's busy port. The city clings to its shore, with the width of a lake in places, and you'll find lovely walks, cultural attractions and views to enjoy.
The King's Park Botanic Gardens sit by the river, and in the middle is Heirisson Island where you can see a population of kangaroos right in the middle of the city. And in Perth's western suburbs you can try out Cottesloe Beach where surfing, swimming and views of the sunset are enjoyed.
Perth is also great for wandering along its streets of historic buildings, enjoying shopping and eating out at the many great cafes and restaurants which the city has to offer.
An easy trip north of Perth is Nambung National Park, also known as the Pinnacles Desert. It has thousands of limestone pillars, sandy beaches, and scenic drives and walks to enjoy.
Australia's interior is vast and inhospitable, but it does have two gems which attract many visitors. Alice Springs is a modern town with good cafes, restaurants and art galleries showing off Aboriginal and desert art. Then there's Uluru, known to many as Ayers Rock, rising out of the desert like it was planted on purpose. It is a significant place for the Aboriginal population, and one of the world's greatest sights.
Finally there's Tasmania – Australia's island state off the southern tip. It has a more agreeable climate and is a renowned producer of wine, beer, oysters and cheese. You can visit many of these producers on a tour, or simply enjoy a break in Hobart or an eco-friendly rural stay.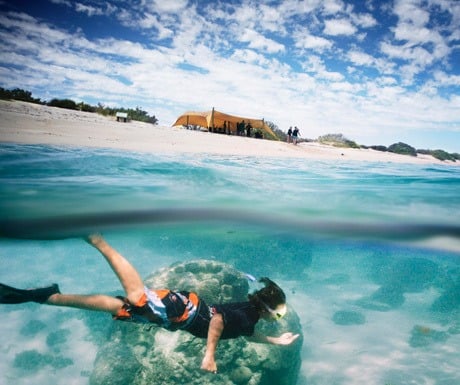 Things to do in Australia
Australia's landscapes, cities and climate combine to form a very appealing and popular year-round destination with a lot on offer.
Exploring the country's cities – Sydney and Melbourne in particular – is often the first port of call for any visitor. They give the opportunity to experience some of Australia's most famous sights, learn something of the culture and history at their museums and galleries, and enjoy great food, evening entertainment and shopping opportunities which they all bring. Most of Australia's cities are coastal, too, so relaxing on the beach is an easy option.
Seeing more of Australia away from the cities is something easily achieved on a road trip or organized tour. All along the coasts of the country, emanating from its main cities, are coastal routes taking in beach resorts, clifftop vistas, national parks and resorts. Most famous of these is the Great Ocean Road, but you can also try similar routes from Sydney, Brisbane, Perth and Darwin.
Australia is also about the great outdoors. From pursuits like hiking, rockclimbing and cycling, to enjoying fine golf courses, there is something for everyone. In coastal areas surfing, windsurfing, canoeing, sailing, snorkeling, diving and swimming are popular and can be enjoyed on beaches and in many resort hotels.
Along with outdoor regions, many visitors love to witness Australia's animals. While there are city zoos, nothing beats meeting them (at a safe distance) in their own habitats. Places like Kangaroo Island in South Australia, Daintree Rainforest or Lone Pine Koala Sanctuary in Queensland, or the Great Barrier Reef itself are worth experiencing.
Seeing more of Australia is easily possible by utilizing the frequent domestic air routes to cities large and small all around the country. You can visit top attractions like Uluru, or remote museums like the Qantas Founders Museum at Longreach, full of heritage aircraft including two jumbo jets!
Another way to get around is on one of Australia's long-distance train journeys, which are a leisurely and comfortable way of traversing the country in style.
Food in Australia
But don't let that put you off. Australia is an island and fish is common in all major cities. The Barramundi is also a popular river fish, eaten as a healthier option to traditional fish and chips.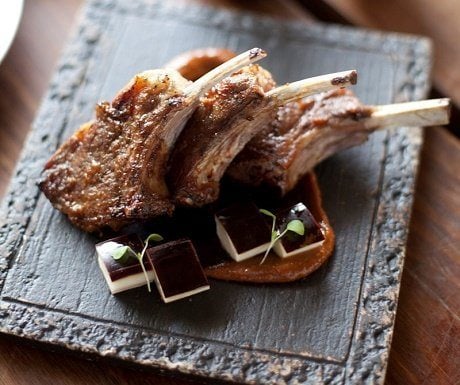 Australian traditional fare is complemented in all major cities and tourist areas by a range of world cuisines in some fantastic restaurants. The country is not on the Michelin star rating guide, but there are many that would be deserving of the honour, like Attica and Vue de Monde in Melbourne (the latter on the 55th floor with amazing city views); Restaurant of the year Orana in Adelaide; Italian restaurant Otto in both Brisbane and Sydney, and Aria (with Opera House views) in Sydney; or excellent Japanese chain Nobu in Perth.
Let's not forget Australia's wine. As one of the world's largest exporters, it makes up a significant portion of the country's economy. There are major wine growing regions in South Australia, Tasmania, Victoria, Western Australia and New South Wales, with the climate suiting it perfectly. You should try some of the produce when dining in Australia.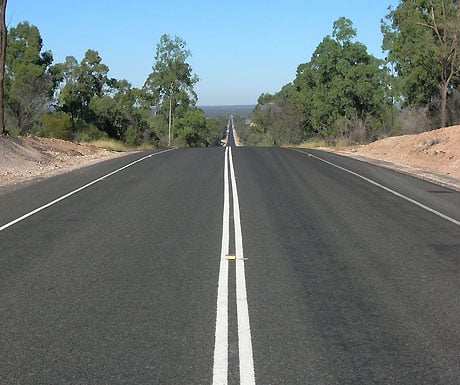 Getting around Australia
Because of Australia's great size and spread out communities, it relies heavily on its transportation network as an essential means of getting around and maintaining links.
Major airports are Sydney, Brisbane, Melbourne, Perth and Adelaide offer worldwide links. There are many smaller airports in towns and remote communities around the country which have essential links to the larger cities, and both Alice Springs and Ayers Rock have airports which are useful for tourists. Scheduled air services are a popular way to travel between major cities, and even across the Tasman Sea to Australia, with both full service and low-cost airlines flying regularly.
Australia also relies on its widespread road network to link its towns and cities. There are long-distance highways spanning the deserts of the interior, linking to mines and allowing freight distribution. The largest highways are found along the eastern and southern parts of the country.
Rail is another important means of transportation in Australia. There are local commuter services in and around Adelaide, Brisbane, Melbourne, Perth and Sydney. Light rail systems also exist in Sydney, Gold Coast, Canberra and Newcastle. Melbourne has a tram system, and the Sydney Metro is the only Australian underground rapid transit system.
Long distance trains in Australia link the main cities. There are a few ultra-long services which area a great way to see the country and enjoy some luxury on board. They are the Indian Pacific from Sydney to Adelaide and Perth, The Ghan across the interior from Adelaide to Alice Springs and Darwin, The Overland from Melbourne to Adelaide, and the Great Southern from Brisbane to Melbourne and Adelaide.
When to visit Australia
An important thing to remember for any visitor to Australia who hails from Europe, North America or much of Asia, is that the seasons in this southern hemisphere country are reversed from what they are used to. In Australia, June is mid-Winter, while Christmas and December are in the hottest part of the year.
The idea of Australia to many is of a hot place where the sun shines throughout the year. In fact, only the southern portion of Australia tends to see much of a difference between the seasons, with summers reaching up 40°C at its peak, and cooler winters. In contrast, the northern part of the country is more tropical, retaining high humidity and warm temperatures throughout the year, and seeing more rain. The interior deserts of Australia are always hot, dry, and can be inhospitable.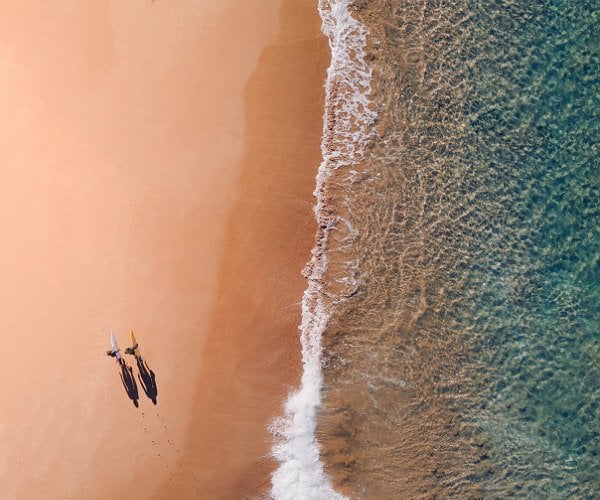 The best time to visit Australia's main cities – Brisbane, Sydney, Melbourne and Perth, is between November and March, where warm days make it pleasant to be outside or enjoy the beach. December can be a wet season for certain areas, and Christmas can be a busy holiday time on the beaches and in hotels.
Tasmania is often cooler than the rest of the country, particularly in June and July, whereas the Great Barrier Reef, Cairns and Darwin are warmer throughout the year.
Events in Australia
Here is a comprehensive list of public holidays and festivals in Australia.
January
26th – Australia Day, Nationwide
Sydney Festival
February
Festivale, Tasmania
Australian Open, Melbourne
Sydney Lunar Festival
Australian PGA Championship
Adelaide Fringe
March
Adelaide Fringe
Sydney Mardi Gras Parade
Melbourne International Comedy Festival
April
25th – ANZAC Day
Melbourne International Comedy Festival
Bluesfest, Tyagarah, NSW
Wide Open Space Festival, Ross River, NT
Sydney Writers Festival

May
Sydney Writers Festival
Narooma Oyster Festival, NSW
Grampians Grape Escape, Halls Gap, VIC
June
Barunga Festival, Katherine Region, NT
Festival of Voices, Hobart, Tasmania
July
Devonport Jazz, Tasmania
Festival of Voices, Hobart, Tasmania
Scenic Rim Winter Harvest Festival, Aratula, QLD
Australia International Music Festival, Sydney
Boulia Camel Races, Melbourne
Sydney International Boat Show
August
Hamilton Island Race Week
Sydney International Boat Show
Darwin Festival
September
Tulip Time Festival, Bowral, NSW
Tesselaar Tulip Festival, Silvan, VIC

October
Tulip Time Festival, Bowral, NSW
Tesselaar Tulip Festival, Silvan, VIC
Coonawarra Cabernet Celebrations, SA
November
Formula 1 Australian Grand Prix, Melbourne
Australian International Air Show, Melbourne

December
Sydney Hobart Yacht Race
31st – New Year's Eve Celebrations, Sydney
Luxury travel tips
Australia is the perfect destination for a luxury holiday, whether you plan it by yourself or as part of an organized tour of your choosing.
Whether you want an entertaining city break full of fine dining, boutique shopping and five star hotels, an outdoor experience sleeping under the stars or at an eco-friendly resort, or even just a sampler tour of the country's best attractions, it's possible to arrange with a little planning.
Most major airports in Australia have good quality facilities, and carriers like Qantas have business class offerings.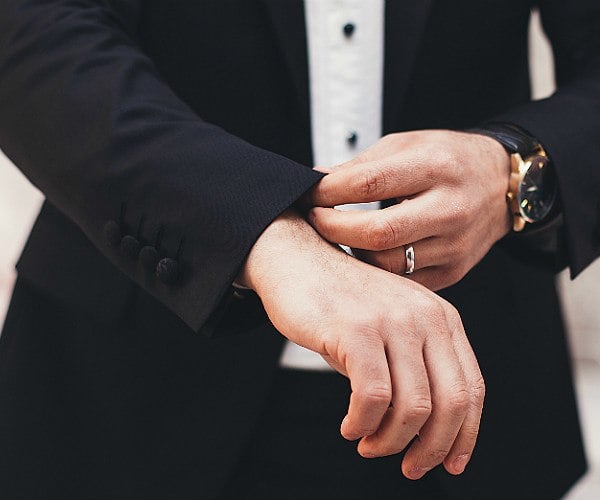 Owing to the time taken to traverse this great island, Australia's long-distance train routes are more of a vacation in their own right and fit perfectly with those seeking a luxury journey. The trains on Indian Pacific, The Ghan and The Overland in particular are geared towards enjoying this slow pace, offering fine dining, sleeper cabins and good service on board. They also stop at popular towns and attractions along the way, allowing you to see more of the country.
Luxury chauffeured wine tasting tours can be organized from most Australian cities. Some of the best are Hunter Valley or Margaret River regions close to Sydney and among some amazing scenery, or Yarra Valley and Rayners Orchard near Melbourne.
In all regions you will find luxury hotels, both large and boutique. In remoter regions there are luxury lodges, and near the beaches there are luxury resorts. Many offer amenities such as spas, pools and on-site restaurants serving the best local cuisine.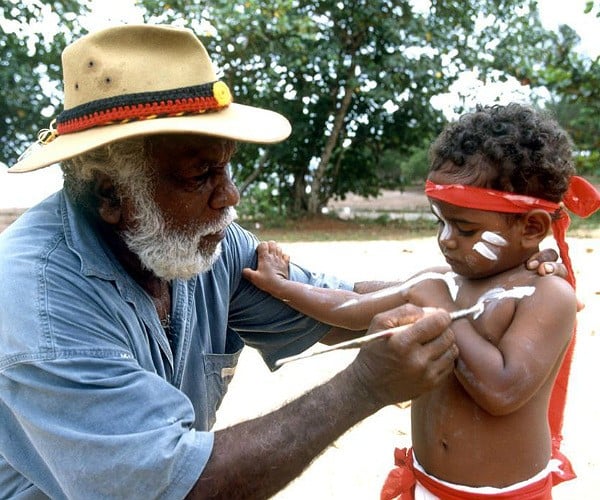 Language and culture
The language spoken universally throughout Australia is English, and it has that familiar twang of the local accent, and local words and phrases which make it unique from other English-speaking countries.
The Aboriginal inhabitants of Australia have many different languages, as well as their own culture and ways of life. However, this is a diminishing culture.
Australia is predominantly a Christian country, but other cultures, ethnic groups and religions are common. This is a country which has welcomed many people to live over the years, and so it is common to see people of various backgrounds, particularly in the cities.
Australians in general are light-hearted, friendly and love to make jokes. They often love being outdoors, enjoy sport and socializing, and prefer a simple hand shake and first name greeting to anything more formal.
Useful phrases
How you going? – How are you?
Tinny – Can of beer
Thongs – Flip Flops
Togs – Swimming Costume
Arvo – Afternoon
Evo – Evening
Crikey/Blimey – Amazement or Surprise
Blokes – Men
Sheilas – Women
Bruce – An Australian Bloke
Barbie – Barbecue
Bush – The Countryside
Outback – The Australian Interior
Chook – Chicken
Dunny – Toilet
Good on Ya – Well Done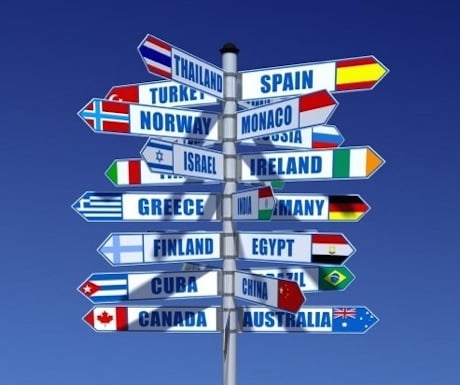 Weather in Australia
Visiting Australia soon? See below for the latest weather forecast for Australia.
AUSTRALIA WEATHER
Useful information
Timezone
UTC + 8 Australian Western Standard Time
UTC + 9:30 Australian Central Standard Time
UTC + 10:30 Australian Central Daylight Saving Time
UTC + 10 Australian Eastern Standard Time
UTC + 11 Australian Eastern Daylight Saving Time
Currency
Australia's national currency is the Australian Dollar. See www.xe.com for current exchange rates with the British Pound, Euro and the American Dollar.
Power
The California operates on 230V / 50Hz system and has three-pin plug sockets accepting type I plugs. Appliances with a voltage of 220-240V can be used here with the correct adapter.
Tipping
Tipping in Australia is not mandatory as most staff receive a living wage, and restaurants are required to include service charges in their bill. Having said that, leaving a tip for good service is always appreciated. The same goes for taxis, porters and housecleaning staff. It is not necessary to tip bartenders or tour guides.
Telecommunications
Telstra, Optus and Vodafone are the main mobile proviers in Australia, with good coverage everywhere apart from parts of the interior and rural areas. Pre-paid local SIM cards can be purchased for around $5 but your mobile needs to be unlocked to use them.
WiFi
Free Wifi can be found in most restaurants, cafes, museums, parks and on city buses. Australia has thousands of locations with free WiFi including parks, museums, airports, stations, libraries and public transport. You often need to register personal details in order to access free WiFi.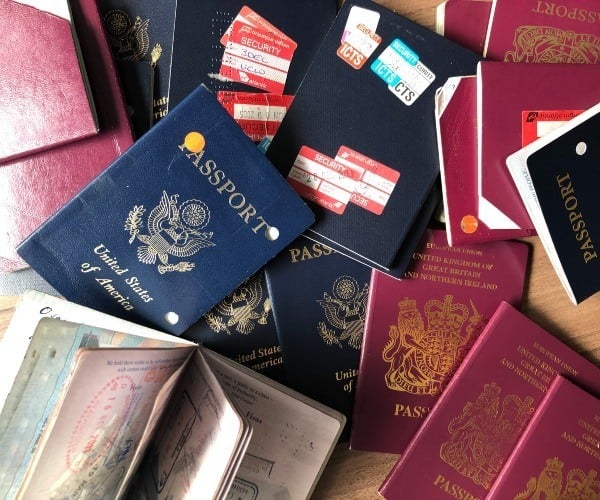 Want to contribute to our travel guides? Please contact us for details…