Home > Travel Guides > Botswana Travel Guide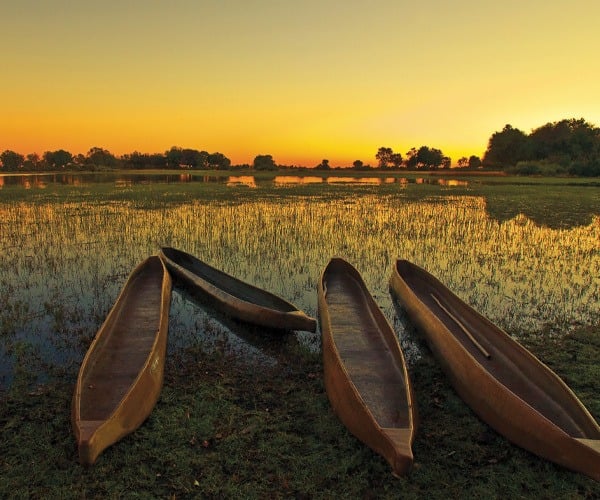 LUXURY TRAVEL
Botswana Travel Guide
Botswana is for people wanting to connect with nature and appreciate the spectacular diversity of plants and animals available. Be astounded by the vast expanses of uninhabited wilderness stretching from horizon to horizon, the wonder of limitless space, astonishingly abundant wildlife and bird viewing, night skies littered with stars and spectacular sunsets.
Introduction to Botswana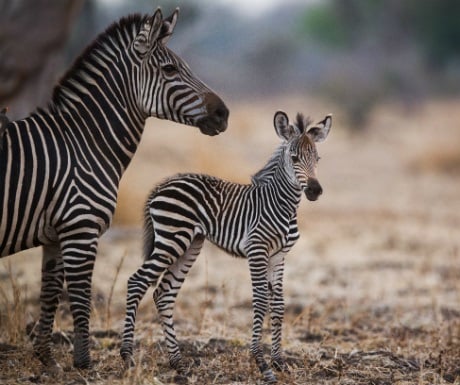 Botswana is a rarity in our overpopulated, over-developed planet. Appreciate the largest intact, inland delta in the world, the Okavango, or the huge vastness of the Central Kalahari Game Reserve. Explore the ethereal, solitude of the Makgadikgadi pans and observe the incredibly abundant wildlife of the Chobe National Park. Take a step into antiquity, as you delve into the sacred, mystical place of the Tsodilo Hills.
Botswana loves tourists, English is widely spoken and the people are rightly proud of their country. The People of Botswana will enchant you; visit their villages and experience their rich cultural heritage first hand.
A landlocked country bordering Namibia, Zimbabwe, Zambia, and South Africa, Botswana has a very low population density, giving wildlife plenty of room to flourish. The elephant population is the largest in the world due to the tight protection of wildlife. Botswana is also blessed with natural resources, including diamonds, copper, gold, nickel, and soda ash.
Cattle farming and agriculture support the majority of the population. Tourism has followed a low volume high yield policy for years. The country aims to have the most authentic and exciting wilderness in the world giving unparalleled nature, heritage and lifestyle experiences. Roughly the size of France, Botswana is mainly flat; it is also hot and dry for most of the year.
Botswana's inhabitants are called Batswana (singular – Motswana). Batswana is a network of several different groups, with the Tswana, Kalanga, and Basarwa being the major tribes. Others include Bayei, Ovaherero, Basubiya, Bakgalagadi, Hanbukushu, the San (bushmen), Indians, and white settlers.
The country has gently falling valleys, sand dunes, vast numbers of pans, and, in the extreme northwest, isolated hills, such as Aha, Tsodilo, Koanaka, and Gcwihaba, often disturb the largely unchanging flat landscape. On the southwestern side, many of the pans have dune networks, which differ in size and complexity. The last region is made of ancient lake beds on top of the northern sandveld in the lowest part of the Kalahari basin. During the rainy season, the pans fill with water, and their hard surface layer guarantees that the water stays in the pans and is not drained immediately. For wildlife, these pans are of great significance, receiving essential nutrients from the salts and grasses.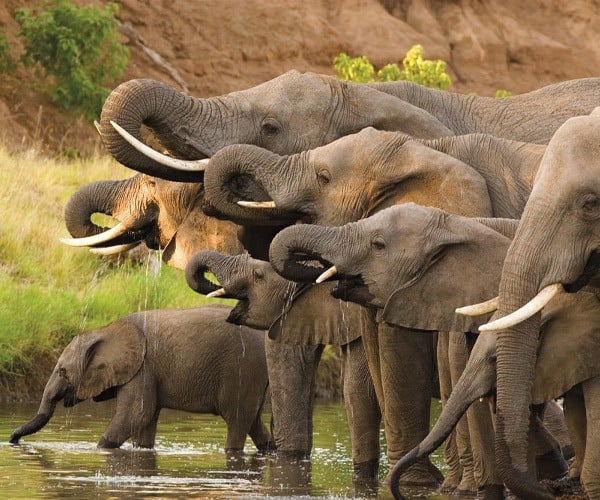 The Kalahari Desert covers the majority of Botswana. Over a third of the country is dedicated to Parks, Game Reserves, Nature reserves, and wildlife management areas. A large semi-arid savannah with only one water source, the Okavango. It stretches through most of Botswana but also into Namibia and South Africa. The home of the San People who have lived and hunted there for thousands of years. This lifestyle is becoming almost impossible in modern-day Botswana. However, 'Desert' is a misnomer: it was known as a 'thirstland' by its earliest travelers. Most of the Kalahari (or Kgalagadi, its name in Setswana) is covered by vegetation.
In the Central Kalahari Game Reserve, the ecosystems, animals, and habitats are very different from what you will see further north in the Okavango areas. These include a number of species, such as brown hyena, aardwolf, oryx, bat-eared fox, and ostrich, that are more prolific here than elsewhere in Botswana. Maun – Botswana's tourism capital, the seat of power of the Batawana people, and the administrative centre of Ngamiland District. Serowe is the birthplace of Sir Seretse Khama, the country's founding father, and first president. Francistown is the site of Southern Africa's first gold rush and one of Botswana's oldest towns. Molepolole is the capital for the Bakwena, one of the eight main tribes. Sebele I, the Bakwena Kgosi (Chief), was one of the three chiefs who went to England in the colonial period to seek safety from the British.
The Tsodilo Hills is a UNESCO World Heritage Site preserved due to its numerous outstanding rock art plus its symbolic and religious significance for the local people. The importance of the hills is it shows how humans have used the area and the environmental changes over at least 100,000 years.
The Makgadikgadi pans in northeastern Botswana are some of the largest in the world. The pans are normally flooded in the rainy season but usually, they have shallow pools and islands of grasses favoured by thousands of flamingos. The animals and birdlife found here are seasonal gravitating here after the rains.
In the north, near the section where four countries meet – Botswana, Namibia, Zimbabwe, and Zambia – is Chobe National Park. This is the same spot where the Zambezi River crosses the Chobe River. With four distinct habitats, the national park is a special environment that attracts a unique range of wildlife. Kasane, a tourist city, the gateway to the national park but also for access to Victoria Falls or Livingstone.
North of Chobi are three reserves of real African big game country, Kwanda, Selinda, and Linyanti important animal migration routes and have permanent water sources, the Kwando and Linyanti rivers. There is nothing else out there but you, the bush, and a fascinating contingent of wild animals waiting to be explored.
The Okavango River flows in from the Angolan highlands in the north-west and soaks into the sands, creating 15,000 sq. Km of water channels, lagoons, swamps, and islands network. The Okavango is a little smaller than Israel, a place where large mammals retreat during the dry season. Moremi Game reserve is situated here, the first reserve in Africa to be formed by local residents, the only officially protected area of the Okavango Delta, it has enormous science, environmental, and conservation significance.
History of Botswana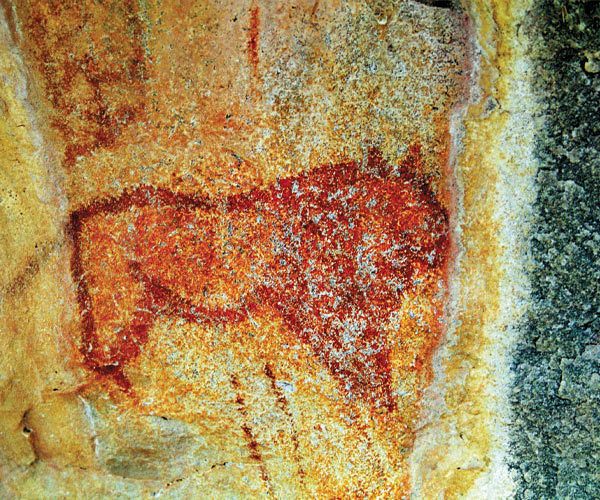 Botswana is home to people of primarily Tswana descent (collectively referred to as "Batswana") whose recorded history can be traced back to the 14th century.
It is assumed that they are descendants of King Mogale, who lived in the present-day Magaliesberg Mountains in South Africa's Gauteng Province. At the turn of the 19th century, the people who lived in the region known as Botswana made up of at least eight ethnic chiefdoms they coexisted, shared a common language and history.
In 1870, three Chiefs asked the British government to protect them from the Dutch and German colonists who had been destroying Batswana territories. The lobby for security succeeded in 1885, resulting in the Bechuanaland Protectorate.
Ten years later the Batswana are worried by the ambitions of Cecil Rhodes and the British South Africa Company. Three Batswana chiefs – Bathoen, Khama III, and Sebele – sail to Britain to petition for their country to remain a protectorate. After Khama's marriage to a white woman, the British prohibited Seretse Khama from becoming head of the Ngwato, exiling him for six years.
With the moderate Bechuanaland Democratic Party (BDP) headed by Seretse Khama, the Republic of Botswana became independent on 30th September 1966. Gaborone became the capital, and for 14 years, Khama was President.
In 1967 Botswana found diamonds at Orapa as a gift for the new country. This set Botswana on a path to become the world's leading gem-quality stone manufacturer.
The first President, Sir Seretse Khama, served until his death in 1980. Since the first democratic elections in 1966, the Botswana Democratic Party (BDP) has been in power and continues to draw support from a large proportion of the population of Botswana. Mr. Ketumile Masire served as the second president of Botswana, maintaining a tradition of good governance. He retired peacefully from office in 1998 and was replaced by Mr. Mogae Festus. With the nation in the middle of an HIV/AIDS crisis in 2000, Mogae declared that all sufferers could access medicines free of charge. Botswana no longer has the highest incidence of HIV/AIDS in the world. Ian Khama, son of Botswana's founding ruler, became President in 2008. Since April 2018 Botswana's president is Mokgweetsi Masisi.
Where to stay in Botswana
In developing its camps, Botswana has been extremely careful. Although this will impact the price, from simple stilted huts above the floodplains to luxury lodges, there is a lot of choice in both character and location; many of Botswana's camps are special, and none are fenced, so don't be shocked to find an elephant outside your tent. There is a range of ways to explore, along with high-end assets, on a more restricted budget, including mobile camping safaris, which are a perfect way to discover the country and get closer to nature.
An eternal memory will be left in Chobe National Park, renowned for its massive elephant populations, huge buffalo herds and some big lion prides, and incredible birdlife. The Chobe Riverfront is the most open area of the park, and this is also where the greatest concentration of wildlife is located. Head off to the Linyanti Marshes for a more predator-rich environment. Or, in the remote Savuti region, to nourish your soul. Wildlife encounters are abundant everywhere you go in this park and all of Chobe feels like real wilderness. It is a place where everyone can enjoy.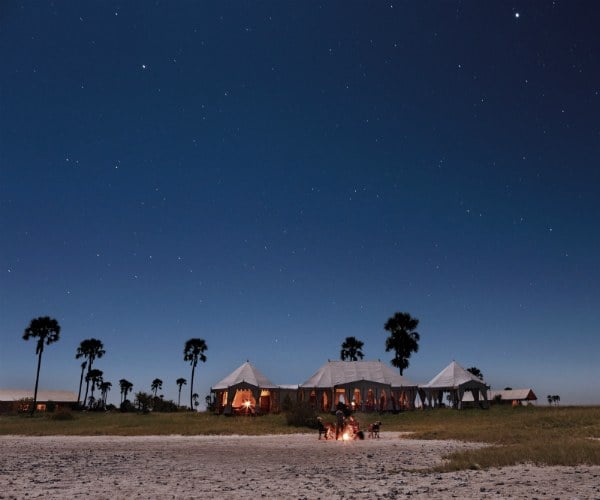 Accommodation in the Okavango Delta falls into three broad categories, defined by the activities they offer: water, ground, and mixed camps. For a full Okavango experience, mixing water and land camps, or a mixed camp. Water camps are usually set up in the permanent delta.
The emphasis is on the unique ecosystem of the delta, its characteristic rivers, birds, and marine creatures. Land-based camps provide game drives and often walking safaris, with an emphasis on the exceptional game that is drawn to this desert oasis.
The fertile floodplains and delta islands are home to some of Africa's best game watching with large animal concentrations in the vicinity of camps Both land and water activities are provided by mixed camps.
Salt pans, vast grasslands, and acacia forests constitute the Central Kalahari Reserve. There are dunes, but they are mainly dunes with grass, rather than the kind of dunes that you will find in the Sahara. The desert retains several tracts of undulating grazing land after the life-giving annual summer rains. Classic animals of the Kalahari include zebra, wildebeest, eland, giraffe, and springbok.
The park also has a reputation for predators that is well earned. As well as cheetahs, black-backed jackals, brown and spotted hyena, you're likely to see black-maned Kalahari lions, the rare wild dog, and the secluded leopard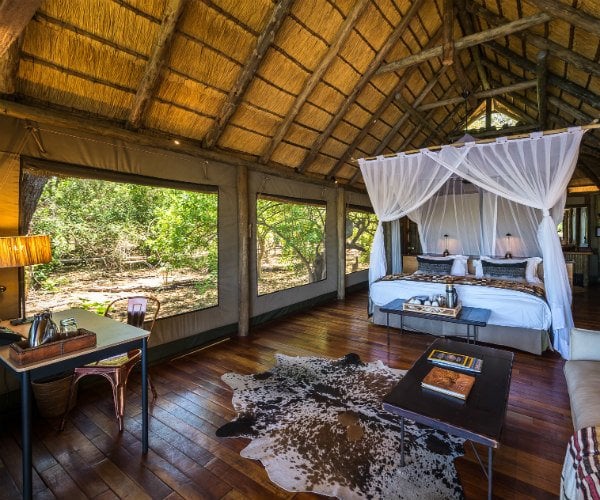 Accommodation in Botswana
Hotels in Botswana's cities tend to be targeted towards visiting business people and, regardless of the price level, they tend to be usable but dull. That said, they're clean and rarely unpleasant. Prices are more expensive in Kasane where the hotels are more geared to foreign tourists than in Maun.
A few guesthouses have appeared in the larger towns of Botswana in recent years, including Maun and Kasane, but these are still very small, and mostly in suburban locations that are only practical if you have a car. Some can be on the pricey side as well and don't necessarily represent good value for money.
Accommodation is varied elsewhere and includes some large lodges. The Chobe Game Lodge is the only one inside the park; they also have a luxury houseboat for photo safaris that can accommodate 10 people.
Most accommodation options are located along the beautiful riverfront, many of which have pontoons or vessels of their own for you to go on leisurely river cruises. Well-known guests to several of Kasane's lodges and resorts are elephants, buffalo, antelope, and occasionally even some of the Chobe's predators.
Staying outside the park also gives you more chances to visit some of Kasane's restaurants and bars.
There are many different types of tents for accommodation, mostly luxurious ranging from private, peaceful Meru-style tents and Serengeti-style tents to luxury tents under thatch. A traditional East African 1940s style camp, Jack's Camp, has been renovated with the tents almost double their earlier size and the one of a kind swimming pavilion. There are also six white canvas safari tents complete with bucket showers and flush toilets at San Camp.
Glass-fronted thatched cottages with private decks can be found at Leroo le Tau. A thatched roofed lodge finished with volcanic rock, called, Ngoma Safari Lodge, can be found in the Chobe forest reserve, with the suites nestling in bushwillow thickets and Zambezi teak trees – eco-luxury at its finest.
In an open-plan style, the tents at Jao Camp are designed to blend with the atmosphere. As part of the pristine wilderness, each tent consists of a lounge and main bedroom with a changing area and en suite facilities, including open-air showers, enabling guests to feel relaxed and luxurious. In addition, each tent has an elevated room with stunning views of the nearby channel.
Places to visit in Botswana
Botswana has an abundance of interesting places to visit.

The Okavango Delta is a significant biodiversity area, covered by both the Moremi Game Reserve and various wildlife concessions within Ngamiland. Known for its superb wildlife, with large mammal populations and excellent birding, particularly in the breeding season. Linyanti Reserves remain beautifully underused with a high game concentration.
Moremi Game Reserve, the first reserve in Africa established by local residents as they were worried by the rapid depletion of wildlife in their ancestral lands due to unregulated hunting and cattle invasion. The Batawana people of Ngamiland, under the leadership of Mrs. Moremi, took the bold initiative to declare Moremi a game reserve in 1963.
The Maun district is home to a fascinating variety of ethnic groups, from the Hambukushu to the Baherero it is worth exploring the traditional villages.
The Chobe Riverfront, the most accessible and often visited, is notable for large herds of elephants and cape buffalo, which drink during the dry winter months.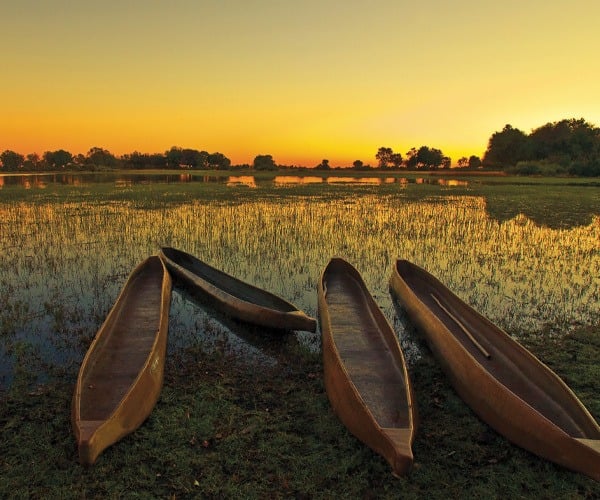 Makgadikgadi is one of the largest salt pans in the world, after good rains, wildlife is attracted. Dr. Livingstone, an explorer of Africa, crossed these pans in the 19th century, guided by a massive Baobab tree, Chapman's Tree. Baines' Baobabs are a highlight for any visitor to the Nxai Pan National Park. Kubu Island (Ga'nnyo) is an island of dry granite rock located in the Makgadikgadi Pan district, a national monument and the indigenous people of the region consider it a holy site
Central Kalahari Game Reserve, the second largest wildlife reserve in the world, home to large herds of springbok and gemsbok, wildebeest, hartebeest, and eland. The northern valley is one of the reserve's highlights, because of the dense concentrations of herbivores attracted by the sweet grass.
Northern Tuli Game Reserve is home to all major predators, including lion, leopard, cheetah, and hyena, and the birdlife is prolific and also brilliant for adventurous travellers.
The Tsodilo Hills consists of rock art, rock shelters, depressions, and caves, a few key hills known as Child Hill, Female Hill, and Male Hill have special religious and spiritual importance to local cultures, as well as its unique record of human occupation over several centuries.
Gaborone is named after Kgosi Gaborone, leader of the Batlokwa people. The Monument of the Three Chiefs marks a turning point in Botswana's history.
The National Museum houses important collections of traditional crafts and fine art. Interesting villages nearby are Serowe, Kanye, Molepolole, and Gabane.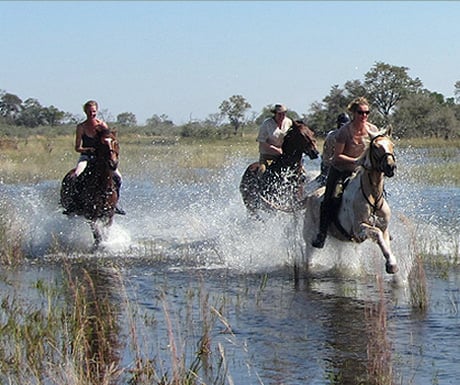 Things to do in Botswana
Many of things to do in Botswana centre around the country's rich wildlife. And there are so many ways to view the wildlife – cycling, walking, riding a horse or a camel, hot-air ballooning, scenic flights, helicopter trips and mokoro trips.
The mokoro, a type of canoe used to travel in the shallow waters of the Okavango Delta, is an experience in stealth and tranquillity. Traditionally made from dugout trunks of large straight trees, nowadays they are more likely to be made from fibreglass.
A river cruise or a boating safari is possible in the Chobe River, Okavango Delta, Pan Handle or other river ecosystems, combining the river, the sunset, and the animals in an incredible nature experience.
Quad biking is perfect on the Makgadikgadi Pan in the middle of the dry savanna of north-eastern Botswana.

Hiking in Botswana is recommended in the hills in the southeast of the country where several decent day hikes can be done as day trips from Gaborone. Kgale Hill located in Gaborone is also ideal for both hiking and hill climbing.
Botswana has also developed to become one of the hottest golfing destinations in Southern Africa. There is a Championship 18-hole course in the city of Gaborone at the Phakalane Golf Estate. In Kasane, a 9-hole golf course is located within The Mowana Safari Resort & Spa premises.
For ornithologists, Botswana has a truly impressive variety and quantity of bird species. Enjoy a superb birding experience in Chobe, Makgadikgadi, Okavango Delta or the Central Kalahari game reserve. The services of specialist birding guides are available to educate travelers in every journey on the diversity of the birds available.
The northern wetlands are the best places in Botswana to see the near-endemic Slaty Egrets, the endangered Wattled Cranes, and the huge Pel's Fishing Owls and harbour an unrivalled selection of herons and storks.
Seriously good fishing in Botswana is possible, with artificial lures or bait, or you can even go fly-fishing. Some lodges operate a catch and release policy; other lodges will cook your catch for supper. Most water-based safari lodges supply fishing gear, offering an exciting mix of game viewing and fishing trips. Fishing is seasonal and mainly in the northern parts of Botswana.
Food in Botswana
Since time immemorial, Batswana have cherished their food.
Mopane worms may also be added to a stew, boiled to soften them, or simply eaten raw and fresh off a tree. They are a seasonal delicacy and high in protein.
The staple foods in and around Okavango are maize porridge (papa, for locals) and boiled cod. A food that is special to Botswana is seswaa which is mashed-up salted beef.
It is suspected that watermelons originated in Botswana. Batswana also use watermelon, marula and ginger powder to make home-made refreshing drinks.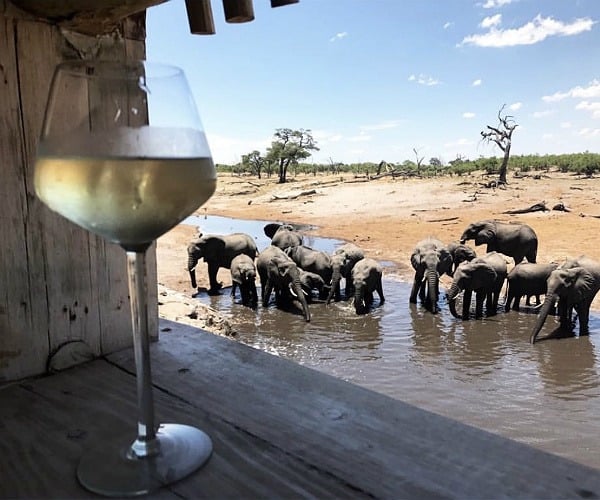 Lerotse melon is similar to watermelon but has orange flesh; when eaten raw, it tastes similar to a cucumber but cooked gives the dish its delicate flavour.
Typically, sorghum meal mixed with lerotse melon is cooked at weddings and this mixture is called Bogobe jwa lerotse. The melon is usually prepared with sour milk and stored to be used whenever appropriate.
Batswana are also excellent at storing fruit. They preserve meat, among others, by cutting it into short lengths like strings and then drying it.
They also fetch, cook, and dry bean leaves. In Botswana, it is also popular to make mageu from leftover porridge or pap. Not very poor or rotten meat is often preserved by some tribes by drying it to be used as a relish for a long time.
Most safari camps and lodges serve international-style food infused with Batswanan staples and game meat.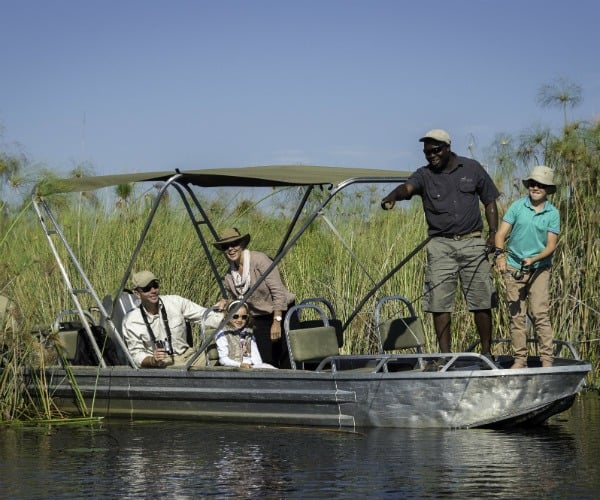 Getting around Botswana
Botswana has airports linking the main cities, and Air Botswana has internal flight schedules between Gaborone, Francistown, Kasane and Maun.
Maun is where charter flights are based to take you to the various lodges. Airlines include Mack Air, Kavango Air and Kalahari Air.
Light aircraft transfers have 15kg luggage restrictions in soft, squashable bags, plus 5kg of hand luggage.
The public transport network is limited. The safest and most realistic choice is to rent a car. The road network that connects all the major centres is well maintained, easy to use and you drive on the left.
When traveling by road, it will take longer than you think as most roads pass through subsistence farming areas and forest areas, so stray animals and wildlife can be encountered at any time. It is advisable not to drive on any of the roads after sunset.
The only way to travel from place to place in the permanent water areas of the Okavango Delta is by motorboat, as there are no highways. These transfers between lodges offer several game and bird sighting opportunities.
Although Botswana is mostly flat, if you want to cycle here be aware that the weather is hot and dry, the distances are huge with scarce water and widely scattered villages even on major routes. Licensed taxis have blue number plates and they have to be called or you need to visit a taxi stand; often they aren't at the airports although great for getting to airports. A courtesy bus run by a top-end hotel or lodge is typically the only effective transport from the airports.
Trains have a very limited passenger service mainly from Lobatse to Francistown.
When to visit Botswana
Many experts regard the cooler months of June to August as the best time of year for a Botswana safari – the game viewing is consistently excellent, there is virtually no rain and the risk of malaria is at its lowest.
By thinking about what you want to experience, the question of when to go to Botswana is best addressed. During the dry winter months of May to October, game viewing is at its peak when animals are concentrated in ever-increasing numbers at water sources as the dry season wears on.
Botswana's three Kalahari parks are arguably at their best in early Summer – December is a particularly good month as many antelope give birth then which encourages predators.
Wildlife tends to scatter during the rainy season. Several destinations such as Chobe's Savute region and the Kalahari offer excellent Summer game viewing, not least because they lie on the path of migrating animals – particularly zebras.
Bird watchers will find the migrant-filled Summer months of the "Green Season" the best time to visit Botswana for both numbers and diversity of birds, a year-round birding destination.
Fishermen will want to go when the barbel run is on; that is dependant on when the floodwaters in the delta retreat, usually around September and October.
Whilst it is possible to visit Botswana all year round, from July to October – particularly in Chobe – is the dry season and the best time to see large herds as they gather at water sources.
Events in Botswana
Here is a comprehensive list of public holidays and festivals in Botswana.
January
January: New year's Day is celebrated with street parties, dances, traditional music, and inordinate amounts of food and drink.s
February
World Wetlands Day is popular across the country for its focus on environmental, conservation, and tree-planting, as well as a Wetlands March. There's great concern in Botswana over the protection of its wildlife and unique environment.
March
Maitisong Festival is Gaborone's major festival, performing arts of traditional music, dance, and theatre held all over the city and its suburbs. The event lasts for nine full days and sees the entire population take to the streets in carnival mode.
April
Maun Festival: traditional poetry, music, and dance held over a two-day period in April. The visual arts also have their place in this celebration, benefiting local schools, and honoring northwestern Botswana's rich tribal culture.
May
Tjilenje Cultural Festival: totally traditional, involves ancient games, dances, and stalls crammed with local food and drink, held in the northeastern regional town of Nlapkhwane.
June
Toyota 1000 Desert Race: A thrilling June event involves quads, bikes, and cars, with 25 spectator areas set around the country.
July
President's Day: a four-day national holiday across the country and sees inhabitants returning to their home villages for celebrations including speeches, traditional dance, and singing.
August
Kuru Dance Festival on the only Bushman-owned game farm in Botswana. Located near D'Kar in the Kalahari Desert, the Dqae Game Farm brings traditional dance and music to life for three days.
September
Botswana Day: a 2 day celebration of independence from Britain starts on 30th September

October
1st – public holiday after Botswana Day.
November
–
December
Festive season: Christmas is a great time to visit as it's a major holiday. Seasonal events take place across the region and local choirs sing their hearts out in iconic African style at carol concerts.
Luxury travel tips
Do plenty of research about what you want to see/do before visiting but remember that nothing can be guaranteed with wildlife, especially in Botswana where they are free to roam. That said, many of the camps have expert trackers and very educated guides who will do all they can to accommodate your desires.
Don't take too much clothing – make sure it is made of natural fibres, loose and comfortable, and also packed in soft bags so it will fit in the plane hold. Also, be aware that the air transfers between lodges and campsites are in small planes – the views are fantastic but it can be scary as turbulence is more noticeable. Flying between camps is quicker and the roads can be uncomfortable and take a long time.
Make sure you take a very good insect repellent preferably with DEET in it and a wide-brimmed hat.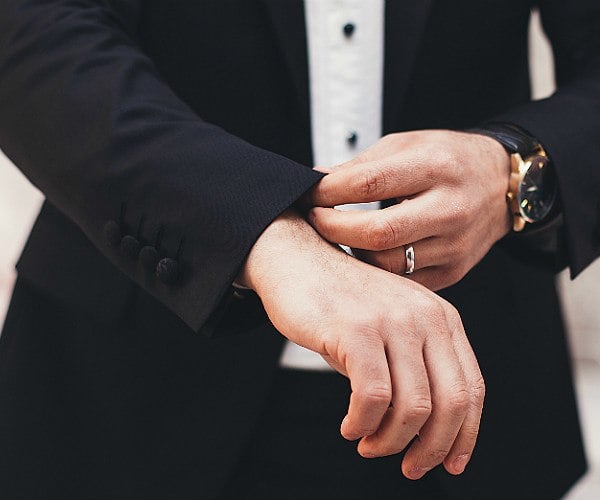 Botswana is a high-end safari destination so it is expensive; don't expect numerous food choices and be aware that they restrict the number of visitors to give you an exclusive wilderness feeling.
Botswana is ahead of the game in relation to sustainable safaris, using solar and alternative energies; all accommodation is designed to be low impact and small: between 6 and 10 rooms. All lodges encourage the use of local communities whether as guides or lodge staff.
Do buy the local arts and crafts as this supports the local community and they are very well-made and durable. Spending time in the company of the longest standing inhabitants of Southern Africa is one of the most satisfying things to do in Botswana. You can spend time learning how to forage by searching for bush food as the San has done for thousands of years.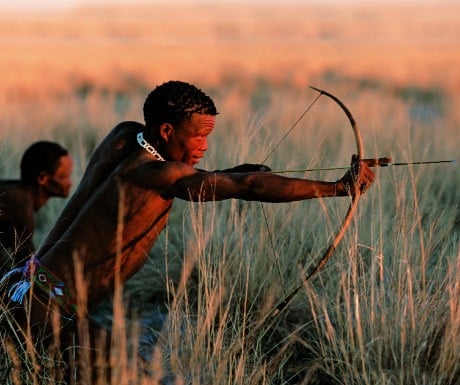 Language and culture
The official language of Botswana is English, whilst the national language is Setswana. In addition, more than 20 other languages are spoken in the country, mostly used by the non-Setswana-speaking groups.
The rich, cultural heritage and traditions of Botswana are referred to as Setswana and is represented by a strong sense of community.
In the northern part of Botswana, the Wayeyi and Hambukushu women are noted for their ability to craft baskets from Mokola palm and local dyes. Usually, the baskets are woven into three types: large, lidded baskets for storage, large, open baskets for carrying items on the head, or for threshed grain.
For over 1000 years, Bantu people lived on the hills, possibly coming from central Africa.
Traditionally, villages were situated in hilly regions or around reliable water sources. Homesteads consisting of circular huts, constructed with reeds or mud, have grass roofs and a pole or reed fence is typically surrounding them. Every family has the right to land where agricultural fields are planted and there is a livestock post for livestock holding. The most important spot within any village is the kgotla, often located in the centre of the village.
The Batswana were typically polygynous and marriages were pre-arranged. Most Batswanas now choose their own partners, with the exception of the Baherero.
Useful phrases
Yes – Ea
No – Aua
Hello – Hallo
Good morning/afternoon/evening – Dumela (to one person), Dumelang (to a group)
How are you? – O Kae?
I am well – Ke teng
Stay well – Sala sentle
Go well – Tsamaya sentle
Please – Ka kopo
Thank you – Ke a leboga
How much does it cost? – Ke bokae?
Excuse me – Ntshwarele
Do you speak English? – O bua Sekhowa?
Good Night – Borôkô!
Sleep well – Robala sentle
Mother tongues include Birwa, Herero, and Kagalagadi (languages of the Bantu family), Nama, Ganadi, and Shua (languages of the Khoisan family), as well as Afrikaans of the European family.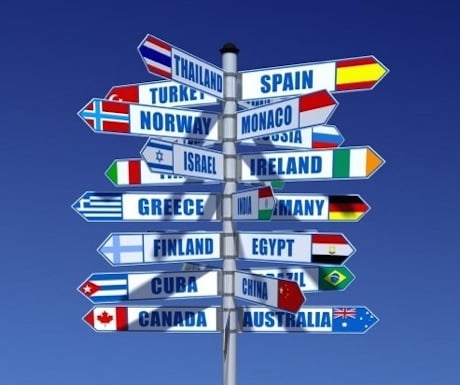 Weather in Botswana
Visiting Botswana soon? See below for the latest weather forecast for Botswana.
BOTSWANA WEATHER
Useful information
Currency
Botswana's currency is the Pula (BWP) made up of 100 Thebe (shield). Pula means rain which is significant as rain is scarce in Botswana so very important. A shield is the country's traditional form of defense.
Power
Electricity is 220/240 volts with both round and square plugs used.
Telecommunications
Orange and MTN mobile networks cover most of the country and it is possible to buy a SIM card and use it if your phone is unlocked.
Don't be surprised by the lack of mobile coverage in the remote camps and lodges.
Timezone
UTC +2 with no daylight saving clock changes
Tipping
The general consensus with tipping in Botswana is to tip at the end of your stay at each lodge or camp; most places have a tipping policy but, if in doubt, ask. Tipping can have a good impact on the economy. The guides, trackers, mokoro polers and butlers are tipped directly, ranging from $5 to $20 per person per day as a rough guide.
WiFi
Is not brilliant in Botswana as it isn't very reliable and because of this internet cafes are still popular. There are 31 locations where hotspots can be accessed mainly in the town and cities so don't expect too much from the lodges and camps. Mobile data is a good way you'd need to buy a SIM card.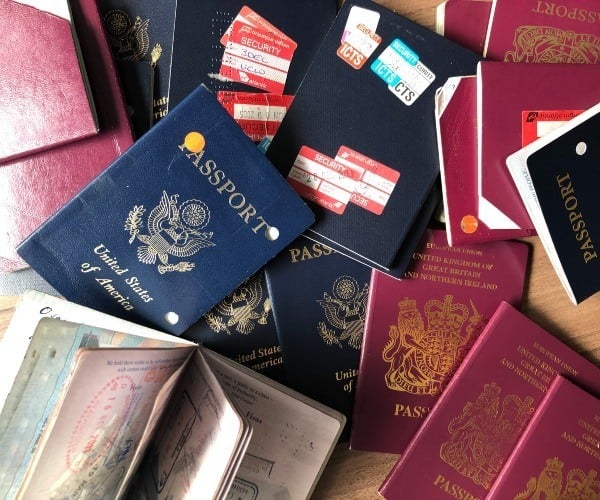 Want to contribute to our travel guides? Please contact us for details…