Suite name: L900 Landmark Suite
Hotel: The Landmark Mandarin Oriental, Hong Kong
Size of accommodation: 900 sq ft
Cost per night: HK$8,800
What makes it special? The L900 Landmark Suite is all about drama and indulgence – the entrance is a dramatic marble catwalk leading to the spectacular open plan bathroom.   Three separate areas are designed with modern sophistication and the highest technology available.
Lounge area with designer sofa, marble bathroom features seven foot round spa bathtub, latest in-room entertainment system, VIP in-room guest shopping experience with   Harvey Nichols, complimentary access to the 25,000 sq. ft Oriental Spa's heat facilities, fitness studio and 18m indoor heated swimming pool.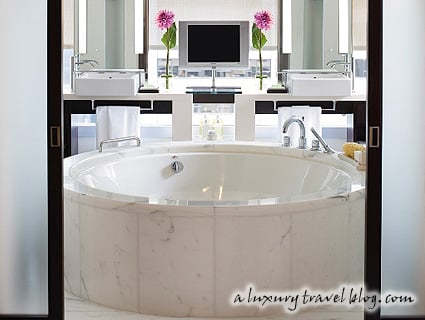 Other features include:
Separate rainforest shower and toilet, twin washbasins, luxurious spa bathroom amenities by Aromatherapy Associates
Separate guest toilet
Walk-in wardrobes
Home theatre experience featuring digitally delivered high-definition (HD) video on large LCD flat-screen TV with 4.1 surround sound and DVD players
Plug-in personal audio player (iPod and MP3) to listen to guests' distinct choice of music
Video camera can be connected to flat screen TV for viewing. Laptop may also be connected for in-room presentations
Sophisticated IP phone includes a high quality hands-free speakerphone with built-in conferencing , high-resolution touch-screen display for easy access to useful information such as weather forecasts and tourist attractions
Unified messaging services that allow guests to retrieve voice and text messages through LCD screen TV or telephone
Laptop, printer and fax machine upon request