Suite name:  Executive Suite
Hotel: Sheraton Bahrain, Manama, Bahrain
Size of accommodation:  91 sq ft
Cost per night: BD500++
What makes it special? Tasteful design that offers a timeless yet contemporary feel.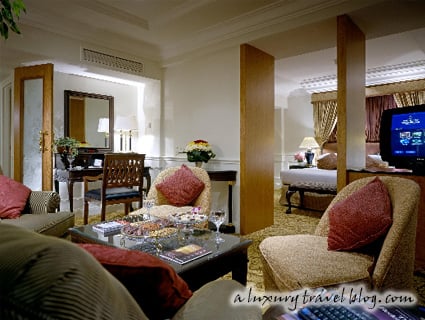 With breath-taking views of the Arabian Gulf and the city, the suite is tastefully designed, with stylish décor that offers a timeless, yet contemporary feel, blending warm pastel colours and fine fabrics.
It is equipped with state-of-the-art facilities such as LCD TVs, tea & filter coffee making amenities and a seamless broadband wired/wireless internet connection, personalized butler, private meeting room on the club floors (complimentary and subject to availability), convenient work desks, DVD players and VIP amenities. Designed for comfort and a good night's sleep, the celebrated 'Sheraton Sweet Sleeper™ Bed', is present is also available in the suite.
In room amenities also include complimentary continental breakfast, refreshments and snacks available all day without charge, complimentary bar daily from 6:30 p.m. until 8:30 p.m. and complimentary fruit basket on arrival upon request.
Private meeting room on the Club floors (complimentary) for the Suite guests.