Suite name: Royal Suite of the House of Ambassadors
Hotel:  Stanhope Hotel, Brussels, Belgium
Size of accommodation: 80-100 sq m
Cost per night: 500 Euros (weekends), 1,625 Euros (weekdays)
What makes it special? It's the Royal Suite of the first 5-star hotel in Belgium!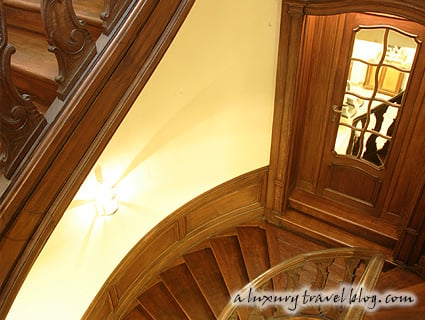 With peaceful views of the park of Square de Mees, the Royal Suite of the House of Ambassadors is tastefully designed, with stylish decor, classical English style furniture and floral fabrics.    It has a  luxurious marble bathroom with Molton Brown amenities.
The House of Ambassadors, a century-old residence, was inaugurated in September 2004 and consists of the Royal Suite, three single standard rooms, three deluxe rooms, six double standard rooms and two conference rooms.   This house in the hotel is an unique feature because it can be rented on its own for groups, delegations or important individuals.   Due to its two conference rooms, private breakfast, lunch and dinner can also be arranged.  
The Stanhope hotel is situated in quiet surroundings, in the historical centre of Brussels, next to the European District.   Within walking distance you can find some of the main tourist attractions in Brussels like Royal Palace, the Grand Place, and Sablon Square famous for its antiques shops.   The hotel is also nearby Avenue Louise, the most fashionable street of the European Capital.   This boutique hotel is a home-away-from-home that provides an exclusive, personalized and unique service.