2nd, 3rd and 4th on Google for a search for 'luxury travel'
As regular readers will know,
A Luxury Travel Blog
is more of a sideline interest for me rather than my main business, although I do work in online tourism marketing.  I do not (and have never) spent money on advertising this site, but I'm pleased to be able to tell you that it's up there in the Google rankings, competing with the big boys and their equally big budgets.  In fact, it's doing more than just competing – it's ahead of them – and is currently ranked 2nd, 3rd and 4th on Google for a search for 'luxury travel' (quotes not required), bettered only by luxurytravel.com which, because of its domain, is always going to be difficult to overcome!  Here's a screenshot from Google: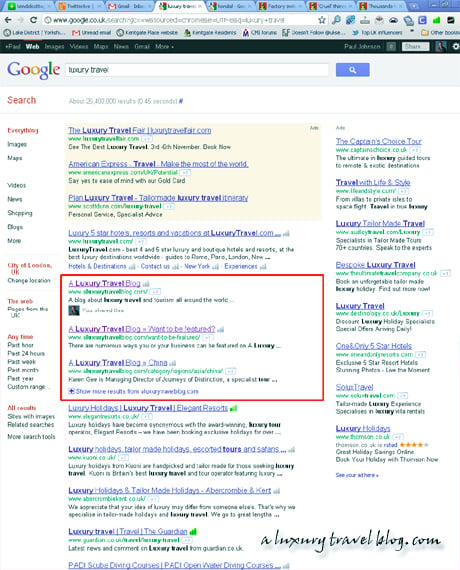 Obviously, this alone brings its fair share of traffic.  If you're involved in the luxury travel industry and you'd like to get involved with the site, be it with free or paid opportunities, do
please get in touch
. You can also 
become a fan on Facebook
,
follow me on Twitter
(I'll be passing 100,000 followers later this month), or
add me to your Google+ circles
.
Did you enjoy this article?
Receive similar content direct to your inbox.