Special feature: Mosaic, Mandarin Oriental Hotel, Kuala Lumpur
The
Mandarin Oriental Group of hotels
requires no introduction on a blog about luxury travel, as the brand is famous for its prestigious hotels and resorts. The interesting thing, though, is that they are all quite different from one another. Whilst they all maintain standards of excellence, this is a group rather than a chain and each one retains its autonomy and individuality.
We dined at Le Normandie in Bangkok recently
and were excited to see what the
Mandarin Oriental in Kuala Lumpur
had to offer.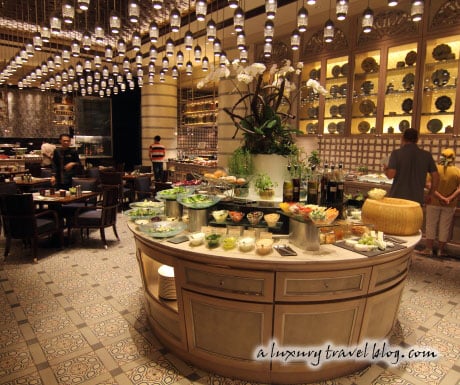 We were invited to dinner at their new
Mosaic restaurant
. The Mosaic was launched in August 2011, and is positioned to become the city's leading all-day dining restaurant. And you know what? I think they can do it. It's a superb place; vibrant and very comfortable. The décor is elegant and the interior reflects the "sense of place" and local culture, that of the Peranakan (also known as the Straits Chinese). It was clear that the designers had paid close attention to detail. From the silk hangings on the walls, the Chinese-style woodwork and fretwork in glass screening off the private dining rooms, and the light-shades made of the pewter for which Malaysia is famous, the restaurant oozed style but in a relaxed rather than an ostentatious way.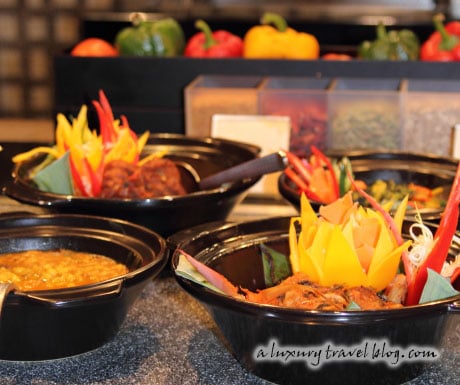 Well, it was certainly a nice place to be and to admire the surroundings, but what about the food? It was delicious. Absolutely delicious. It was also fun because they have a variety of live cooking stations so you can interact with the chefs while they're cooking your meal individually for you. Of course you can just order something and have it brought to your table, but I enjoy talking to chefs about their work and creations.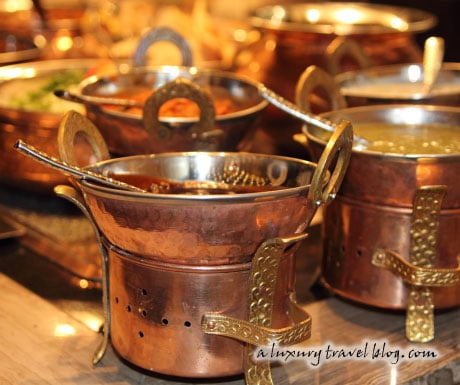 They have all the cooking stations and variety of food one would expect from a restaurant in a five-star hotel offering international cuisine – local (in this case, Malaysian), Indian, Japanese, seafood, salads, Western, and desserts. What I didn't expect, although I've seen it become more popular in the Far East recently, was that they also had a Middle Eastern section. Their hummus was to die for and the babaghanoush likewise, as were the marinated Kalamata olives. Such complexity of flavours in what are essentially fairly simple dishes. I don't remember tasting anything better anywhere else before. (And I've been around quite a bit.)
If you like Middle Eastern food, then don't miss this place. Actually, if you like Indian food, then don't miss this place. Do you like oysters? They serve the best. Sushi and sashimi? Perhaps a medium-rare rib-eye steak cooked to order? Don't miss this place. If you care about the quality of food you eat, then don't… I guess I've made my point by now. The restaurant also has a good wine list, which includes a variety of wines to suit most budgets. The staff are very friendly and efficient too. I often think that the staff can make or break a place. I really liked the people at the Mosaic. There are some places where you get the impression that it's not just a job for them and they actively enjoy being there. The Mosaic was one of these places. They were all cheerful and knowledgeable, and happy to talk about what they were doing and show off their skills.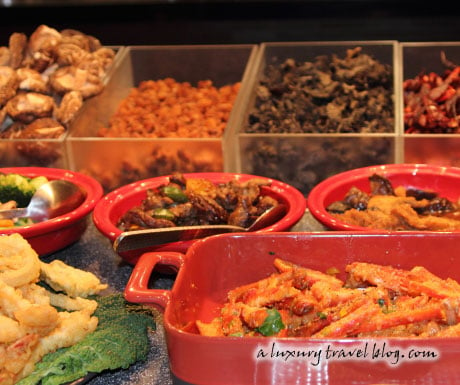 The Mosaic is open 24 hours a day and features live cooking stations including grill, wok, noodle, tandoor, and more. It's situated in central Kuala Lumpur near to the KLCC complex and has a great view of the beautiful KLCC Park. If you're planning a visit to KL, then don't forget to put this restaurant on your travel wish list. You can
visit their website
for more details of the menu, dress code (smart casual), and for reservations.
Did you enjoy this article?
Receive similar content direct to your inbox.