Combining luxury and a care for the environment in Mexico
So, how do you have a luxury holiday with every comfort and convenience AND sleep well at night knowing you've done your bit for the environment? The answer, visit Hotelito Desconocido. Hotelito isn't new, but having missed its previous incarnation I was fortunate enough to visit it just weeks after its grand re-opening. I must confess I am spoilt, and while I like the idea of communing with nature and doing my bit for the environment, I still want all my comforts, so I was curious to see how El Hotelito managed to combine these two very diverse requirements without compromising either.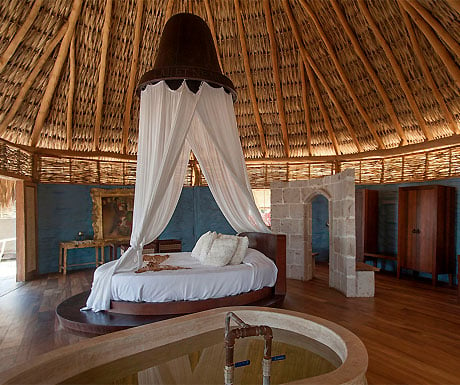 And I have to say they did a fabulous job. The location is fantastic, built on a river estuary, on a UNESCO listed nature reserve, the hotel's 27 palafitos (private houses built entirely from natural materials) are clustered around a natural lagoon and scattered along the ridge overlooking the beach allowing guests to choose between watching the sun rise over lagoon with its 150 species of water birds or falling asleep to the sound of the Pacific crashing against the shore (be warned the waves are noisy and do take some getting used to). The palafitos themselves are each individually decorated and themed with wonderful attention to detail and beautiful pieces of furniture including a huge marble bath, an outdoor shower and high king size beds. During the day, there is solar powered electricity in each palafito so you can charge your phone, listen to your ipod and do pretty much anything the modern world requires (although there is no WiFi anywhere other than the hotel reception so workaholics beware!). At night, to conserve energy, the electricity to the palafitos is cut and each one is lit at dusk by dozens of candles in storm lanterns creating a beautiful and romantic atmosphere. Everything at Hotelito is sustainable, from the transport around the resort; you can walk, ride a horse or take a row boat depending on when you want to get to; to the fabulous organic food; most of the fruit and vegetables are grown on the hotels own farm and they are now even raising their own animals organically, their private water treatment plant; designed to protect the lagoon from waste water contamination; to their programme to protect the local turtle population; rescuing the turtle nests as soon as they are laid and moving them to a protected zone where they can incubate safely. If you're lucky enough to be at Hotelito at the right time of year, you will even have the opportunity to help the baby turtles back into the ocean. So whether you want to kick back by the pool drinking their signature cocktail or relax on the bubble beds at their spa, you will find that luxury and ecology really can walk hand in hand.
Catherine D'Arcy is Founder of Corazon Latino.
If you would like to be a guest blogger on A Luxury Travel Blog in order to raise your profile, please contact us.
Did you enjoy this article?
Receive similar content direct to your inbox.