Fiji – the ultimate his and hers holiday destination
Finding the perfect romantic holiday destination that will keep beach lovers and their action heroes happy is often a real challenge. She likes to kick back and relax on the beach while he wants a high-octane action packed experience. Fiji, in the heart of the South Pacific and just four hours flying time from
Australia
, is the ultimate his and hers holiday destination. There are a whole array of beautiful beaches to choose from, including several private islands where you will just have the local wildlife for company – plus a whole array of adventures that will keep the most active 'adrenaline junkie' happy.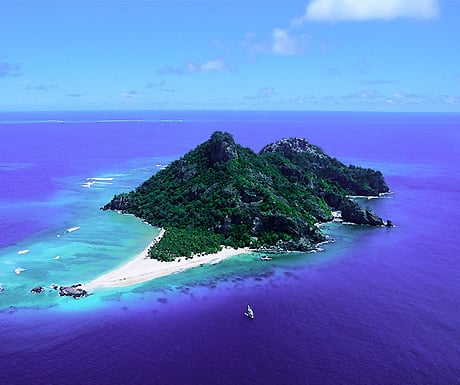 Tarzan types will get a buzz from seeing Fiji's tropical rainforest canopy via a series of zip wires up to 200m long, travelling at speeds of up to 60km/p/h, at heights of up to 45 metres. Along the way, they'll zip past tree frogs, flying foxes and parrots on this eco-friendly excursion. '007' types will get their pulses racing on the award winning Sigatoka River Safari, a 4.5 hour tour which involves a 10 mile journey by a speedy jet boat into Sigatoka Valley, witnessing some of Fiji's lush remote, green interior, which is accessible only by via Fiji's longest waterway. Stopping at a village for a tour and a visit to a Fijian Bure, the authentic local straw hut, and after a traditional lunch, they will be treated to a cultural performance. For surf dudes, Fiji is one of the best surf destinations in the world with its beautiful beaches and stunning reefs. Home to Kelly Slater's favourite waves, whether you are a beginner or a pro, there is something for everyone. Take a surfing lesson or surf with the big boys at some Fiji's famous reef breaks – Cloudbreak and Restaurants. Wannabe Captain Nemos will snap up the chance to undertake Fiji's famous shark dive, considered the best in the world, where you may witness up to eight shark species, Blacktip Reef Sharks; Whitetip Reef Sharks; Grey Reef Sharks; Silvertip Sharks; Tawny Nurse Sharks; Sicklefin Lemon Sharks; Bull Sharks and the occasional Tiger Shark. There are also more than 400 species of tropical reef fish to feast your eyes on. The excursion also includes a trip to Beqa Lagoon, soft coral capital of the world which is teeming with life in its soft coral forests, mysterious wrecks and exhilarating drift dives. These are in addition to hiking, jet-ski safaris, parasailing, white water rafting, game fishing, wakeboarding,
scuba diving
or exploring the islands, not to mention basking on the glorious beaches and enjoying the seclusion. At the other end of the scale, those who like to take their holiday at a slower pace can zone out on the spectacular beaches, indulge themselves with luxury spa treatments, and of course, enjoy the upmarket shopping options in Port Denarau or bartering for souvenirs and handicrafts in Nadi. If you are looking for some soft adventure, you will enjoy an excursion to Sabeto; one of Fiji's hidden gems. Tucked away beyond the Land of the Sleeping Giants, you'll find a series of 3 natural mud baths; mild, medium and hot, the mud from which, local legend says, will rejuvenate and reinvigorate skin. Come the romantic sunset dinner in this tropical island paradise, there will certainly be no lull in conversation!
Did you enjoy this article?
Receive similar content direct to your inbox.