By
Paul Johnson
on Nov 29, 2012 in
Accommodation
,
Africa
,
Antigua and Barbuda
,
Attractions
,
Australia
,
Caribbean
,
Europe
,
Featured
,
Going Out
,
Honeymoons
,
Italy
,
Leisure Travel
,
Oceania
,
Regions
,
Resorts
,
Speciality Travel
,
Tanzania
,
Western Europe
,
Worldwide
,
Zambia
'Popping the question' on a trip appears to have become an increasingly popular trend. But how do you plan the perfect marriage proposal? First you need to decide 'where' – planning such a momentous event in your life isn't easy so here we share 5 of the most utterly romantic places to consider.
Dickenson Bay, Antigua
Voted "the World's most Romantic Resort" for the past 14 years, Sandals Grande Antigua is the perfect location to pop the question! Positioned on Dickenson Bay, regarded as Antigua's best beach, Sandals Grande Antigua has been inspired by the romantic local legend of Gisele and Ricardo, a young couple whose devotion to each other continues to inspire romance on the island today. Gisele, a local maiden, fell in love with Ricardo, a Spanish adventurer, who was sent to war. Years passed before Ricardo returned; however throughout the years Ricardo continued to see Gisele's beauty in the stars. Meanwhile, Gisele continued to dream of Ricardo as she looked out over the Antiguan sea. Celebrating the romance of the legendary couple, each evening the bell in the tower rings at 6pm and lovers who hear it seal their love with a kiss.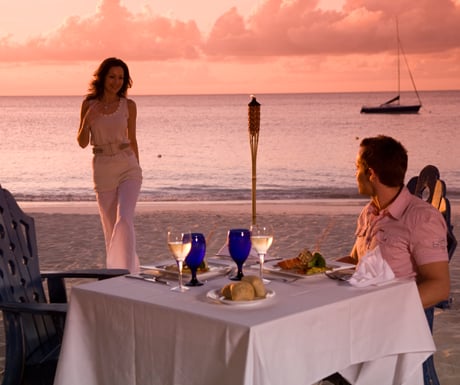 Victoria Falls
Standing atop the stunning, ethereal Victoria Falls, toes tantalizingly close to the edge, the mighty waters of the Zambezi River furiously rushing by, has to be one of the most incredible experiences that Africa has to offer. The opportunity to tread in the footsteps of David Livingstone himself, to experience "scenes so lovely they must have been gazed upon by angels in their flight", to breathe in the warm spray from one of the world's seven natural wonders may well, indeed, be one of the most romantically breath-taking experiences to be had. So just imagine taking the tiny speedboat out to Livingstone Island in time for high tea, imagine walking, hand in hand, across the very top of the Victoria Falls, and as the sun sets, casting an orange glow through the mist and spray, imagine saying "yes".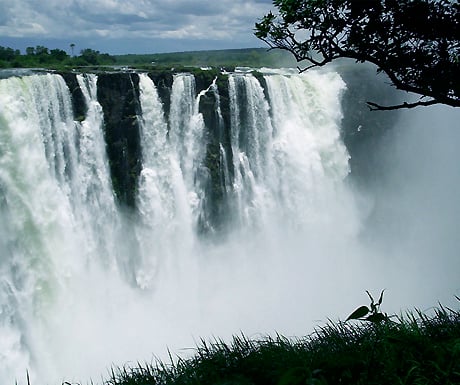 TripAfrica has arranged several surprise proposals atop the Victoria Falls – even persuading Natural Heritage to open the park early in order to secrete a hidden picnic blanket, complete with Champagne flutes and Frangipani flowers, for a couple to 'stumble across' as they viewed the Falls. That particular couple actually returned 18 months later and wed on Livingstone Island!
Hamilton Island on the Great Barrier Reef in Australia is possibly one of the most romantic places to pop the question. Located in the heart of the Whitsundays, a group of 74 pristine, tropical islands set in the Coral Sea between the Queensland coast and the Great Barrier Reef, Hamilton Island is the largest of the inhabited islands with picture perfect views.
The ultimate romantic retreat can be found at qualia, an award-winning, luxury property located on the secluded northern-most point of Hamilton Island. There are 60 one-bedroom pavilions, some including their own plunge pools, and a Beach House, each set amongst eucalyptus trees with captivating views.
Couples can take a helicopter or seaplane 'Love Flight' over stunning Heart Reef or fly over Whitehaven Beach, one of the world's most beautiful beaches, where a "Will You Marry Me" banner is spread out over the white silica sand.  Other options can include a Champagne picnic on a secluded beach or romance on the high seas with a private dinner and cocktails cruise.
Verona, Italy
Can there be a more romantic place to propose than in Verona, Italy, the city where two star-crossed lovers named Romeo & Juliet gave up everything to be together? You can pop the question directly under Juliet's balcony amid the sea of thousands of love letters left for her.
Afterwards, walk over to an adjacent wall where hundreds of padlocks are secured and add your own, a sign that you will be together forever.
This northern Italian city has a unique history of love and romance. It is where Shakespeare penned three famous plays, the most notable of which is Romeo and Juliet. In addition to city's rich literary history, Piazza Bra and Piazza Erbe offer the perfect atmosphere to linger at a café over a Prosecco and toast to your amor. The Roman amphitheater is Italy's third largest and offers a beautiful evening of opera under the stars.
The combination of beautiful architecture and a history of romance make Verona an enchanting place to pop the question. If you are ready to propose, join Luxury Italian Tours on its Venice and the Veneto tour which takes you to Verona or have a customized itinerary planned for you. The Prosecco and padlock will be provided!
Mount Kilimanjaro
The Cultureur suggests you take romance to new heights by hiking to the pinnacle of Mount Kilimanjaro, a dormant volcano located in Tanzania, near the Kenya border. Known as Africa's highest peak and the world's highest free-standing mountain at 19,340 feet above sea level, Mount Kilimanjaro offers natural beauty in all its forms. Scaling up the mountain is no easy feat and is only possible with the help of a guided tour company, so do some research on the available companies well in advance. For maximum success in terms of health and overall experience, set aside 6 to 7 days for the hike. With five climate zones, begin the ascent in a lush rainforest, slowly moving to a grassy heath, followed by vast meadows, then to a rocky alpine desert, finally climaxing on the snow-covered peaks. Weave in your special moment of romance at the mountain's crest while you both witness the first rays of sunshine reflecting off the wintry-white snow of Uhuru Peak. It will be a life-changing experience, in more ways than one. If the slog up the steep mountain does not leave you breathless, the resounding echoes of your sweetheart's "Yes!" will certainly do the trick.
Did you propose marriage on a trip or are you planning to do so? We'd like to hear your story and suggestions, too!