By
Matthew Coe
on Feb 28, 2013 in
Asia
,
Bars
,
Belgium
,
Europe
,
Food and Drink
,
Germany
,
Going Out
,
India
,
Japan
,
Maldives
,
Middle East
,
New York
,
North America
,
Restaurants
,
Spain
,
Travel Miscellany
,
United Arab Emirates
,
USA
,
Western Europe
,
Worldwide
Travelling has its benefits, among them being able to shock people with tales of where you've been, what you've done and where you've eaten. There's nothing more satisfying than making your friends and family shriek, 'you did what?!' Well, if it's the shock factor you're after, we've got just the thing for you; a list of 10 of the world's most unusual restaurants.
From roasting meats over a live volcano to dining underwater, you'll be able to shock, impress and make your friends and family jealous with stories of the extraordinary places you've dined in.
Hate slow service? Want to enjoy your meal without constantly being bothered by the waiter? You'll love Baggers, then. This ultra-trendy and modern restaurant is completely automated, from how you order your food to how it is served to you. Order from the menu on the touch screens stationed at your table, and watch in fascination as your food is delivered to you on spiral conveyor belts above you, all the way from the kitchen upstairs.
If there's one thing cooler than eating your meal in a Japanese restaurant serving authentic cuisine, it's having that authentic cuisine served to you by ninjas. When you've finished dining, be sure to check out the restaurant's merchandise; you'll be able to purchase throwing stars and ninja daggers!
Tombs Restaurant, India
You'll be able to share your meal with people past and present in the Tombs Restaurant, as the venue's tables are placed in between graves. Enjoy authentic Indian sweets and tea as you discover the occupants of the restaurant's graves; some are centuries old with one even containing a 16th Century Sufi saint.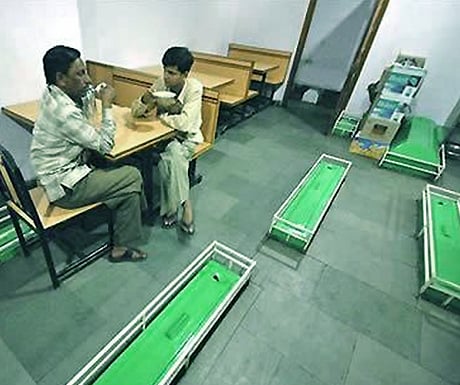 When it comes to brilliant views, you can't beat the one from 150ft in the air. As you dangle aboveground, you'll be able to savour fresh dishes which are prepared by an oven in the middle of the table. Although the prices are a little sky-high, the experience is priceless.
What you eat is almost as important as whom you eat with, and at the Ithaa restaurant you won't be lacking in good company. Contained underwater, you'll be able to dine on exquisite food as all manner of sealife float by. Tuck into your meal as sharks drift overhead and tropical fish brighten the turquoise waters.
Clothing Optional Dinners, New York
Who ever said you need clothes to enjoy dinner? Nudist activist John J. Ordover has organised a social event which occurs once a month around Manhattan, where diners are invited to strip and dine. Diners whip their kit off in the bathrooms – or even right at their table – and carry on as normal. For those of you who are shy, don't worry; the curtains will be drawn.
Ice Lounge, Dubai
It can get awfully hot in Dubai, and what better way to cool off than in a restaurant made of ice? After cladding yourself in warm clothing, you'll be able to sit on ice benches whilst sipping on ice cold cocktails served in – you guessed it – glasses made of ice.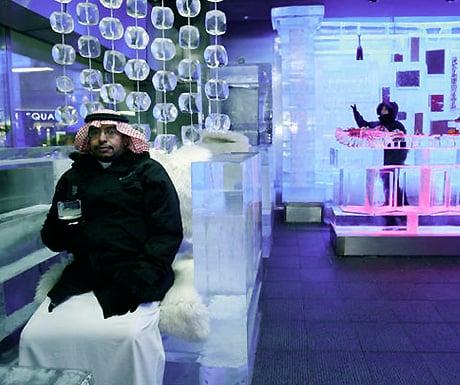 The vampire is back in a big way, first dominating literature and film and now cuisine, too. The Vampire Café in Tokyo is dark, mysterious and furnished with an extortionate amount of red velvet. When you're not busy marvelling at the dark coffins dripped with candle wax, you could be enjoying the lack of garlic dishes on the menu and sipping from suspiciously red cocktails.
Opaque heightens diners' senses of taste and smell by serving their meals in complete darkness. You'll be able to place your order in a lighted room before being led by visually impaired waiters into the pitch black dining area. There are other Opaque restaurants scattered around the US, including San Diego, San Francisco and Santa Monica.
El Diablo, Spain
When it comes to eating organic, you can't beat El Diablo; they grill all of their food on a live volcano! Established in 1969, El Diablo grills meat and fish over the Mountains of Fire; we hear it gives the food a delicious smoky flavour.
Matthew Coe is Online Marketing Manager for Wanderforth.
If you would like to be a guest blogger on A Luxury Travel Blog in order to raise your profile, please contact us.