We suggest you use salt marsh lamb in this recipe. The unique environment where the sheep graze gives the meat its distinctive and very special flavour that is so sought after. Usually, farmers with coastal pasture bring their sheep on to it in spring. The sheep graze as close as possible to the water's edge, with the lambs sometimes teetering quite dangerously, seeking out the saltier forage. The grasses and herbs they eat are wild (species include puccinellia, sea lavender and marsh samphire) and these flavours enhance the flavour of the meat.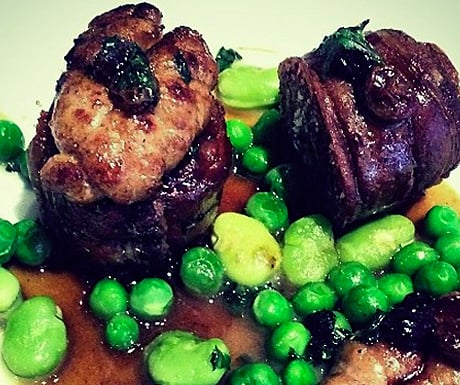 Ingredients
1 Lamb Belly, boned, rolled and tied (retain bones and roast in the oven until brown)
1 onion
4 cloves garlic
2 celery sticks
2 medium carrots
6 fresh tomatoes
3 sprigs rosemary
3 sprigs thyme
500ml white wine
Directions
Roast the bones in an oven dish. Portion your rolled belly and seal in a hot pan then leave to one side. Roughly chop the onion, celery, carrots, garlic and herbs into a mirepoix then sweat off in the same pan with some olive oil until soft. Add wine to the pan and reduce by half. Place the reduced wine, mirepoix, lamb chunks and fresh tomatoes into the roasting tray with the bones then pour in enough water to cover the ingredients. Cover the tray with foil then place in the oven at 160 degrees C for 4-5 hours or until soft. Serve with some nice mashed potatoes and peas!
Thank you to Alan Barrins, Head Chef at Charlotte's Bistro, London, for the recipe.
If you have a recipe you would like to share with  A Luxury Travel Blog's readers, please contact us.