Easter is upon us – quicker than ever it seems this year, given that Easter falls early.  Even if it feels more like Christmas outside still – depending on what part of the world you are in – here are our top 10 luxury gift ideas to whet your appetite (quite literally, in some cases!) for the festive season.
Family Easter Hunt Feast from Harrods
Why not celebrate Easter with this traditional spread with a contemporary twist? The Harrods Family Easter Hunt Feast contains something special to please young and old, with a bottle of Harrods exclusive Champagne for a sparkling seasonal gift.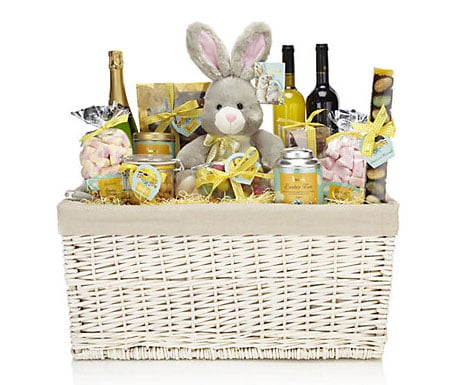 As well as the Champagne, there are bottles of both red and white, a Muffin the bunny soft toy, Easter leaf tea, Easter hot chocolate, a Belgian chocolate selection, Easter eggs, duck and rabbit marshmallows, sugar coated eggs and lots of other goodies!
What do you give the man who has everything and doesn't like chocolate? How about a pair of handmade sterling silver cufflinks? And where better to get them than Corazon Latino, famed for their unusual silver jewellery and exclusive designs. Every pair is lovingly crafted with exquisite attention to detail. Sterling silver throughout and hallmarked by the London assay office, each pair is a miniature work of art. And no matter what his style, there is a pair for him…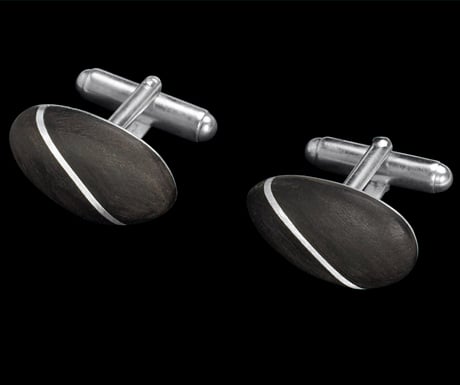 For the traditionalist there are simple chunky silver cufflinks, perfect for engraving with a special date or set of initials. For the extrovert, there are the fabulous, oversized Marius, set with rare green Baltic amber and guaranteed to make a statement. For the environmentalist, how about the gorgeous Pluto pair (pictured £160), hand-made from part of a 120 year old reclaimed ebony log, cut and polished and inlaid with a subtle solid silver stripe; lovely with a dinner jacket or pinstripe suit. For the individualist, perhaps a pair from the limited edition Annan range, brushed silver set with frosted seaglass (Victorian glass fragments combed from the beaches of the the North Yorkshire coast, polished by 100 years of sand and sea) nuggets in 4 subtle colours.
Prices range from £55 to £160 with free UK delivery within 2 days and worldwide delivery in a week or less depending on the options you choose.
Luxury travel gift set from Otis Batterbee
Each of these luxury travel gift sets from Otis Batterbee contains a lavender filled eye mask, medium classic envelope and an inflatable travel pillow. This set is a 'must have' gift for the frequent flyer and globetrotting gent.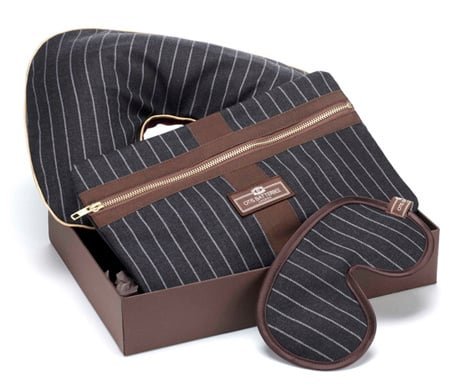 Housed in an Otis Batterbee chocolate brown (it is Easter afteall!) gift box, it is filled with tissue paper and tied with petersham ribbon.
Truffle making gift voucher from William Curley
Got a chocolate lover in the family?  Why not treat them to this fantastic hands-on tutorial in the art of creating decadent truffles? The William Curley truffle making class takes two and a half hours. The class starts with a short talk on the complete chocolate making process from cocoa bean to chocolate bar and a tasting of delicious chocolate from different regions around the world. One of their highly experienced chocolatiers will then teach you the secrets behind making the perfect truffle.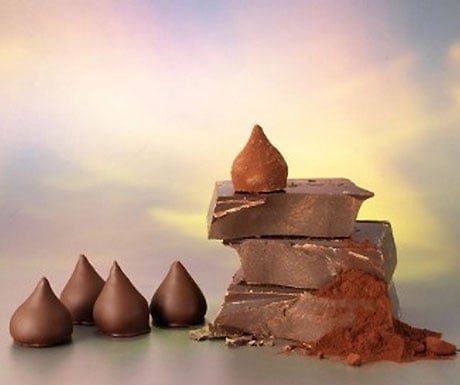 You will learn to infuse, blend and prepare the ganache for two of William Curley's award winning truffles, as well as discover the theory and technique behind tempering chocolate. At the end of the course, the truffles you have made will be beautifully boxed and wrapped, ready for you to take home and enjoy. This voucher is valid for 12 months from date of purchase.
Signature tailored swim shorts from Orlebar Brown
The newest addition to Orlebar Brown's photographic print range takes us to Lake Tahoe. Just where we would love to be this Easter! If you can't make it to California – throw on these shorts and head to the nearest indoor pool.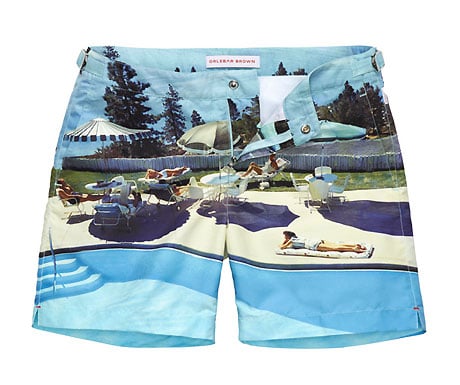 Orlebar Brown's offering has expanded through the years taking us out of the beach and into the resort, with a great selection of tailored casual wear suitable for any destination. Their signature tailored swim shorts are the perfect addition to any suitcase. The SS13 collection shows us a ray of pastel brights and geometric prints – aren't we all wishing for the sunshine. Watch out for their first customisable short coming later this month – allowing you to choose your own colour combinations to suit your style.
If you're looking for something different to the usual Easter egg gift this year, then take a look at this Matcha chocolate from Beschle.  Matcha is a powdered green tea that was discovered as a meditational drink by Buddhist monks back in the 12th Century. The Japanese took its cultivation to new heights and it is now widely regarded as one of the finest tea varieties in the whole of Japan, and grown only by the country's most elite tea farmers.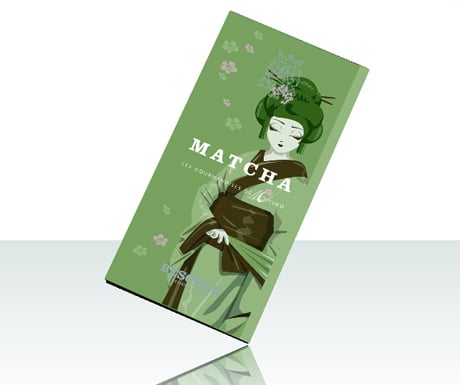 This fine Matcha chocolate comes in 9g and 50g bars, and is high in antioxidants such as epigallocatechin-gallate that is found in green tea. Among other things, this is argued to have fat burning properties, allowing you to enjoy a potentially guilt-free Easter!
The Classic Black Cashmere Shawl from Black.co.uk
The Classic Black Cashmere Shawl from the luxury accessories and gifts brand Black.co.uk, is from their signature Ringshawl Collection. The jewel in the cashmere crown, the Ringshawl is so called because the cashmere from which it is made is so fine that a shawl measuring 200cm by 100cm can be threaded through a wedding ring. Hand-spun and hand woven, each shawl takes up to 200 hours to make. In one corner is embroidered the signature of the person who made it.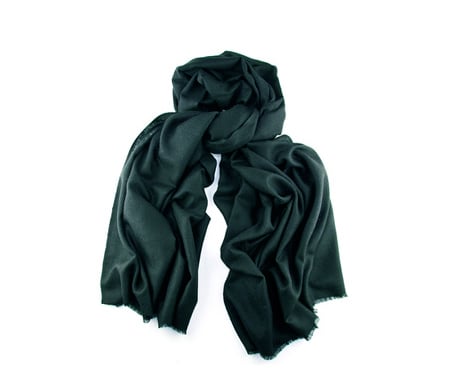 It is this unique fineness that makes this shawl the perfect luxury travel accessory for all seasons. Soft and luxurious it is light yet warm and ideal as a travel wrap, or as a wonderful shawl for cool spring and summer evenings. It packs away to nothing so it's ideal for travelling light. This is the only holiday wrap you will need.
Easter Collection from Pierre Marcolini
For Easter, Pierre Marcolini – one of the most famous chocolatiers in the world – has prepared two collections of very special eggs. They might look traditional, but they taste like seventh heaven! Small grand cru eggs give you a chance to try Marcolini's selection of cocoa from prestigious estates, which produce rare, subtle cocoa beans. Small praline eggs are astonishingly delicate and fine: a perfect balance of lightness and intensity to please big and small.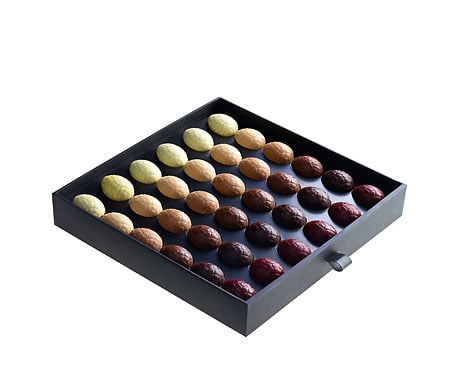 Homme Voyage Collection from Esta Romi
Whisk him away in style with this luxury travel gift collection from Esta Romi. Featuring leather hanging wash bag and passport & luggage tag set from Aspinal of London, Gillette Mach3 compatible and high-precision shaving razor, Mr & Mrs Smith Hotels travel guidebook, global scratch map, eye mask & Jet-setters notebook. This stylish and practical travel collection is the perfect gift for male jet-setters.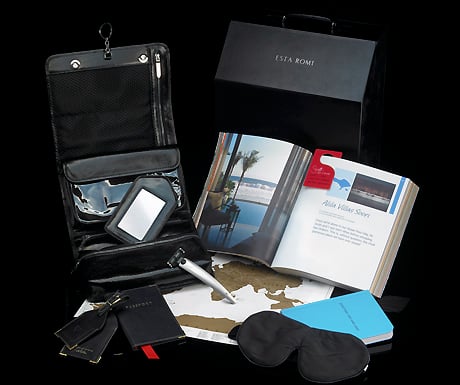 Complete this travel collection with a gift experience voucher from Mr & Mrs Smith Hotels. Please contact Esta Romi's gift advisors for further information.
Printed scarves and tops from Camilla Olson
California Lifestyle designer Camilla Olson know for her modern aesthetic and attention to detail has just launched her Spring 2013 collection featuring her signature printed scarves and tops including the adjustable tunic. The great thing about Camilla's line is, it is perfect for resort and warm weather trips, her silks tops are very light weight and travel beautifully. The silks feel luxurious against the skin. For Easter, the best selling Spring colours include, peacock, marigold, and hot pink.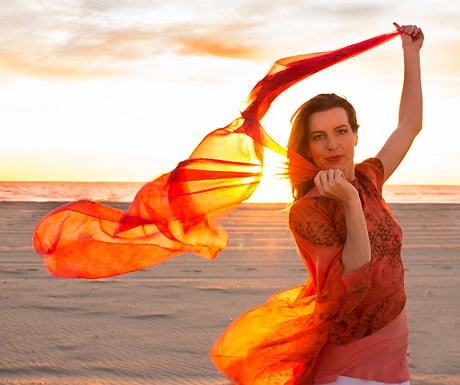 Prices range from $69 and up. Camilla Olson ships worldwide.