By
Paul Johnson
on Apr 13, 2013 in
Accommodation
,
Bars
,
Europe
,
Family Travel
,
Featured
,
Food and Drink
,
Going Out
,
Hotels
,
Leisure Travel
,
Regions
,
Restaurants
,
Spas & Pampering
,
Special Features
,
Speciality Travel
,
Travel Miscellany
,
United Kingdom
,
Western Europe
If you are looking for somewhere to totally relax and unwind, then you'd be hard-pressed to find somewhere more peaceful than Congham Hall where we have just spent the past week. Recently named as winner of the Best UK Small Hotel at the International Hotel Awards, this Georgian country house is home to a hotel, restaurant, spa and herb garden, and set in 30 acres of gardens, lawns, parkland and orchards.
The property was purchased by renowned hotelier Nicholas Dickinson, one of the founders of Luxury Family Hotels, in March 2012. It has since undergone significant renovations, yet remained open throughout the transformation, and today it welcomes guests to 14 rooms and one suite in the main house, plus 11 ground-floor garden suites with private patios towards the rear. We stayed in two of the latter – named 'Peony' and 'Poppy' which were adjoining and with interconnecting access, so perfect for families.
The rooms are generous in size, yet very cosy and warm, with ultra-comfy beds and en suite bathrooms with bath and separate shower, TV and DVD player, and free WiFi.
Doors lead out towards a private patio and working kitchen garden that supplies the hotel's chefs with herbs, salad leaves and some of the more unusual vegetables throughout the year, not to mention the dried flowers and pot pourri that can be found throughout the hotel. In the Summer months, there are in the region of 150-250 different types of potted herbs available for purchase.
Dining at Congham is something of a treat, and open to both residents and non-residents alike. Pre-dinner drinks can be enjoyed in a relaxed, informal atmosphere at the hotel bar (pictured) or in one of the reception rooms, before going through to the restaurant to dine.
The restaurant can seat up to 90 people. Alternatively, guests can dine in the library (pictured), which has seating for a further 20; this less formal option is ideal, we think, for families dining with young children who may wish to ensure that they don't disturb diners in the main restaurant.
Resisting the temptation to have one of my favourites (mussels), on our first evening I opted for the deliciously succulent Pan Roasted Scallops with Matthew's Rare Breed Pork Belly with roasted cauliflower, apple jelly and capers (pictured), but can also heartily recommend the Roasted Wood Pigeon Breast with mushrooms, hazelnuts and a sweet shallot purée which I tasted on a subsequent evening.
From the mains, I chose the melt-in-the-mouth Pan Fried Norfolk Beef Fillet cooked to your liking (rare in my case) with saffron mash, confit cabbage and wild mushrooms, with a red wine jus.
The food at Congham is unpretentious and yet clearly moving with the times, thanks no doubt to Head Chef Nick Claxton-Webb who has followed Nicholas from the Ickworth Hotel. Interestingly, the wine list came on an iPad which eased the selection process since it enables you to readily choose your wine by grape variety, country of origin, and so forth, all with a simple finger press.
Those wanting to stay a few nights but not necessarily dine in the restaurant each evening will also find a number of good pubs just a short drive away. We particularly enjoyed The Dabbling Duck at nearby Great Massingham.
Moving on to another of the hotel's highlights, the Secret Garden Spa (open until 8pm each day) includes a 12 metre indoor swimming pool and four treatment rooms with a full spa service featuring Elemental Herbology products. My wife loved her very relaxing 'Renew and Refresh' facial using subtle essential oils, herbs and flowers, and, leaving her skin feeling smooth and refreshed.
The pool area is also home to two experience showers where you can sample everything from tropical rain to a full-blown Caribbean storm (complete with thunder and lightning effects!). These showers are to be used before and after the spa's various heat rooms which include a Finnish style sauna (made from untreated Douglas fir), a bio-sauna (constructed from Hemlock timber and a little cooler than a classical Finnish sauna), and a steam room (lower temperature but 100% humidity). There are also foot baths, an outdoor hot tub and, within the pool itself, various massaging jets.
Additional facilities at Congham include a tennis court, trampoline, putting green and croquet lawn. The hotel will also provide you with DVDs, books and games, not to mention Dubarry boots should you wish to go on one of the many circular walks available from the grounds.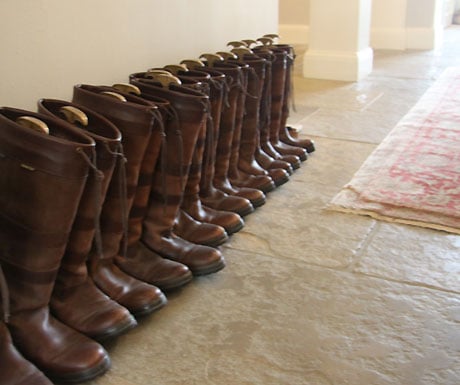 Locally, there are a number of places of interest to visit. We visited Sandringham, the country retreat of Her Majesty the Queen and the Duke of Edinburgh.
Photography isn't permitted inside the home, but we were able to explore many of the downstairs rooms, see the desk where the Queen purportedly writes many of her letters and marvel at the contents of a private home that has now passed through four generations of British monarchs.
Also within the grounds is a museum, church and 60 acres of gardens. The museum contains many interesting artefacts and gifts donated to the Royal Family over the years, as well as an area devoted to vintage Royal motor vehicles ranging from a 1900 Daimler Phaeton to a Merryweather Fire Engine from the Estate's own fire brigade.
The church is also interesting and worth visiting, if only for its silver altar – one of only two such altars in the world, the other apparently being in Philadelphia.
In addition to Sandringham, the Holkham Estate on the North Norfolk coast is worth a visit and has a deer park, walled gardens, lake, museum, one of the largest nature reserves in the UK, not to mention a beautiful beach, most recently famous for featuring Gwyneth Paltrow walking across it at low tide in the closing scenes of 'Shakespeare in Love'.
In fact, there are many places of interest along this stretch of coastline. We called in at Hunstanton to admire the cliffs, but you could equally visit places such as Salthouse, Cley and Brancaster, or for shopping you might like to call in on Burnham Market or Holt.
We also took our children to Blakeney so they could try their hand at crabbing. Sadly we were out of luck because the weather had been cold and, we were told, the crabs have a tendency to bury themselves into the sand during times of cooler weather.  Regardless, it was still great family fun even if we had nothing to show for our efforts!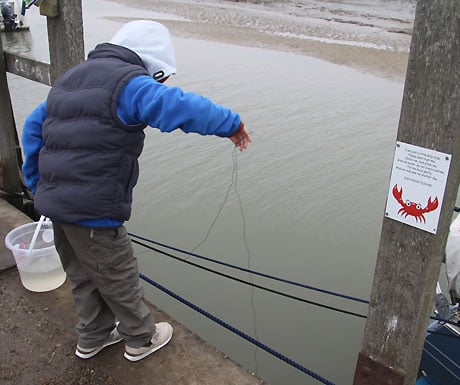 Whatever takes your fancy, you'll find there is no shortage of things to see and do should you wish to venture out from the comforts of the hotel. We thoroughly enjoyed our stay in Norfolk and would recommend the hotel both to couples looking for some peace and quiet as well as to families looking for a break away. The two often don't go hand-in-hand but somehow Congham Hall manages to succeed in accommodating both.