This week you are in for a treat! This Thai risotto is packed with amazing and fragrant flavours and is perfect all year round. The recipe can be adapted for vegans, vegetarians and meat eaters. It serves four, can be cooked in just 20 minutes, and it is best served with a crisp dry white wine.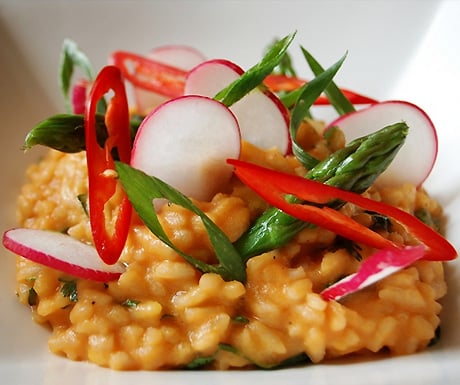 Ingredients
1 x tin coconut milk
2 x sticks lemongrass
100g root ginger
3 or 4 red chilli
2 x red peppers
2 x red onions
4 x cloves garlic
100ml light soy sauce
10ml fish sauce
100ml sesame oil
300g risotto rice (Arborio)
1 x large bunch coriander
2 x limes
Directions
1) To make the Thai stock put the coconut milk, lemongrass, ginger, chilli, peppers, onion and garlic into a food processer and blitz with water until it becomes the consistency of soup. Pass through a sieve and reserve the liquid.
2) Gently heat the sesame oil and risotto rice for 2-3 minutes, then add the soy sauce, fish sauce and cook on a medium heat until the rice absorbs the liquid.
3) Now add the Thai stock, one ladle at a time. Stirring constantly ensuring no rice sticks to the pan.
4) When the rice is cooked and is of a good consistency, add the roughly chopped coriander, lime zest and juice and salt and pepper to taste.
5) Serve with baby corn and mange tout. Why not try adding stir fried tiger prawns or chicken. Serve with flat breads.
Thank you to Renark Cousins, Head Chef at Monty's Brasserie, Cheltenham, and to Michelle Hunter of Garden Events Ltd., for the recipe.
If you have a recipe you would like to share with  A Luxury Travel Blog's readers, please contact us.