5 years ago, my husband was working in the glorious world of travel and I was enjoying being his pampered +1 as often as I possibly could. This was before the first of the recessionary dips and we so enjoyed our fair share of perks but at little expense to ourselves! Then the world changed and jobs changed and it looked like we'd be paying full whack – not something I'm a fan of being a bean counter!
We tried a few options… weekends away sailing and camping – great fun, but not the same relaxation that luxury gives! Stay-cationing in places we both knew from our childhood – saving the flight cost and enjoying some rather splendid UK based mini-breaks (north Norfolk and the Lake District were clear winners). Even our honeymoon wasn't high-end, but actually by this point we'd learnt that luxury isn't just £££ – there are some amazing quirky but simple places to be found that deliver just as well as 5*. South Africa did us proud in that regard – sitting in the sun on the deck of a treehouse over-looking the Drakensburg with a picnic from the local Spar was one of the successes!!
It dawned on us then just how easy it is to put together a perfect holiday, rather than using agents and contacts to 'assist'. Where's the fun in that! Luxury is what you make it and not just splashing cash! (Top tip #1)
Next came airmiles… we both fly a fair amount with work and put our household spend through the BA black card and it is incredible how quickly the miles tot up – if my bank account had as many noughts on the end I'd be a happy lady! The companion voucher sweetens it even more! Suddenly – we're able to fly in fancy seats even on short haul! Happy days – especially with the T5 lounges (Concorde lounge is in another league, but you can get fizz in any of the lounges if you ask nicely (Top tip #2))!
Top tip #3 is the big one as far as I am concerned – let airmiles choose your holidays and open your eyes to different places. Rather than choosing to go to somewhere you've been before, ask where airmiles can take you! In the last 2 years (and this sounds incredibly extravagant, and it probably is!) we've let airmiles take us by business class to Singapore, New York / Boston, Nice, Oman and Jamaica – including a blissful first – BA first and sitting next to the Duke of Kent on another flight!! I am pretty sure that I might not have picked all these places given a choice, probably opting for going back to places I'd already been to or had heard more about, but didn't that make for a nicer surprise. Jamaica absolutely blew away other islands of the Caribbean that we've visited but is more 'edgy' so less likely for me to have picked and Oman (more specifically the Chedi) left me wondering why anyone goes to the cramped beaches of Dubai! I'm already looking forward to my next call to BA-ExecClub to find out where we're off to next!!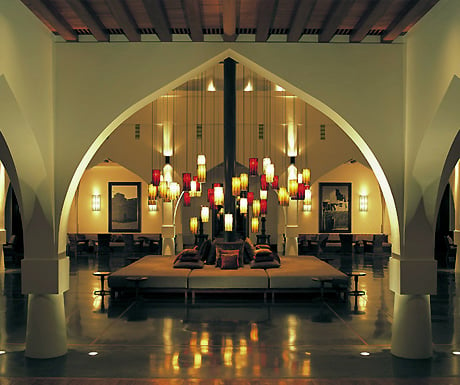 Probably the most fun is joining the dots – finding the hotels around the flights! I think you need to have a type of hotel that you know works, then it is relatively easy (top tip #4). We enjoy laid back luxe – not wanting to feel too young or too normal to be there and also not wanting to stay at a fancy holiday park or rushing around trying to find a sun-lounger or avoid other people's children! Everywhere seems to have these places and they aren't normally the places that get the most reviews or are the most well-known, perhaps that is the exact reason why they are just so good! I love reading the reviews for places like this on trip advisor and spotting the people that didn't realise they weren't going to a European style all inclusive mega-resort and are disappointed with what we would call perfection!
Top tip #5 is to move around, and I think we do this most times we've been away for a week or more. Moving seems to make the holiday last longer, not only that you get to actually see where you are visiting – especially if you have a hire car and the hotel you are leaving has that perfect concierge who wants to give local advice you wouldn't find in the guide book! We came back from Jamaica a few weeks back and in 9 days we had stayed in 3 hotels. Sounds hectic – but it wasn't, and that was the most blissful surprise! Night 1 was old skool Jamaican charm – up in the mountains not that far from the airport, a complete sanctuary. The next few nights were more rustic – the hotel will be (with a little more work under its new management) one of the boutique spots of the island in the years to come. Then the final 3 nights were complete decadence. But the best bit – it was all a complete luxury and the final hotel was the best surprise as a result of going rustic-chic for a few days (top tip #6).
So many times hotels that pride themselves on luxury actually make their guests feel inadequate – but when they do get it right and it feels like you're part of the family – now that is when you know you have the formula right and you don't mind parting with cash for it! Top tip #7 – know your type and stick to it.