By
Tom Marchant
on May 12, 2013 in
Accommodation
,
Croatia
,
Eastern Europe
,
Europe
,
Florida
,
Greece
,
Italy
,
North America
,
Regions
,
Spain
,
USA
,
Vacation Rentals
,
Western Europe
If, like us, you judge the perfect place to rest your head by its proximity to sun, sea and sand, then look no further. Here we provide a round-up to our top five destinations for a luxurious villa getaway. These are places that are certain to please even the most demanding of beach aficionados.
Sardinia
The Sardinian legend is that after completing his creation of the rest of the world God had some rocks remaining. He decided to drop them in the Mediterranean and sprinkle the best of what he had already created over it. Many say he left the best till last. We say if you are having trouble deciding on which country to visit head to Sardinia for a mouth watering taste of Italy, Spain and Tunisia. Sardinian food is considered to be the best in the Mediterranean and it is almost impossible to eat badly here (go on try, we dare you). Actually closer to Africa than Italy this jewel in the Emerald Sea gives us more reasons to visit than we can count on our bejewelled fingers. Boasting more hours of sunshine than any other part of Italy, magnificent white sands and crystal clear waters to rival the tropics fly the flag for Europe with this suave and sexy destination (and get there in half the journey time).
Primarily known for its vibrant beach scene Croatia can boast a string of unblemished beaches and sparkling blue waters. Let the still Adriatic coast cast a spell over you, this is a country where you will love to get lost. A perfect blend of hedonism and history there really is something for everyone. Croatia wears many hats (fabulous floppy straw hats of course), with the energy of Ibiza, the culture of Rome and the food of Paris this rustic little charmer has become increasingly sophisticated. Coined the next Riviera (without the purse crippling prices or crowds) the Demerara coloured sand, dramatic coastal scenery and picture perfect architecture will leave you never wanting to leave. Inhale the scent of lemon groves and over ripe figs as you laze about in the shimmering seas, or jump on a scooter and explore the cobblestoned medieval interior. Whatever you do make sure you hire a boat and island hop to get the most from this awe inspiring country.
Florida
Forget all you thought you knew about Florida, tossing all notions of theme parks, princesses and Mickey Mouse aside. There is more to the aptly named 'Sunshine State' than what first springs to mind. Shell-strewn beaches, check. Tropical island backdrop, check. This is Florida like you've never seen her before. Key Largo couldn't be further away from the plastic fantastic Miami (although in reality it is only an hour drive), picture a naturally beautiful setting (we can't promise the same about the people) with living corals, shipwrecks and dolphins a-plenty. The self proclaimed Diving Capital of the World is a sure deep sea junkie pleaser.
Costa Dorada  
Want to put your sweaty, sardine like commute time to better use? Why not jump on a plane and be basking in the Spanish sunshine instead. Nicknamed the 'Golden Coast' Costa Dorada has a surfeit of superb beaches and warm sunny days. Move over palm trees, in this slice of untouched paradise it is all about the pine tree. And olive groves, and almond trees- forget about a feast for your eyes this is a feast for your senses. Many of the towns are built around a castle or fortress, so now would be time to live out that princess fantasy (with or without your prince). The area remains small and traditional offering you a chance to experience Spain as the locals know it. With a volcanic national park, Michelin starred restaurants and a scattering of neoclassical architecture there is plenty to do for those who get itchy feet from lying horizontal in the sand for too long. Culture is everywhere and a visit to the Dali Triangle is a must. Not as ominous as the similar sounding Bermuda Triangle this ménage a trois features his house, the museum in Figueres and not to mention the castle he bought his wife (partners take note).
Cyclades
Named for the circle they form around the sacred Dilos these 20 or so islands are the original and best place to indulge in a spot of island hopping. Your day dreams of Greece come to life with white-washed villages, blue-domed churches and rocky hills. Life here is slow and friendly, still largely revolving around the sea. In a land ruled by sand and stone (our kind of monarchy) each Island has cultivated a strong separate identity. One thing they have kept in common however is a sea so translucent you can watch the fish swim past when walking along the jagged mountain paths in the sky.  Whilst Santorini and Mykonos, famed for their ravishing beauty, are a must, do not allow these show stoppers to overshadow their other, equally gorgeous, siblings. For those looking to fully shed their city slicker shackles head on over to Folegandros. There is no bank, only one ATM and the north of the island has no electricity- so leave your blackberry at home and indulge in some one to one time with nature. Why not go full circle and work your way round all of them, we promise you will love every sun soaked minute.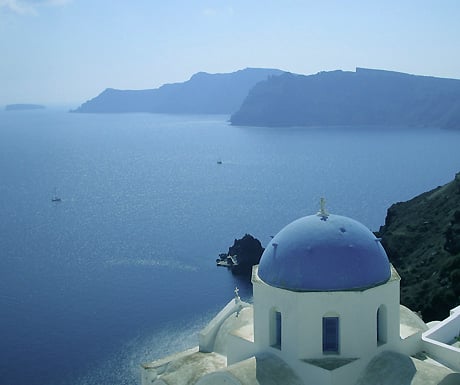 Tom Marchant is Co-founder of Black Tomato.
If you would like to be a guest blogger on A Luxury Travel Blog in order to raise your profile, please contact us.