No matter how beautiful your location, or how sunny the weather is, many of us will admit to finding ourselves itching to switch on our laptop or check up on emails whilst we're away on holiday. We even have the statistics to prove it. A recent poll from sunshine.co.uk found that 'half of those in professional management roles check their emails every single day whilst on holiday abroad'. For the work-obsessed, that means family quarrels, sandy laptops and serious burnout. To ensure that your well-earned trip away is as relaxing as possible, here's our pick of the best tech gadgets and gizmos on the market:
For any self-confessed workaholic, a high-tech watch from Martian is bound to help you leave your Blackberry or laptop safely tucked away at home. Martian's series of voice command-activated watches enable you to access texts, emails or calls without having to reach for your phone, and they look smart and stylish, too. Martian watches are ideal for keeping track of office business on holiday, and also make you look like you've walked straight off a James Bond set!
It's the situation every holiday snapper dreads; a blurry, unfocused photo. Compact and travel-friendly, Lytro have launched a collection of mind-boggling, futuristic cameras that enable you to refocus your snaps well after you've taken the picture. This clever camera works by capturing the entire light field in your shot, so you can enjoy picture-perfect souvenirs from your trip.
Ideal for long flights or holidayers disposed to travel sickness, the noise-cancelling Logitech UE 900 earbud headphones replace the hubbub of your plane or car with your very own personal music chamber. Designed to professional, studio engineer specifications, these headphones feature a built-in mic for phone calls, detachable, tangle-free cords, and are more compact than their cumbersome, over-ear cousins.
If you're worried about taking your phone to the beach or the pool, this luxury gadget is the perfect solution for making it bullet-proof, especially if you're taking the kids. Lifeproof iPhone cases are not only 100% waterproof, but they're also resistant to any shock, dirt and dust you find in your path. Ideal for thrill-seekers striking out on a summer adventure, or just those who want to keep their phone to hand in the pool, this phone case is well worth splashing out on.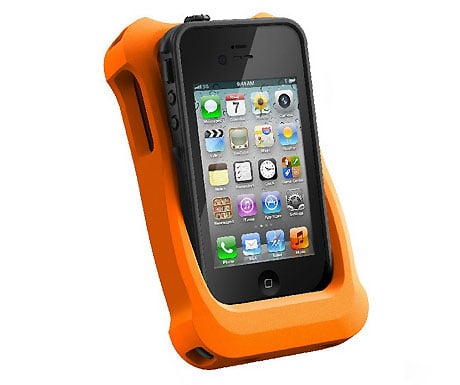 Anxious travellers can make light work of their journey this summer with the handy luggage tracker from Trackdot. The technology is simple; program the Trakdot with your phone number, turn your phone on when you land and receive a text from your luggage detailing its precise location. Fretting at the carousel will soon be a thing of the past!
So, whether you're relaxing by the pool in a luxury villa in Tuscany or soaking up the spectacular views and culture at your fingertips, make sure you're kitted out with the gadgets that will help make your holiday truly unforgettable.
Oliver Bell is Co-Founder and Managing Director at Simply Chateau Ltd.
If you would like to be a guest blogger on A Luxury Travel Blog in order to raise your profile, please contact us.