The Cape Winelands, situated in the Western Cape Province, is the largest wine producing region in South Africa. The wines from this area are well known all around the world and also produce some of the best international wines each year. Tourists flock to the Cape Winelands not only for the great wines but also the spectacular scenery and the fine culinary experiences that goes hand in hand with these wineries.
Franschhoek, a sleepy little village only about an hour's drive away from Cape Town is definitely a must-see for all tourists. Settled in 1688 by 176 French Huguenot refugees, they transformed the valley into a little piece of France by naming all their farms after areas of their home country. La Motte, La Cotte, Cabrière, Provence, Chamonix, Dieu Donné and La Dauphine are just some of the names you will see as you drive into the picturesque town.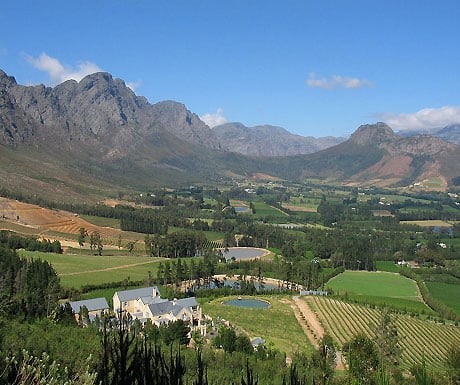 With a rich history such as this, it is no wonder that this town is one of the most visited places in the Cape Winelands region. The town is know for its 5-star accommodation and is home to some of South Africa's finest restaurants. South Africa's very own celebrity chef, Reuben Riffel, also owns a restaurant in town called Reuben's, but this is not the only fine dining restaurant in town. You will find many restaurants scattered along the main road each with it's own "Je ne sais quoi" and French flair. On weekends there is a farmers' market offering visitors a feast of fresh produce, deli foods as well as indigenous arts and crafts.
The old railroad has recently been reinstated and the Wine Tram now takes visitors through the beautiful valley, stopping at all the wine estates along the way. This offers a truly unique wine tour experience for tourists, and it also means you do not have to drive anywhere if you happen to have had one glass too many.
During the month of June, Franschhoek celebrates its centuries-old French Huguenot heritage at its annual Bastille Festival. This year the festival is during the weekend of the 13th and 14th July. Locals and visitors are invited to come indulge in a feast of delectable food and some of the finest wines South Africa has to offer.
Franschhoek is my favourite place to visit when I am in the Winelands and it just radiates with history, luxury, style and character. Be sure to make a plan to come experience this beautiful little town when you plan your next trip to the Cape Winelands.