If you're looking forward to the Summer holidays and have still yet to kit out your kids for a (hopefully) glorious Summer ahead, then take a look at the chic swimwear and beachwear from Sunuva. They have a great range of UV garments to help keep your kids safe in the sun, and styles that have the endorsement of numerous celebrity Mums, including the likes of Victoria Beckham, Gwyneth Paltrow, Madonna and Claudia Schiffer, whose children have all been seen in Sunuva beachwear.
We have just got our hands on some of their UV swim shorts for our boys and can vouch for the quality. Coming in a range of unique eye-catching prints, they are made with the highest quality Italian UPF 50+ fabric which is said to block out over 97% of the sun's harmful rays. We opted for the bold fish design pictured here but there are a number of others to choose from.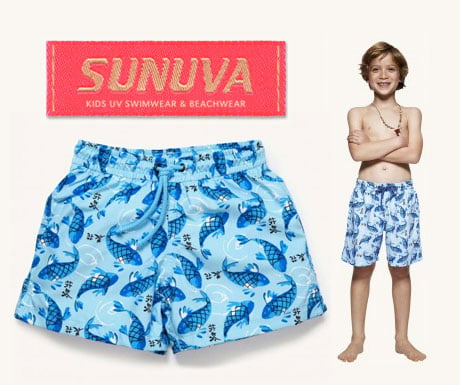 We also went for some of the boys' cargo shorts which come in a variety of solid colours. The stone-coloured pair look great with Sunuva's cotton seahorse T-shirt.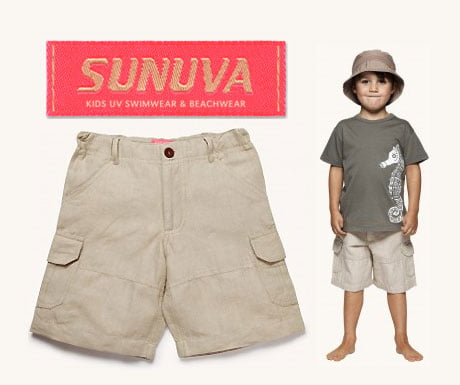 Visit their website and have a look at their recently-launched Summer capsule collection. You'll also see that they also do everything from rash vests through to pyjamas. Girls are not left out and are catered for with dresses, bikinis, playsuits and more. What's more, there are some designs that carry across both sexes so that siblings can 'match', even if not of the same sex.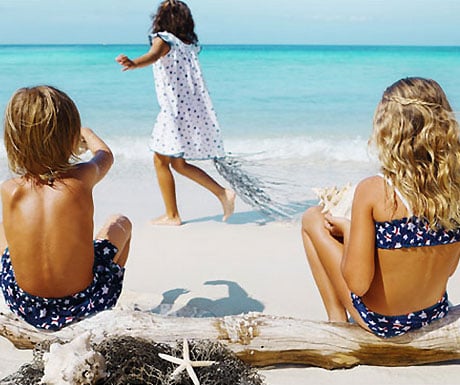 Sunuva was founded by Emily Cohen, founder of the former cosmetics brand Pout, and Sabrina Naggar, who have six children between them, and found a mutual frustration at a lack of stylish UV beachwear for kids. The brand attempts to address that issue and does so with style. Their latest items include the popular boys' alien print in a fabulous shade of red, and girls' orchid print blossoms in a bright Summer yellow.