In Kenya they really know how to operate luxury safaris. Having spent the afternoon game viewing with your expert guide, you will often be greeted by a surprise sundowner spot, set up with all the romanticism of the first explorations of Africa. These sundowner spots are perched high above the surrounding bush with exquisite views of that most African of things – the sunset.
Sunsets in Africa happen very quickly and as you watch the sky change colour dramatically, whilst nibbling on delicious 'bitings', sipping your favourite cocktail, you could be forgiven for thinking you were in heaven. Sundown is often the best time to think back over an extraordinary day, swap a tall tale with guides and guests, or simply sit back and relax.
Here are our top sundowner spots whilst on a luxury Kenya safari:
There is a little flat rock just to the side of this luxury eco lodge with views all the way to Samburu. Guests meet there as the sun sets before you – the atmosphere is calm and tranquil. Tassia's hosts Martin and Antonia make this sundowner one of the best – Antonia is a professional chef, and you will feast on only the best nibbles as the sun sets, Martin was brought up in the bush and has many a tale to tell of his time spent as a walking guide.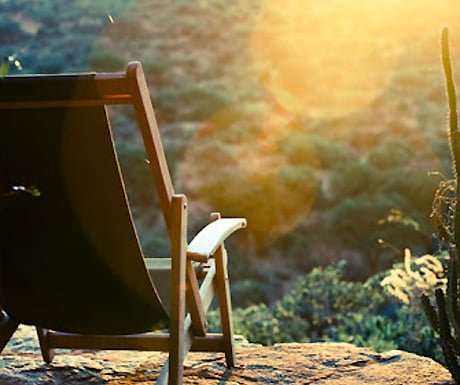 Now of course we can't pinpoint the exact spot in this vast safari haven but Naibor set up your sundowner on the highest point of whichever vast plain you have been game viewing on – 360 degree views of the short grass savannah as the sunsets on one side, and the sky changes colour all round you, is nothing short of spectacular.
Sundowners here are a short walk up a steep flat rock until you emerge at the top where Persian rugs, comfy cushions and a bar have been set out facing the Samburu sacred mountain, Ololokwe. Saruni Samburu itself was built on a sacred rock blessed by the local Samburu, many of whom are employed at the lodge – your sundowner is made all the more magical by the charismatic Samburu who watch the sun go down with you in this spiritual area of pristine wilderness.
Samatian Island Lodge is on Lake Baringo. A Great Rift Valley sundowner is like no other as the sky is dotted with water birds going to roost and the colours reflect off the lake itself.
Sundowners here come in many shapes and forms, most surprising are those that appear from nowhere as you come around the corner on a game drive – in the middle of the bush there will be an English tea set up and waiting for you. We also love the sundowner viewing deck of the Sambu villa – private and exclusive you can enjoy your own ponderings on the day you've just had. Ol Donyo also have fantastic star beds on the private roof terrace of each room which provide a wonderful place from which to star gaze after the sun has gone down.
Rose Hipwood is Managing Director of Africa Rose Travel Ltd.
If you would like to be a guest blogger on A Luxury Travel Blog in order to raise your profile, please contact us.