Top 10 luxury country breaks in Central America
In Central America there are so many luxuries awaiting your discovery. Here we've selected 10 of the best remote luxury escapes to be found across the region, from a boutique hotel in Costa Rica – possibly all too often overlooked by luxury travellers as a budget destination – to a world class resort in Belize, and a lot more besides.  We hope you find something to entice you!
Coral Vista Villas, Roatan, Honduras
No visit to Central America is complete without sampling the relatively unknown and unspoiled Caribbean island of Roatan, Honduras. Located just 30 miles north of the mainland, literally on top of the world's second largest barrier reef, Roatan is a unique location with a distinct culture, fascinating history and visitor-friendly conditions: English and Spanish are both considered main languages and the local economy transacts in both US Dollars or Honduran Lempiras.
If visiting Roatan, take a look at 
Coral Vista Villas
. These five luxury properties are located right on the water in West End Village, Roatan's eclectic and exciting centre for diving, dining and nightlife. Complete with private pools, multiple balconies, gourmet kitchens and a range of concierge services including private chef, each four bedroom/four bathroom villa is tastefully furnished and features free, high-speed wifi and the latest in high-end audio/video technology. Explore one of the last unspoiled islands in the Caribbean from this oasis of luxury.
Kura Design Villas, Costa Rica
The exclusive and luxurious
Kura Design Villas
rest on an impressive mountain ridge where the lush tropical forest tumbles into the Pacific Ocean. This small scale boutique hotel, in the South Pacific Region, seamlessly melds contemporary architecture with the natural environment to produce a supremely romantic getaway.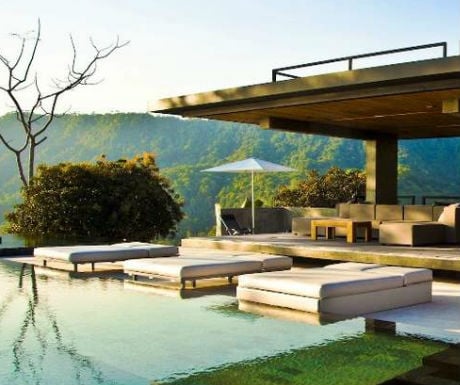 Mukul Resort & Spa, Nicaragua
For as long as you're able to stay, consider 
Mukul
 home. Consider Playa Manzanillo's immaculate white sands your personal playground. Consider the entire Emerald Coast of Nicaragua your kingdom. And certainly consider your accommodations your own private estate.
Each of the 37 guest accommodations offers space and privacy in a style that fully embodies and compliments the natural surroundings. Views of the ocean come standard. Craft furnishings and decorations come straight from Nicaraguan artisans – carved native teak tables, sugarcane twig headboards and rum barrel staves. In Bohios, Beach Villas or in the crown jewel, Casona Don Carlos, make yourself at home.
Ka'ana Resort, Belize
Ka'ana
was created as a tribute to the rich heritage and natural wonders of Belize and to showcase the unique immersion experiences the country has to offer. It caters for those who appreciate the elegant luxuries of a world class resort, yet yearn to experience new frontiers. Guests enjoy personalized service paired with modern design that simultaneously pays respect to the country's culturally rich past. Located just steps from the ancient Maya Civilization and surrounded by pristine jungles, Ka'ana's tour excursions are completely customised to ensure that you receive a unique, yet authentic Belize experience.
Perfectly located in the midst of everything a Central American vacation could possibly offer, Ka'ana is a haven of understated luxury with a considered design style, distinguished culinary experiences and an extensive wine cellar, adjacent to pristine jungle. With the perfect blend of modern luxuries, personal service and bespoke cultural experiences, we look forward to bringing you on a journey you will never forget.
Isla Palenque, Panama
There are still undiscovered lands. Let your inner explorer roam a place of rare natural beauty, unspoiled by man and unchanged by time, where adventure calls and senses awaken.
The Resort at Isla Palenque
 is a new private island community on a pristine 400-acre jungle island in the Gulf of Chiriqui, Panama.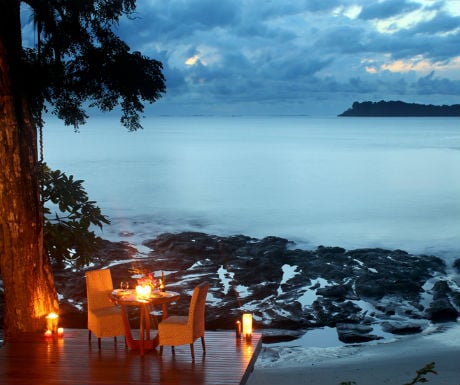 With only 16 rooms on a 400-acre private island, Isla Palenque is yours to explore. Self-guided exploration on the well-marked trails allows you to stroll at leisure in the shade of ancient trees laden with vines and flowering epiphytes of every variety. You'll encounter the iconic wildlife of Isla Palenque – howler monkeys and sunbathing iguanas – amid intact ecosystems bursting with wild orchids, bright birds and tropical butterflies.
El Secreto, Belize
El Secreto offers 13 exclusive individual villas. A smart combination of contemporary and traditional elements. True Mayan style thatched roofs shelter the bedroom where you will find a king size bed with 400 thread Vivenda Egyptian cotton linen surrounded by Belizean tropical woods, nestled in a designer ethnical decoration.
For your comfort all the villas are equipped with a system that allows you to program the LCD TV, iPod deck, air conditioning and lighting scenes to your preferences. You can even choose the type of pillow that suits you best and enjoy the benefits of their Malin & Goetz amenities.
La Lancha, Guatemala
Set in the rainforest high above the shores of Lago Petén Itzá is
La Lancha
, a quaint, 10-room lodge decorated with artwork and furniture from Bali, as well as fabrics and carvings from Guatemala personally selected by the Coppola family. Beyond the clear water of the lake is Tikal, the epicenter of Mayan spirituality. Buried deep within the rainforest, the ruins include more than 3,000 structures where moss clings to the steps of ancient temples and plazas.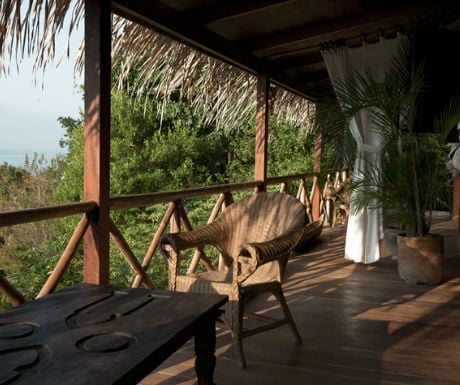 With its beautiful lakeshore setting, relaxed ambiance and close proximity to the lost world of Maya, La Lancha is an ideal destination to both enjoy a languid pace and explore the many adventures of the Petén region.
Xandari Resort & Spa, Costa Rica
Xandari Resort & Spa
is a tropical paradise of 24 individually designed villas nestled on a 40 acre plantation overlooking the Central Valley of Costa Rica, and only 20 minutes from the San Jose International Airport. At an elevation of 3,900 feet (1,200 metres), Xandari enjoys a near–perfect temperature of around 70 degrees Fahrenheit all year.
Each spacious villa, surrounded by gardens, has a large view terrace for enjoying the sunset and lights of the valley at night, plus a walled–in terrace for privacy and solitude.
Kanantik Reef & Jungle Resort, Belize
Kanantik Reef & Jungle Resort
is an intimate, secluded, luxurious beachfront resort located in Southern Belize. With only 25 private, thatched-roof cabanas situated in lush tropical gardens and fronting a sandy beach, Kanantik provides a truly authentic, truly relaxing, truly tropical beach and jungle holiday.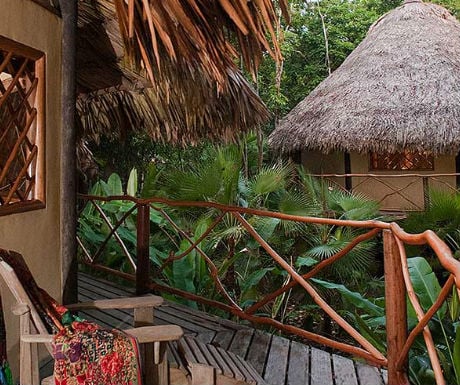 Kanantik is an ancient Mayan word meaning "to take care", and with friendly and attentive hospitality, a wide range of activities and excursions, and a dedication to service, Kanantik Resort really embodies all that is wonderful about Belize. With some of Belize's finest
scuba diving
, wildlife, jungle sights, and activities at your doorstep, you will surely find Kanantik to be the Belize of your dreams.
El Silencio Lodge & Spa, Costa Rica
El Silencio Lodge & Spa
is an eco-
luxury hotel
that showcases the best of Costa Rica's tropical cloud forest. Silencio (Spanish for silence), befits a destination where daily stress is hushed by nature's melodic symphonies.
This upscale Costa Rican hotel features premium facilities, five hundred private acres of carbon-offsetting tropical cloud forest, hidden waterfalls, a nature-immersed spa, yoga, hiking, horseback riding, meditation, and healthy organic cuisine.
Did you enjoy this article?
Receive similar content direct to your inbox.