By
Paul Johnson
on Jul 25, 2013 in
Accommodation
,
Attractions
,
Bars
,
Cruises & Boat Travel
,
Europe
,
Family Travel
,
Featured
,
Going Out
,
Greece
,
Hotels
,
Leisure Travel
,
Regions
,
Resorts
,
Restaurants
,
Spas & Pampering
,
Special Features
,
Speciality Travel
,
Travel Miscellany
,
Western Europe
This month we had one of our most relaxing breaks in a long time, enjoying an 11-day stay at the Domes of Elounda on the eastern side of the biggest of the Greek islands, Crete. Arriving quite late in the evening, we were welcomed to the resort with a complimentary drink at the Grand Domes Lobby Bar whilst we sorted out a few formalities and our bags were taken to our room.
The individual properties at Domes of Elounda are scattered up quite a steep hillside and so staff are on hand driving small electric buggies up and down to your room. We boarded one of these and were taken up to room 409, close to the top – the higher you go, then the more dramatic the view, not that we could really appreciate that in the darkness.
The hotel had very kindly thought ahead and recognised our slightly unsociable flight time, which had us arriving just after the restaurant had closed, by putting on a selection of snacks, fresh fruit, wine and water in our room that would see us through until the morning. It's the lovely personal touches like this that can really make a difference.
Our 'room' consisted of a living area with sofa beds for our children, leading out on to a spacious balcony with a Hydropol whirlpool bath and a 'sitting out' area.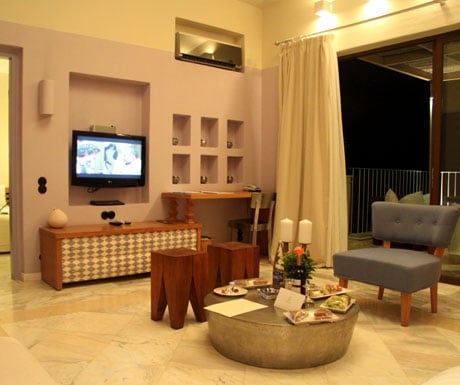 For Mum and Dad there was a master bedroom with en suite and, just in case, another whirlpool bath, plus a shower.
We had been to this part of Crete a few times before so knew what to expect the next morning, but the view of Spinalonga – a former leper colony but today a popular tourist attraction – still didn't disappoint.
Breakfast is served at the resort's Tholos Restaurant each morning and there is always a wide selection that includes lots of fresh fruit, cereals, bread, yoghurt, cold meats, cheese and various cooked options. There was also all manner of pastries and pancakes which I made a point of resisting although they did look good!
Most evenings we ate at Tholos Restaurant where there was a buffet. This suited us well because it allowed our children to explore different tastes and be a bit more adventurous with some of their choices without ordering a complete dish, only to find they then didn't like it. Each evening was varied with classics such as moussaka and Greek salads, as well as some Cretan specialities such as dakos. There was also a multitude of different meat dishes (not just Greek), plenty of seafood (mussels, octopus, etc.) and a variety of salads.  There was even sushi on a couple of occasions, too. A dedicated table for children if they wanted to err on the side of caution was available until 8pm with universal favourites such as spaghetti napolitana.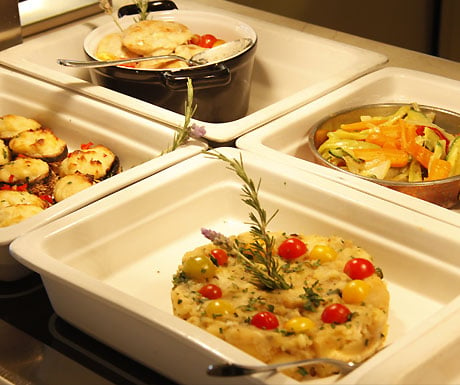 Our visit co-incided with the tail end of the Annual Festival de la Gastronomie, where Domes of Elounda brought the world of haute cuisine to Crete for the 4th consecutive year. Although we didn't make it to that, the five course gourmet dinner at the Anthos Restaurant, certainly sounded interesting with plenty of Greek influences. On the menu was "Snail fillet mousse served on fresh sage gel, 24k gold and crispy microgreens" and "Duet of lobster medallion and lobster ravioli on hibiscus sauce and octopus carpaccio with lime foam" among other intriguing dishes, followed by a "Reconstructed Cretan dakos" for dessert.
We deviated from the buffet option one evening with a Greek night at the resort's 1910 restaurant down by the hotel's private beach.  The evening consisted of a barbecue followed by both Cretan and Greek dancing (but please don't ask me what the difference is!).
Also down at the beach is a bar, a kids' club run in conjunction with the Worldwide Kids Club company, and a watersports centre. The latter was looked after by the very friendly Alex and Spiro (look out for Spiro in the next Olympics – he could be representing Greece in the 1500 metres).
On a day when the winds subsided (they can be a little unpredictable around Spinalonga), we went on a boat excursion with Alex, passing the island and finding one or two isolated beaches where we jumped off the boat and did a bit of snorkelling.  The water was beautifully clear but I was surprised at how few fish there were.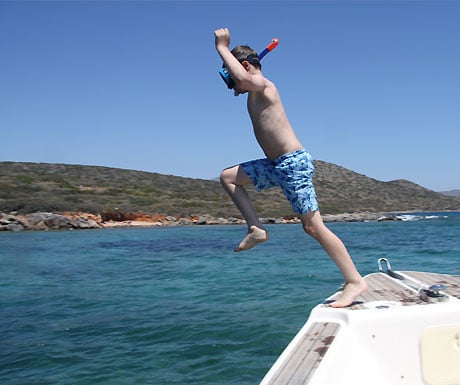 On our return from the boat trip (we were out for about 2 hours), we got a better appreciation for the scale of Domes of Elounda and you can see the complex for yourself in the picture below.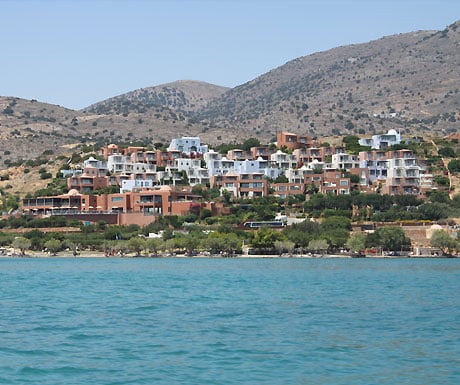 On another day, we chose to do the 'sofa ride' – a bit of a favourite with families – but you could also choose from a banana boat, waterskiing, and a whole array of other watersports. Thank you to Spiro for taking the picture in what was probably not the easiest of conditions!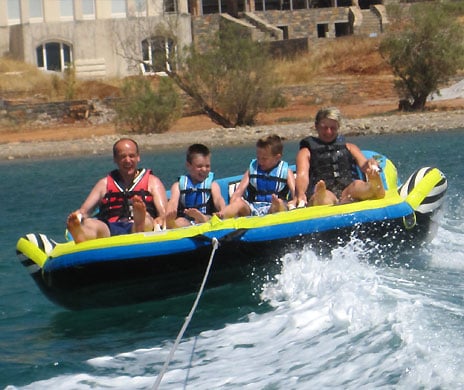 Back at the hotel, we whiled away many an hour by the pool and were looked after exceptionally well by Timo from Macedonia.  He never stopped from morning until night and yet always had a friendly smile.
Close to the pool is a spa which we barely used but it offers everything from massages and facials to slimming and detoxing treatments. Treatments offered used naural Pevonia luxury products. In the spa there was also an indoor pool, steam bath, sauna and fitness room, and a hair salon.
The hotel also has its own tennis court – a little further from the main buildings but only a short buggy ride away – where private tennis lessons are also available.
During our stay, I made a point of getting up before sunrise on a couple of mornings and taking a few photogaphs and I was glad that I made the effort as it was a beautiful spectacle. This is the sunrise as pictured from our balcony…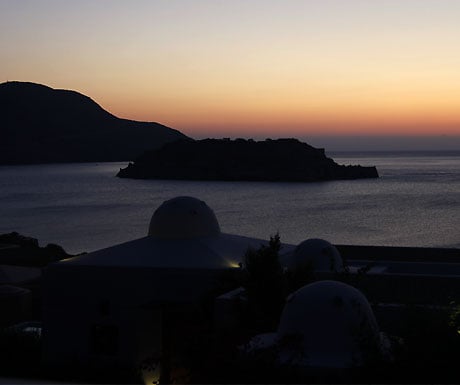 …and this one was taken down at the beach once the sun had risen a little higher in the sky.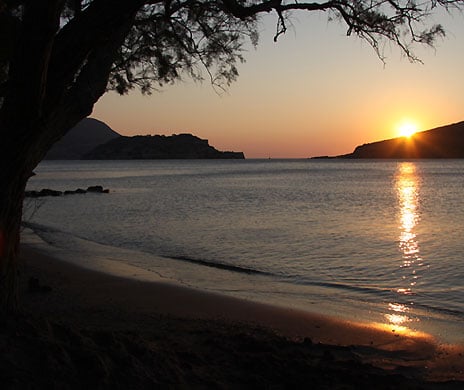 Locally here you have the town of Elounda a couple of miles away (I ran there and back one day but it was tough-going in the heat) and, in the other direction, the tiny fishing village of Plaka.  Boats to Spinalonga are available from both of these places, and a great way to get an overview of the region – which we'd done on a previous visit – is by taking the little road from Elounda and through the villages of Mavrikiano, Tsifliki and Plaka.
Although Plaka is very close, we opted to take a taxi rather than have the boys walk in the heat of the day. The atmosphere down at Plaka is stereotypically Greek – a few scattered tavernas, a handful of shops and octopus pegged to a washing line to dry.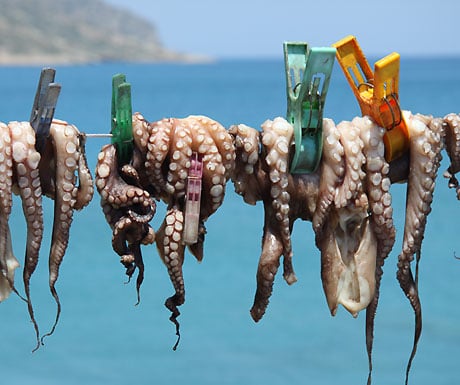 We had lunch at the Gorgona taverna and couldn't have been welcomed more warmly. It was clear that this opeartion was a family affair but one where the staff couldn't have tried harder. The food was good traditional Greek fayre, too – tzatziki, dolmades, hummus, Greek salad, etc.
On our last day, our flight wasn't until the evening. We could have requested a late check-out and spent the day at the resort but instead we decided to hire a car for our final 24 hours and treat the kids to a day at Acqua Plus waterpark close to Knossos, about halfway between Elounda and Heraklion Airport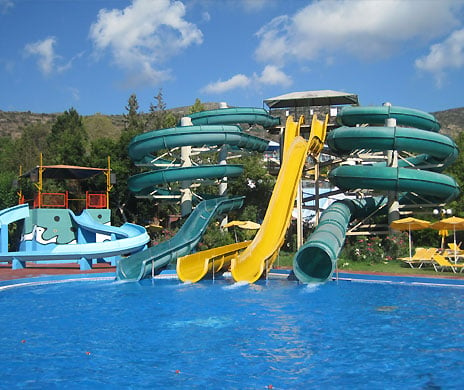 The park is packed with all manner of slides and rides and the rather sedate 'lazy river' ride that these parks often seem to have.  However, this park also had a 'crazy river' ride which was a big hit – chaotic fun that is probably best experienced first hand as any attempt to describe it probably just wouldn't do it justice.  The park also has lockers, food outlets, a shop, etc. and everything is very easy because you charge any extras to your wristband and pay at the end.  (Apparently, Acqua Plus was the first in Europe to use this technology back in the 1990s.) After the park, the independence of our own transport meant we were able to squeeze in one last taverna visit before checking-in at Heraklion for our flight home.
We did very little in the way of historical or cultural activities on this trip, but we had great fun and came back fully refreshed and ready to take on our duties at home with a little more energy that we'd had before. Some trips should just be like that!