Risotto is one of the most delicious dishes that is prepared all over Italy. One of the best things about this dish is that you can prepare it using most kinds of vegetables, seafood, meat, legumes and of course different types of wine according to the main ingredients. This makes risotto a dish that you can eat all year round, following your tastes and the seasonal ingredients you like most.
Risotto with gorgonzola, pears and crispy ham is a recipe which has a very delicate and refined flavour, and this recipe can be adapted for vegetarians and meat eaters. A garnish of radicchio and walnuts is suggested to give the dish a further touch of class. It serves four people.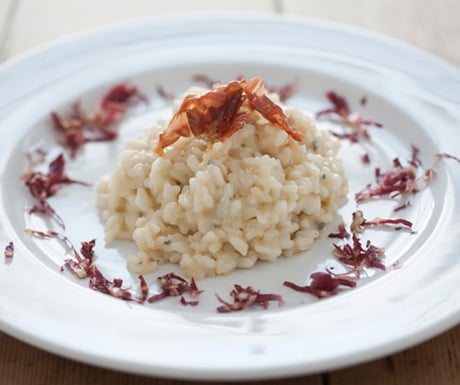 Ingredients
300g carnaroli rice
150g Abate pears
120g gorgonzola cheese
1 litre of vegetable broth
1 onion
Extra virgin olive oil
40g San Daniele ham
500ml dry white wine
Directions
Chop up the onion. Pour the oil in a pan and then add the onion until it gets brown. Then add the rice and let it toast. Simmer with white wine until reduced. Then add the vegetable broth, that you had already warmed up, and stir every once in a while until it is ready. In the meantime cut the ham and toast it in a pan.
Cut the pears into cubes and then add it to the rice with gorgonzola. Now it is important to let it 'mantecare' (an Italian word meaning to blend or mix), cooking it briefly over a low flame until creamy.
At the end, add the crispy ham on the top of the dish. A touch of class would be to garnish it with radicchio and toasted walnuts.
Thank you to Livia De Giovanni of Flavours of Italy Ltd. for the recipe.
If you have a recipe you would like to share with A Luxury Travel Blog's readers, please contact us.