5 luxuries not to miss in Dubai
Visitors to Dubai – one of the world's most opulent destinations – are spoilt for choice when it comes to seeking luxury. The city has become one the most popular playgrounds of the rich and famous, and has made many a statement with several of the world's tallest buildings, man-made islands and even a huge indoor ski slope… and all this in the middle of a desert. Here are five luxuries you won't want to miss on a visit to Dubai.
Flying first class
Start your Dubai holiday without jet lag by flying first class and arriving fully refreshed. The First Class Private Suites from
Emirates
 (found on all Emirates A380 and and Airbus A340-500 aircraft, and most Boeing 777 aircraft) come with optional privacy in the form of a sliding door, ambient light, your own personal minibar, and – perhaps most importantly – a reclining seat that can be converted to a fully flat bed with a mattress.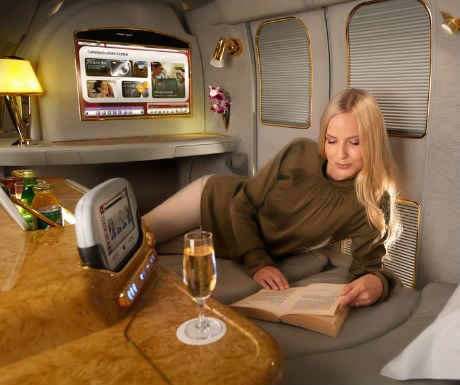 Visiting the souks
Many will tell you to head for the gold souk where there's said to be 25 tonnes of rings, bracelets and necklaces.  Arguably more interesting for a visitor and without doubt a greater assault on the senses is the nearby spice souk where you'll find every spice imaginable. Dubai also has souks for fish, meat, vegetables, textiles and electronics.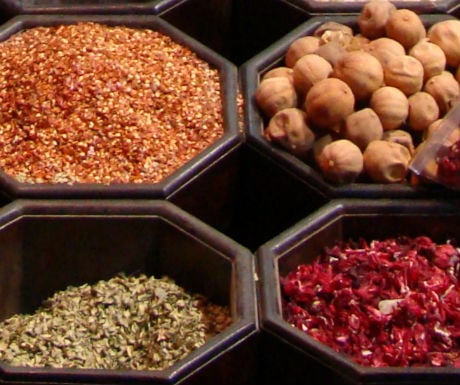 Afternoon tea from more than 1,000 feet up
Afternoon tea at
At.Mosphere
 brings new meaning to the term 'high tea'.  Here you'll find yourself on the 122nd floor (442 metres/ 1,350ft up) of the world's tallest building, the Burj Khalifa. A harpist serenades guests as they take in the stunning views and enjoy the delectable food. To enjoy at its best try to book mid-week away from the crowds.
Hot air ballooning over the desert
If you still have a head for heights, then why not see Dubai and the surrounding desert from a hot air balloon?
Balloon Adventures
can take you on a unique, personal journey over an endless ocean of sand dunes and emerald green oases. From above you can observe oryx, gazelles and wandering camels and witness a breathtaking sunrise with the backdrop of the majestic Hajjar Mountains.
Dining in one of Dubai's many excellent restaurants
There are many great places to dine out in Dubai and a growing number of Michelin stars, as well as many other excellent restaurants without Michelin star status. 
Try
Reflets par Pierre Gagnaire
– TimeOut Dubai's Restaurant of the Year – which you'll find in the Dubai InterContinental Hotel and where 
Pierre Gagnaire serves incredible Michelin-starred French cuisine.
Did you enjoy this article?
Receive similar content direct to your inbox.