Switzerland is well renowned as a unique skiing destination. It has strong influences from its French, Italian, German and Austrian neighbours, yet retains its own distinctive identity. Geographically breathtaking, with the Alps, rivers and glaciers, Switzerland is stunningly beautiful. It is one of the richest countries in the world, and it pays to have a little change in your pocket to ski here. It is well worth it however for many reasons. The skiing is excellent, the environment magnificent and the cuisine is seriously good.
Think of Switzerland and you think of the cheese, chocolates, cow bells, the Matterhorn, Heidi, Alps, high end shopping, class and sophistication, and that is just a start. Choosing a resort for skiing and après life is difficult, but inevitably rewarding. Here are some of Switzerland's most luxurious ski resorts.
Gstaad
"Come up, slow down" is how Gstaad markets itself. This resort village has some 144 pistes that cater for all levels of ability. It is a haven for skiers and snowboarders alike. From Gstaad you have access to 6 other resorts that will keep you busy and where you can select a terrain best suited to your needs. Cross country skiers are well catered for and will be enthralled exploring 80kms of trails.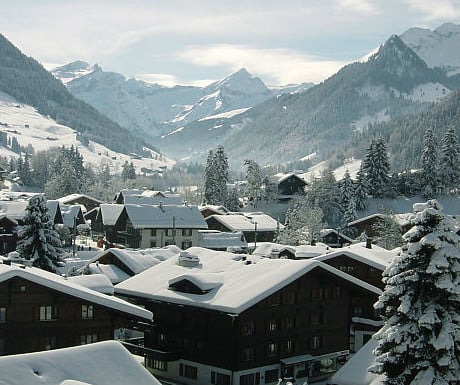 The village of Gstaad itself is a picture postcard perfect Alpine village. Here you will see archetypal alpine houses, flower box windows, a river running through the village and all surrounded by snow capped mountains.
Gstaadt is renowned as a resort for the rich and famous, though it is a viable option for all. There are some beautiful hotels and guest houses that treat you well after a hard day on the slopes, or indeed a day doing many of the other activities on offer here.
Perhaps you might like to play 9 holes of golf on the snow, go horse riding or husky sledding. Heli skiing and hot air ballooning are also on offer. If you enjoy shopping, Gstaadt has some delightful boutiques and local craft shops that are well worth a visit.
Gstaadt is accessible from Geneva, which is about 2 and half hours away, with Zurich being 3 hours and Bern the closest at 1 hour and 40 minutes. It is highly recommended, as it is not overly inundated by tourists. An interesting trivial fact is that Bollywood loves Gstaadt and indeed Switzerland, and have filmed many blockbusters here.
Verbier
The French speaking Swiss really embrace Verbier as a ski destination, as do many international visitors because it is a charming resort. Verbier offers excellent skiing and a particularly vibrant après scene. It is located in the 4 Valleys ski region and has over 400km of piste. The skiing in Verbier can be very challenging and is a mecca for snow boarders and hard core skiers. However it is also linked to Veyonnaz, Thyon and Nendaz, which are a little more forgiving. You can also heli ski and glacier walk to supplement your adrenalin rush.
Verbier is recognized for its lively après scene, with many opportunities to enjoy the fruits of your labour after a hard day. The region offers some excellent dining opportunities with Michelin and Gault Millau restaurant here, as well as many local and very good restaurants both on and off the slopes. There are many high end chalets and hotels here to accommodate to your needs. Wellness and spa facilities are a prime concern in Switzerland, and this works for all of us.
Verbier is one of Europe's top ski resorts.
Zermatt
Think Matterhorn, think Zermatt. It is claimed that "in Zermatt, après ski begins at noon". This is the ethos that surrounds this very famous village. Yes, the skiing is good, in fact very good, but so is the relaxed approach to life. Zermatt is a very attractive village, with no motorized cars as these were banned. The architecture is quite typically alpine and befits the beauty of this area. You can see life go on as normal in this very popular town, with farmers going about their duties near to hotels. The sound of the cowbells is excellent.
Zermatt is the highest ski resort in the Alps, and it is nearly always sunny in Zermatt. This resort is particularly good for advanced and intermediate skiers. Some excellent long runs can be done and are not too difficult. The longest run is the Klein to Zermatt, which is 13kms long. If a little daunted, there are so many other activities to do.
The main street, the Bahnofstrasse, offers many shopping opportunities, galleries, indoor pools and ice skating rinks. Take a sleigh ride through the village or try you hand at curling.
A bonus of Zermatt is that you can ski to Cervinia in Italy for lunch and then return for the start of the early après festivities.
The nearest airports are Geneva and Zurich, followed by a delightful train ride to the village.
Klosters
For kings and commoners! Klosters and its neighbor Davos have long been the playground of royalty and the obscenely wealthy. Yet, Klosters and Davos are also accessible to commoners, at a price. The skiing is awesome in both areas, but Davos is certainly the snowboard kingdom hosting some significant international events. There is a 17km run here that is one of the longest in Europe. There are 97 pistes and 33 lifts in operation at Klosters with 50kms of trails for cross country skiers. The skiing particularly suits advanced and intermediates though there are some slopes for beginners.
Klosters a small village surrounded by majestic mountains, and was originally founded by a monk who established his "cloister" here. Renowned for its elegance and glamour, it deserves its international reputation, as it is smaller and more intimate than some others. This is a celebrity haven in a quiet little village that allows people constantly in the spotlight to have some time out. The locals respect this, as I am sure that all visitors would or should.
The closest airport to Klosters is Zurich, about 2 hours and 20 minutes away.
St Moritz
We have all heard about St Moritz and we all associate it as luxury personified. And no one will be disappointed. St Moritz is again, another sunny little enclave, which has an Austrian feel to it. It is again a celebrity haven, and such is the repute that the name St Moritz is a registered trademark.
St Moritz was originally a health retreat because of the benefits of the mountain air and the natural springs, and this wellness continues today. In 1928 and 1948 it held the Winter Olympic games, the only ones to be held in Switzerland. St Moritz has certainly attracted some notable people, and still does.
The resort is excellent for skiing, a little lazing in the sun and taking some awesome photos. Having 350kms of pistes both skiers and boarders are well catered for at all levels. Corviglia above St Moritz is very popular while Sils Maria and Pontresina give advanced skiers and boarders something to work on.
St Moritz oozes charm and style and glamour. You can ski, shop, choose different Champagne each day, and enjoy the sumptuous dining that befits this chic resort. A nice little sideline is playing ice polo or ice cricket on a frozen lake.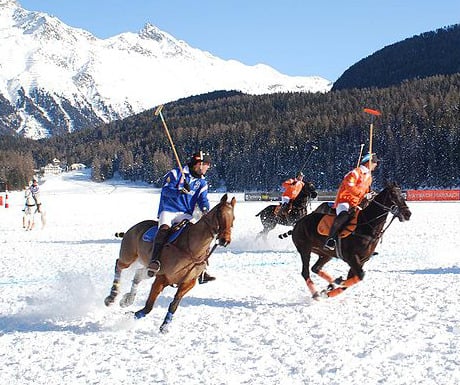 Zurich is 2 and a half hours away.
Engelberg
Engelberg is flying under the radar. It is very popular with locals, but it has yet to register with the international audience. Just an hour from Zurich, Engelberg is home to Mt Titlis where the first revolving cable car was introduced and the popular Ice Flyer shows the glaciers brilliantly.
Skiing at Engelberg is an advanced skiers dream come true, as the pistes are highly challenging. Hard core skiers and boarders will revel in the dramatic drops. Many ski jumping competitions take place here. Nearby Brunni is better suited for those not quite so daring.
Engelberg is yet to realize its potential and to provide all of the infrastructures that visitors want and need. However the skiing is superb and the location excellent, so the opportunities are immense. I predict that this little monastic town will reach new heights on people's ski agenda.
In conclusion, Switzerland is a destination on everyone's agenda and is a destination that will not disappoint. It is worth it.