The Australian hotel that has been entirely transformed into a work of art
Visitors to Adelaide in South
Australia
can now enjoy an unparalleled art gallery experience by sleeping in a hotel where each bedroom has been turned in to a art canvas. In an Australian first, the
Majestic Minima Hotel Adelaide
has undergone a transformation, which has seen the entire hotel become a work of art. All 46 rooms were given over to South Australian artists to turn into their personal visions of 'creativity & creation' in an array of disciplines ranging from street art to tactile installations.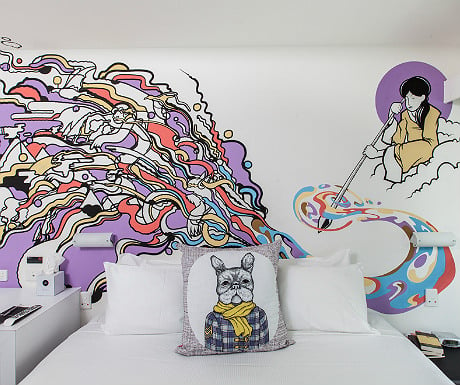 The walls and ceilings of each room were presented to the hand picked artists as blank canvases. The featured artists are all from South Australia and are either emerging or semi-established. Guests can choose to spend the night in a specific Art Room selected from the online gallery, or they can opt for a lucky dip. Options include 'Room #01 Life' which features a cartoon depicting life over the last four billion years; 'Room #11 Love', a serene and whimsical creation in golden hues; and 'Room #213 In Dreams', a fantasy themed bedroom. Opened in 2008, the Majestic Minima Hotel has set new trends in stylish yet inexpensive city fringe accommodation. Located in North Adelaide, the three-storey boutique property contains 46 compact studio rooms measuring approximately 14 square metres. Each room comes complete with king size bed, 32″ LCD television, free WiFi and ultra-modern bathrooms. Laundry facilities are offered free of charge. Rooms cost from just $99 AUD.
Did you enjoy this article?
Receive similar content direct to your inbox.