It is hardly surprising that Australia has some of the best surfing beaches in the world. The beach is a massive draw card for Australians and visitors alike, and it's not hard to understand why. Surfing is a natural adjunct to this beach obsession. Surrounded by the oceans and seas, an excellent climate and a laid back approach to life, this is a match made in heaven.
Hard core surfers are a unique sub culture that must get their daily dosage(s) of surfing, regardless of the season. In reality, Australia does not get that cold, even in the depths of Winter, though Tasmania might have a few more cooler days than the mainlanders, but a wet suit sorts that all out. Every surfer has his or her spot that they can catch a break and this insider trading information is shared amongst them in a most friendly way. Surfers are cool. They are not selfish and they want others to also sample what they can.
However, in saying that, surfing is not just for pros are die-hard surf junkies. In fact, surfing is for everyone and that is another reason that Australia attracts so many international visitors wanting to try, or to define, their surfing. Body boarding and body surfing are also highly popular.
There is a combination of serenity as you sit in the middle of the sea waiting to catch the next wave and also an adrenalin rush as you swim to catch it correctly, and spear towards the shore. There is also a fear element from the vagaries of the sea, to rips and sharks, so a little local knowledge and listening to the surf lifesavers is imperative.
Nominating the best surf beaches in Australia could go any which way but the following seem to be firmly on everyone's radar.
Victoria
Bell's Beach is located on the stunning Great Ocean Road and is surrounded by high cliffs, which provide a natural forum for the ocean. Due to the geological and geographical nature of the beach there are some excellent, and at times quite dangerous, waves to be caught and ridden.
A major surfing competition is held here annually, which is a festival in itself, with a lot of music featuring major bands playing, as well as 'all the fun of the fair' occurring.
Queensland
The Gold Coast and Noosa have some excellent surf beaches and some major carnivals. These areas are also party central. There are a lot of luxury resorts, casinos and all of the trappings that go with attracting not just the surfers, but also the glitterati and those who are just fabulously wealthy.
Kirra, Broadbeach and the legendary Snapper Rocks Superbank, which is home to some of the world's longest waves, are all legendary among surfers and non surfers alike. When the party comes to town, everyone is involved. In reality the party never leaves town on the Gold Coast or in Noosa.
New South Wales
Many claim that NSW has an unfair advantage having the longest surfing coastline as well as more quality surf beaches than other states and it is true. Remember that Queensland has the Great Barrier Reef, which precludes a lot of its coastline from being 'surfing' beaches, whilst other states and territories have to contend with some fierce oceans and unwelcome creatures.
From the top to the bottom of NSW you will be hard pressed not to find a beach that doesn't beckon. Angourie in northern NSW is popular as are all beaches around Lennox Head and Byron Bay. Heading south stop at Port Macquarie, then Newcastle. Sydney's entire coastline has some superior surfing beaches as does Wollongong an hour south, and just keep on surfing down to the border of Victoria.
South Australia
South East Beach has some excellent surfing opportunities. The primary beaches are Robe and Beachport. On the Yorke Peninsula, Stenhouse Bay is rugged and exposed to the very strong Southern Ocean swells. Yet it is still very popular with surfers who cannot be daunted.
King Island is accessible only by air or ferry. Despite this or perhaps because the island is so beautiful it is worth the effort. It again affords some quite rugged surfing albeit in an idyllic setting. This is all buffeted by the Great Australian Bite, so beware.
Western Australia
The stunning resort village of Yallingup in the Margaret River winery area, is considered the best all-round surfing destination on Australia's west coast.
Much like South Australia and Tasmania, the Prevelly Park beach is quite rugged and really only for hard core surfers. And they come from all over Australia and indeed the world, in a man vs nature type of display.
The beauty of this area is that you can hit the wine trails after to either drown your sorrows or celebrate the victories.
Northern Territory
Surfing in the Northern Territory is interesting. It can be a little dangerous. Yes it does exist, but you often have to surf at your own peril, or on a conducive day. If you are unconcerned about sharks, nasty box jellyfish and salt water crocodiles, then it is worth a go. Others have and do surf here. It is hard not to if you are a die hard surfer. However you can occasionally get a good surfing day at Mindl Beach, the best beach in Darwin.
Australian Capital Territory (Canberra)
Landlocked. But maybe when the wind gets up, Lake Burley Griffin could be a pretend surf zone!
Tasmania
This island can be a very challenging surfing destination.
Tasmania has 4 distinct areas in the one small and beautiful island. The west coast is wild and rugged and so is the surf. The southern area is buffeted by the Southern Ocean and the surf beach, Shipstern Bluff, is suitable for professional surfers only. It is dangerous and unpredictable and only for the "most" extreme.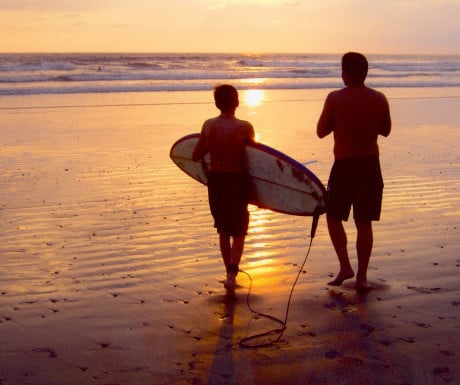 The eastern part of Tasmania however is far more forgiving with great surfing beaches like Clifton and Park. In the north, the Bass Strait generates considerable waves at a number of beaches like Tam O'Shanter and Mersey Mouth.
Australia is a land of extremes no matter what you are talking about and surfing is no exception. Surfing in Australia is noted as being a major draw card for tourists coming to Australia along with the beaches in general.