Everything you need to know about London's most exalted five-star hotels
Last year Forbes Magazine added London to the group of cities blessed with its exclusive Travel Guide Star Ratings. Only five hotels among the city's scores of palatial guest quarters received the lauded Forbes fifth star, while a sixth hotel was brought into the fold in September. This group includes some of the most famous names in British hotel history:
Claridge's
,
The Lanesborough
,
Four Seasons Park Lane
,
The Savoy
,
The Dorchester
, and
The Connaught
. The rarified company kept by this cluster of properties leads to an obvious question: What does it take for a few to tower above so many—especially in a city festooned with elegant, world class hotels?  In order to explore this question, I became a guest at three of these exalted properties. I soon discovered what lies at the heart of each hotel's individualized expression of grandeur and hospitality.
Claridge's
Enough has been written about the venerable Claridge's to fill its Chihuly chandeliered dining room, floor to soaring ceiling. Even a new BBC documentary goes "upstairs, downstairs" at the 200 year old landmark, revered as much for its guest roster of royals, heads of state, and Hollywood luminaries as for its own polished opulence. Winston Churchill bedded here, Burton and Taylor bickered here, and Sean Penn breakfasted here (while I sipped my latte across the room).  If one doubts the allure of Claridge's, they've only to recall Spencer Tracy's oft-repeated quip: "When I die I don't want to go to heaven, I want to go to Claridge's."  Alas, Mr. Tracy really never had to choose one resting place over the other, for after spending a few days at the hotel I can attest that Claridge's
is
heaven.
This is what makes Claridge's the perfect place to spend eternity:
The staff
Claridge's is a warm, friendly spot, not the elitist Mayfair mansion you might anticipate. Everyone tends to the hotel's guests with grace and even wit—from reception, to the hosts in the stunningly scarlet, just-inaugurated Map Room (created to be your satellite office), to the elevator operator (a veteran who began at the hotel before some of Claridge's recent guests were born).  And of course, there's your efficient personal butler, the genie who pops out of the bottle at the touch of a button—no rubbing required.
The niceties
Just some of the touches that make a stay at Claridge's feel so indulgent: Pratesi bed linens, Frette towels and robe, pillows like marshmallows. Vases of fresh flowers, and bowls of fruit refreshed daily. Roses scented like a magic garden. A Toto Washlet toilet with warm seat and push-button cleansing sprays—an amusing cross between a bidet and a car wash. Nespresso coffee maker with the full compliment of capsules. Bespoke chocolates and champagne to welcome you. Water, water bottles everywhere.  No stinginess or extra charges for little amenities. Mirrors, mirrors and more mirrors on the wall – which I suppose can be a plus or a minus, depending on how you feel about encountering your reflection. American and
UK
electrical outlets at desk and bedside.  Speedy wifi and Ethernet system, with plenty of outlets for multiple devices. A Burburry trench hanging in your closet in case of London rain (with more sizes on request.)
Omnipresent beauty, art and design
I could easily spend days exploring every bit of Claridge's art nouveau and deco detailing, whether in the form of restored original pieces, or those newly crafted in exquisite period detail.  Queen Victoria's great-great-great grandson, Viscount David Linley, is the impresario of Claridge's latest design revelations, mingling elements from the late 19th Century with the roaring 20s and 1930s. The furniture and accents deserve their own book of images and descriptions, but I was especially struck by the 1920s dressing table with velvet lined, swivel-open jewelry drawers; the striking chrome, metal and glass lamps and fixtures which produce sweeping mood variations; the wall art of lithographs and striking Getty Images; the custom cabinetry, including closets in burled wood with brushed metal bottoms and removable velvet compartments; unexpected deco touches in unlikely places, like the 30's style curve-legged accent table in the gym that holds a simple bowl of fresh fruit.
The Reading Room and Furmoir Bar
Having recently succumbed to the effects of far too much traveling and dining, I began my encounter in The Reading Room with a request of my host: "please bring me something low in calories, but fool me into feeling as though I'm
not
on a diet."  Given that Claridge's is reputed to be all about providing for their guests, I wasn't really surprised by the ease with which the kitchen whipped up a succulent veal chop with three sauces (on the side) along with expertly prepared vegetables (disguised as decadent treats).  My needs were appeased, but I didn't for a moment feel deprived.  The test was passed with flying colors. Of course, the following night I couldn't help but indulge just a
little
at the Fumoir bar, that chic and sexy 1930s era fantasy dressed in deep aubergine leather, brushed steel and Lalique crystal. Here, drinks inspired by classic jazz age cocktails are given seductively modern interpretations, while a library of champagnes and rare cognacs are readily at hand.
In conclusion
Like the bespoke cocktails served at Fumoir, Claridge's has mastered mixing its grand and glamorous past with the opportunities and needs of the present. The success isn't magical, though it may sometimes feel that way. It is found in a thorough attention to details of technology, sensuality, beauty-plus-practicality, and the highest attribute of all: dedication to absolute guest satisfaction.
Four Seasons, Park Lane
I've been a fan of Four Seasons Hotels in North America for many years. In fact, during my first book tour, back in the "old days" when publishers actually sent authors on tour, I made the rounds of Four Seasons properties wherever my publicity aligned with their locations—which is why I was particularly curious about booking at this London five-star hotel.  However, since my visit followed a stay at Claridge's, I felt a bit like someone in the aftermath of a mind-blowing love affair.  I wasn't sure that anyone else could measure up.
I needn't have worried. The moment I arrived at the Four Seasons, I felt a familiar, excited sense of "Wow!"  And that was just the beginning. Visually, the hotel interior is a masterpiece of dramatic contemporary elegance, yet so subtle in design and palate that, trailing the initial impression, a Zen-like tranquility descends and envelops.  From "wow" to "aaaah" in under 60 seconds; now that's awe inspiring. The psychological power of this welcoming space reflects the hotel's full renovation in 2010 under the auspices of designer Pierre-Yves Rochon.  Rochon brings together bits of British style appropriate to the Hyde Park/Knightsbridge setting, a theatrical flair, and a highly evident concern for the unique needs of the business-luxury traveler.  As a result, all one might expect of a hotel of this stature is accounted for, yet the overall effect handily exceeds expectations. Each room or suite's location dictates unique aspects of its design.  Some have full decks overlooking the treetops of Hyde Park, or fireplaces with flames leaping from white oval stones, or bathroom mirrors that transform into televisions. Further attributes make Four Seasons Park Lane worthy of every one of the five stars in its heavenly orbit:
The service
To wax poetic about service in a five-star hotel would be like sitting on a beach and swooning over the color of the sea.  Redundant?  Not when the blue is the deep cobalt of the Mediterranean.  Or when the service is not merely present, but insistent, as it is at Four Seasons—though in an adorably sweet way. For instance, when I arrived at the hotel's sprawling, well-equipped gym—yes, the one with the floor to ceiling windows and panoramic views of London—I asked if it was possible to increase the cooling, as the sunlight streaming in had warmed the space too much for my arctic tastes. Asked. Handled. The following day I headed for the gym again. Seconds after passing the spa reception desk, a young lady scooted ahead of me toward the fitness room. "I just wanted to check the temperature and make sure it's cool enough for you," she said. Unasked.  Handled anyway.  Fabulous.
The features
I especially loved these touches: In some suites, matching vanities are on opposite sides of the bathroom. The dressing area is a full room of its own, lined with laminated wood cabinetry surrounding a large upholstered ottoman. Orchids, orchids everywhere. A sense of beauty, calm and comfort in all guestrooms.  I couldn't help imagining that when I returned to my own home, I would redecorate to match the style of this hotel.  It felt like "my" penthouse apartment from the moment I entered. UK and American outlets, conveniently on top of the desk and beside the bed.  Original and "lightening" iPad/iPhone connectors; plus wifi that runs at up to 70mbps.
Spa extraordinaire
A soothing environment; divine treatments under truly healing hands.  Afterward, you'll stretch out on the ergonomically designed lounge in your private relaxation pod. Headphones play music in an array of musical flavors. And the aforementioned fitness room will keep the most dedicated gym rat happy.
Dining options
A dazzling series of interlocking spaces; deep ruby walls that fade to black at night; jewel-toned accents in marble, lacquer and textured fabric—this is the Amaranto restaurant, bar, cocktail lounge and lobby lounge. Here, guests can choose their preferred spot to drink or dine, selecting among the specialty menus no matter where they're seated. The message is implicit; guest convenience is a Four Seasons priority.
"Healthy"afternoon tea
Other hotels may be more famous for their distinctly British teas, but in no other hotel has the room service manager offered to build me a "healthy" tea service from scratch.  In keeping with my "fool me into thinking I'm not on a diet" request, I received a magnificent multi-tiered platter that included gluten-free, sugar free, and low fat scrumptiousness. As I understand it, this was a first time creation, but one that is now available by request; you have only to ask.
In conclusion
"You have only to ask" may easily sum up the philosophy behind the success of the Four Seasons experience, whether in London or worldwide.  While Four Seasons Park Lane may lack the notable history of a Claridge's or a Savoy, no hotel has a better grasp on making guests feel that "today" is glorious.
The Lanesborough
There are many who would consider the Lanesborough St. Regis to be the epitome of London elegance; the twenty-carat emerald at the center of a crown of slightly lesser gems. I am not one of them.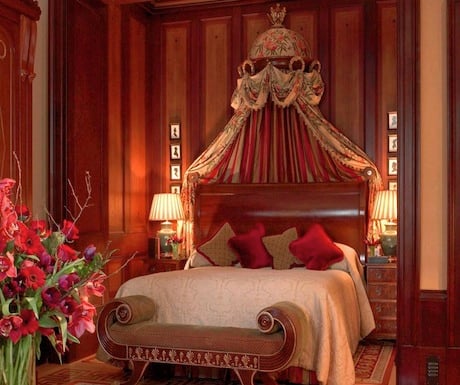 Perhaps it is a question of taste: modern vs. traditional, relaxed vs. severe, dark vs. light.  And, yes, there is much to like, even love, about this Regency resplendent hotel in Knightsbridge.  So let me start with the features I most appreciated: Tablet control system for lights, messages, climate control, and calling your butler.  Naturally, there is a butler – in fact, the Lanesborough was the first hotel in London to offer butler service.  Butlers are scrupulously trained here and there is little they won't do to add to your comfort. TV rising up out of the sideboard at the touch of a button. A varied and complimentary on-demand movie library with current and classic films. Crystal decanters of top shelf liquors in each room; champagne upon arrival. Etched crystal glassware, even in the bathroom. Bone china for the most mundane snacks. Deep bathtub with spa jets. Hair dryer in the bathroom. (UK law prohibits electrical outlets near the bath, so nix on the hairdryers. Here, the dryer is set into a dark wood cabinet, connected on the other side.) Floral scented Lady Primrose amenities held in cut crystal; there's even dusting silk. (While a sweet departure from the herbal products typically found in hotels, I'm not sure most men would find it appealing.) Big, comfy upholstered executive chair at the imposing period desk.  A selection of US and UK electrical outlets, along with a laptop and personalized calling cards in a leather case, printed with a private phone number. A plush lobby-level lounge offering cognacs, ports and whiskies with a breathtaking variety of originations and vintages. There's even a multi-million dollar cigar library, the Garden Room, for those who care for a Cuban with their pre-1900 Cognac. And now, for the less than ideal: Deep dark wood at every turn, scarred leathers, heavy fabrics, thick drapery, Regency artwork, and worn rugs all contribute to the sense of having stepped back in time—an aspect of the Lanesborough's charm that either fails to resonate or leaves one flushed with appreciation.  Perhaps if my guest room had been more pristine, the embellishments fresher, the furniture less marred, I wouldn't have felt as much like I was staying at my grandmother's seen-better-days estate.  I understand that the hotel is slated for a major refresh/refurbishment, and I can only applaud that intent. The hotel's signature Italian restaurant, Aspley's, is situated in a lovely conservatory and has earned a Michelin star for its cuisine. Disappointingly, I found the dishes coming out of the Heinz Beck kitchen to be more ordinary than not. Perhaps it was just an off night.  Of greater concern, actually, was the dining room management's attitude, which was haughty bordering on rude, and the serving style overladen with grandiose flourishes and self-conscious formality. What may have been meant to impress appeared merely superfluous, if not ridiculous, in the face of otherwise poor service, and it conveyed an (assumedly) unintended message: "We're all about us; not you." To be fair, the hotel's staff members were supremely accommodating and warm, with only one exception. Upon arrival I was seated at a small desk, attended by a pretty young woman in the signature Lanesborough business suit.  Instead of "good afternoon," or even, "welcome to the Lanesborough," the very first words she spoke were a clipped request: "Your passport and credit card, please."  Seriously?
In conclusion
The Lanesborough is a cultural icon as much as a traveler's respite. This makes it a useful study in the triumphs and disappointments of luxury oriented hospitality, and a fascinating theatre of human behavior.
Did you enjoy this article?
Receive similar content direct to your inbox.