Recipe of the week: Ariana's chocolat à l'ancienne
Hot chocolate lost its authenticity in modern day by being made from instant mixes and by being considered less of an adult drink than coffee. We need to revive the popularity of the lost art of preparing and presenting hot chocolate! This recipe and variation of the ancient royals' favorite drink showcases our precious gem – the healthy superfood of chocolate!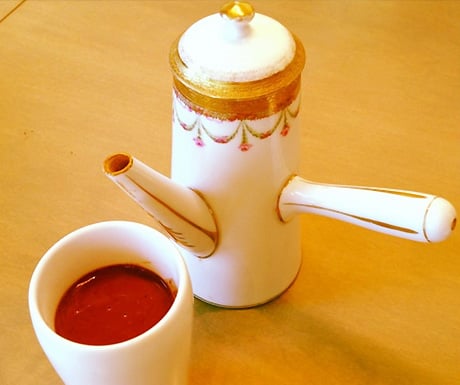 Ingredients
1 cup of Valrhona guanaja 70% dark chocolate fèves – (These are oval chocolate disks in french a fève means a broad bean or a lucky charm) (any high quality chocolate with a cocoa content above 70% will work) 1/3 cup of callebaut 100% dark chocolate block cut into shreds with a serringed bread knife (you can use any brick of high quality baking chocolate that is pure) 1″ cut off of a long madagascar vanilla bean 1/4 teaspoon vanilla sea salt (use terre exotique fleur de sel à la vanille) (or you can infuse your own salt with vanilla bean or just use plain sea salt) 1/4 teaspoon vanilla extract 1 teaspoon organic cane sugar (this is to taste I like my hot chocolate less sweet and don't like to have excess sugar, if you have a sweet tooth add more sugar for your palette) 1 tablespoon Valrhona cocoa powder (100% dark) 2 cups unsweetened vanilla almond coconut milk (almond tastes amazing and coconut froths a bit like real milk would)
Fun bonus option:
1/4 tsp optional to add in for fun or flavour. You can put whatever you like, lavender flowers, coconut flakes, any flavored cocoa powder you have or keep it plain!!!  Another inspiration is to prepare it the way that Marie Antoinette did, she added orange blossom water into her actual hot chocolate, or she topped her drink with orange blossom and orange zest whipped cream. Mmm just imagine the aromaof orange blossoms and chocolate permeating through the halls of Versailles!
Directions
1) Put the 70% chocolate feves, and the cut up 100% chocolate in a double boiler, either you have a double boiler pot or insert, or put a glass bowl over a pot of simmering water on the stove. Melt the chocolate and add in the sugar, salt, vanilla bean and extract. Use a non scratch silicone whisk to stir it. 2) Put the cocoa powder in a stainless or glass prep or large mixing bowl, let it sit in there. 3) Froth or boil the milk in a frother or pot on the stove, let it sit. 4) Pour the heated milk into the prep bowl with the cocoa powder whisk together, then add in the melted chocolate from the double boiler, scrape out every last bit with a spatula. Whisk together very very well. 5) Either pour back the final mixture into the breville milk frother to heat it all together again, or use a moussoir (wooden chocolate stirrer) to froth by hand. Never heat chocolate directly on the stove it will burn or have a burnt flavor, it is very delicate. Preferably serve in a proper side handled chocolatiere, it will look beautiful and make you feel super regal! If not, serve from the most beautiful tea pot you have! Make it feel special. Chocolatieres traditionally are pots with a side handle; since melted chocolate is heavy, it's so much easier to pour it from the side, giving the wrist an easier time. The artisans back in the day thought of everything like how to distinguish a pot both visually and functionally. The French hot chocolate pots often had a hole to insert a moussoir, which is a wooden frother inspired by the ancient ones used by the Aztecs. The built in moussoir is so functional it allows you to stir the thick chocolate to prevent a film from developing and also to froth and aerate the texture of the drink.
Thank you to Ariana Ost Haber of Edible Jewels for the recipe.
If you have a recipe you would like to share with  A Luxury Travel Blog's readers, please contact us.
Did you enjoy this article?
Receive similar content direct to your inbox.