Recipe of the week: Fresh tuna tartar with wasabi ice cream and soya and passion fruit sauce
This week's recipe is a refreshing delicacy from the heart of the Algarve. The fresh bluefin tuna melts in the mouth, perfectly complementing the smooth creaminess and spicy bite of wasabi ice cream. This dish is served with two beautifully contrasting sauces, sweet passionfruit and sharp salty soya, and garnished with chives to decorate. Comprised of a whole host of Oriental flavours balanced with an Algarvian twist, this tuna tartar is the perfect starter to serve at your dinner party. Serves 4.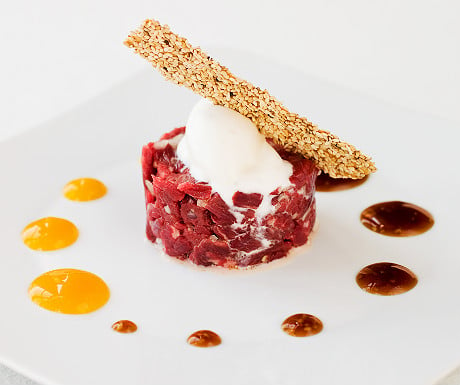 Ingredients
620g bluefin tuna 60g onion shallots 20ml olive oil 300g milk 40ml cream 3.6g wasabi cream 70g liquid glucose 28g ice cream stabilizer 6g milk powder 3g salt 100ml soya sauce 200ml neutral gelatine 4g sesame seeds 200ml passion fruit pulp 200ml neutral gelatine 1/2 sheet pasta spring roll Egg white Sesame seeds Chopped chives, for decoration
Directions
For the tuna
Clean impurities and white fibre and shape small pieces. Reserve.
For the ice cream
Boil the milk with the cream. When boiling, remove from fire and add the glucose, ice cream stabilizer and milk powder. To finalize add and mix the wasabi paste, fill the moulds of ice cream and freeze. Once frozen, crush in the Paco Jet for accurate portions.
For the soya sauce
Reduce the neutral gelatine on fire half, add the soya sauce. If it is not thick enough, add thickener. Then add the sesame seeds.
For the passion fruit sauce
Reduce the passion fruit pulp and gelatin halfway, mix, and if needed add thickener.
For the spring roll pastry
Cut to the right shape, deep in egg white and cover with sesame seeds. Stretch on a silpack with a weight on top and place it in the oven at 180 degrees for 7 minutes.
Plate set-up
In a bowl add the pieces of tuna, chopped shallots, salt and olive. With the help of a round mould, fill with the tuna and press slightly to shape. Around tuna, add the two sauces, soya and passion fruit. On top of the tuna, place a small scoop of the wasabi ice cream. On top of the ice cream, place the spring roll pastry. To finalize, sprinkle the dish with the chopped chives.
Thank you to Jaime Pérez, Head Chef at the Monte Rei Golf and Country Club, Portugal, for the recipe.
If you have a recipe you would like to share with  A Luxury Travel Blog's readers, please contact us.
Did you enjoy this article?
Receive similar content direct to your inbox.