Recipe of the week: Crispy ham hock with pea and mint mousse
They say that every cloud has a silver lining, and one of the few positive things to come out of these straitened economic times is a rediscovery of many of the cheap but tasty cuts of meat. Such meat often requires a little more effort – which costs nothing, of course – but rewards you with depths of flavour which can be lacking from many of the so-called 'prime cuts'. Parts of the animal which have had to work hard will not be as immediately tender as 'lazy' muscle such a fillet, but all that work will have given it complexity and interest. For many such cuts, long, slow cooking is essential. Ham hock falls firmly into this category. The hock is the joint between the upper leg (the ham itself) and the foot, broadly equivalent to the shank on a lamb. Because its job is to hold the bones together, it does have plenty of skin, fat and tendon to go with the meat, but slow, gentle cooking will dissolve these to leave beautiful, delicious flaky meat. Ham and peas are a natural flavour combination, and that then begs for an injection of mint to add interest and freshness. Serves 4.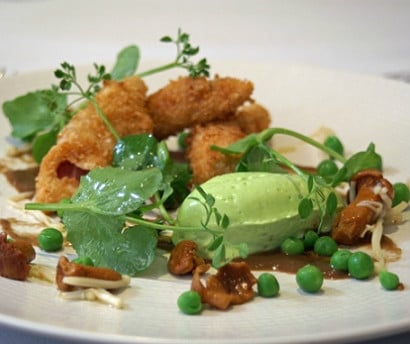 Ingredients
1 ham hock, soaked in water overnight 100g flour 2 eggs Vegetable oil for frying 100g breadcrumbs 300g frozen peas About a dozen mint leaves, finely chopped 150ml double cream 2 leaves gelatine A handful of small wild mushrooms 400ml water 100ml white wine vinegar 100ml olive oil A pinch of sugar 3 sprigs thyme 100g pea shoots 3 tsp olive oil and 1 tsp balsamic vinegar for dressing salad Salt and pepper
Directions
1. Soak the ham hock overnight to reduce its saltiness, then strain the water off and place the hock in a large pan with enough fresh water to cover it completely. Bring the water to the boil, and then simmer until the hock is soft, which should take about three hours, depending on its size. 2. Leave the ham to cool, then break it into small pieces ready to pané: this means coating them in breadcrumbs. Coat each piece of ham in the flour, then dip into the beaten eggs, and finally roll in the breadcrumbs to coat evenly. 3. For the pea mousse, bring a pan of water to the boil. Add 250g of the peas and bring back to boil. Strain, and blend well with the mint and a little water to make a soup. Add 2 leaves of gelatine, season to taste then leave in fridge to cool and set. Once set, whisk the cream to soft peaks and fold into the jellied mousse. Set in fridge for 2-3 hours. 4. Put the water, wine vinegar, olive oil, sugar and a pinch of salt into a pan and bring to the boil. Remove from the heat and add the mushrooms, and allow to cool – this will give you gently pickled mushrooms to dress the dish. 5. Heat the oil in a pan – deep enough to fry the braded ham pieces, but no more than a third up the side of the pan. Once the oil is at 200°C, fry the ham pieces in batches for about a minute until golden, draining on kitchen paper. 6. Boil the remaining peas for a minute or two, then drain and refresh in cold water. Dress them with pickled mushrooms and place on the plate. Spoon the pea mousse onto the plate, then add the deep-fried ham hock pieces and garnish with dressed pea shoots.
Thank you to Roger Hickman, Head Chef at Roger Hickman's Restaurant, Norwich, UK, for the recipe.
If you have a recipe you would like to share with  A Luxury Travel Blog's readers, please contact us.
Did you enjoy this article?
Receive similar content direct to your inbox.