By
Paul Johnson
on Dec 06, 2013 in
Africa
,
Attractions
,
Featured
,
Food and Drink
,
Going Out
,
Regions
,
Restaurants
,
South Africa
,
Travel Miscellany
,
Videos
I have just returned from Cape Town, some 12 years or so after my first visit there. Like all South African cities, Cape Town is of course a city that has seen phenomenal change in recent decades, ever since the abolition of apartheid and release of the now sadly late Nelson Mandela. In many respects, the city was much as I remember from my last visit, but there were some notable changes.
Some of the most obvious could be seen on a trip up Table Mountain. As you queue for the cable car, you are presented with a history of previously used cable car vehicles from years gone by.  The one I'd travelled on last time had already joined those ranks and been replaced with a vehicle with a rotating floor that allows passengers to see around a full 360 degrees as they go up and down.
Once at the top, I was reminded of another major change since my last visit; a new feature on the Cape Town landscape – the stadium at Green Point (between Signal Hill and the Atlantic Ocean) – known as Cape Town Stadium which was purpose-built for the 2010 FIFA World Cup hosted by South Africa, a time when the country seemed to truly revel in the limelight.
We were lucky in that it was a very clear day (the following day was much cloudier and the cable car wasn't running due to wind) so could clearly see Robben Island (where Mandela spent 18 of the 27 years he was imprisoned) as well as many other landmarks all around.
We also paid a brief visit to Signal Hill. Traditionally this is where canons would be fired to tell people that boats were in harbour (and so fresh produce available). At the time of our visit, paragliding seemed to be the activity of choice and I have to say it looked fun and I imagine is an exhilarating way to get an overview of the city if you're brave enough.
I remember the food and drink being excellent on my last visit, and this seemed to have gone from strength to strength. Under the attentive chauffeuring of Roots Africa Tours, we made visits to a number of excellent restaurants and our first experience of the cuisine was a lunch at Table Bay Hotel, enjoying all sorts of "light bites" – ostrich carpacchio, salmon and trout fishcakes, calamari, chicken liver with spicy tomato, and kudu (antelope) with a plum sauce.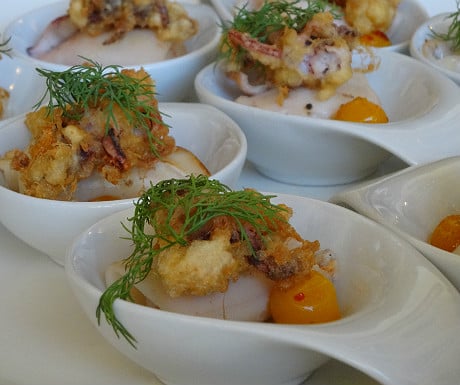 The hotel supports local suppliers and now has a brand new wine tasting room. A diverse range of celebrities have stayed there, from Michelle Obama to the entire Manchester United football team. The Table Bay Hotel also offers direct access to the V&A Waterfront.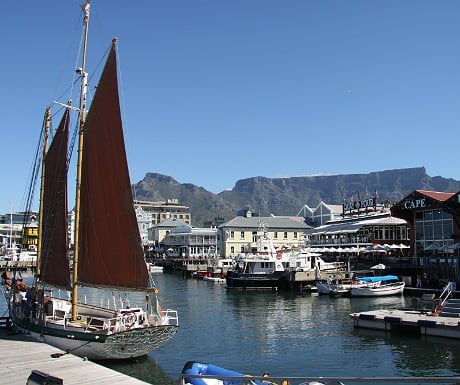 Here you can explore the many shops or simply enjoy the relaxed vibe in the many bars and restaurants. It's a lovely atmosphere at the waterfront and I even caught a short display of African music and dancing.
We stayed at The Cellars-Hohenort in Constantia on the outskirts of Cape Town (not far from Kirstenbosch) – a Relais & Chateaux property and part of The Collection by Liz McGrath.  My room was extremely spacious – with separate lounge area and bathroom with a lovely bath and shower – and always a very welcome retreat after a not-so-hard day of wining and dining.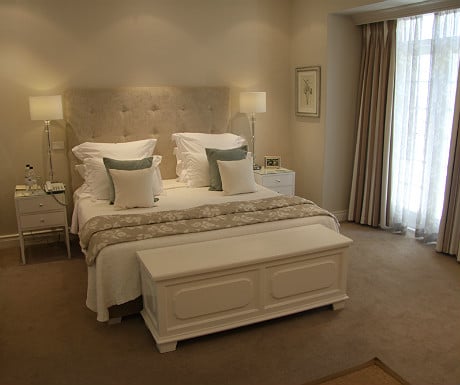 Constantia is the smallest and oldest wine producing region in South Africa, with a history that dates back to 1685. It is also one of the coolest and therefore the grapes enjoy a longer ripening period (3 weeks later than Stellenbosch), and before dinner we attended a wine tasting event at the hotel. There we had the pleasure of meeting Liz McGrath herself and sampled a varied but excellent selection of wines from three of the ten wineries in the region – Constantia Glen, Silvermist and Eagle's Nest.
Dinner was at The Greenhouse, the hotel's fine dining restaurant led by Cape Town's first Relais & Chateaux Grand Chef, Peter Tempelhoff. The tasting menu, which had wine pairings from the three wineries just mentioned, consisted of lightly cured Du Toitskloof rainbow trout, followed by calarmi nero with black rice, and then roast takbok loin (a horned antelope). Arguably the highlight, although I don't go heavily for desserts, was the camembert cheesecake – not made of the said cheese, I hasten to add, but a cheesecake presented on a cheeseboard, complete with cheese knife, as though it were a whole camembert – served with roast pineapple ice cream and compote, pine nut biscotti melba and sage. Apparently there would be 'uproar' from regular diners if this was ever to be removed from the menu!
The following day saw more indulgence with wine tasting at Steenberg. Among them the Black Swan 2012, a very fruity and aromatic Sauvignon Blanc, made for particularly easy drinking.
After a picnic lunch, we then cycled with Bike & Saddle to another winery – look them up as they offer a varied range of tours.
Our next stop was Klein Constantia where we sampled yet more wine and learned that re-planting costs as much as 150,000 South African rands (approxiately £9,000 or $14,000) per hectare, and that if they can't get the right clone, they simply don't plant and wait a year instead.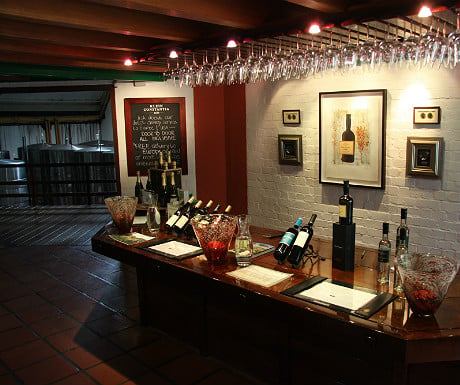 By this point, you could be forgiven for thinking we'd probably had enough wine for one day, but dinner was scheduled for the Azure Restaurant at the 12 Apostles Hotel, hosted by the hotel's General Manager, Horst Frehse and with wine pairings from Peter Finlayson of Bouchard Finlayson. It was preceded with drinks outside on the terrace as we watched the most gorgeous sunset. These are a common occurrence in this part of the world but I would imagine you never tire of them.
The menu consisted of a crayfish roulade (poached crayfish, lemongrass, vanilla, avocado, tomato herb dressing and lime yogurt), followed by 'fish du jour' (grilled kingclip, asparagus, corn succotash, pea, purée and oyster horseradish cream), blesbok loin (pearl barley, miso, king oyster mushroom, soy shitake, sweet potato and cranberry jus) and a blue cheese dessert (potted blue cheese, walnut sable and port reduction). My personal favourite of these was the fish course pictured below.
Without meaning to go on about food indefinitely, I must also mention the Harbour House Restaurant at the V&A Waterfront where we had a truly excellent lunch the next day. This is highly recommended – you'll find some great fish there and regularly changing daily specials. The atmosphere is very relaxed but there is very much a buzz about the place, and my Mozambique-style prawns were delicious.
After our lunch there, we met Iain from Coffeebeans Routes. He has a wealth of knowledge, was very interesting to listen to and took us on a short tour that gave us insights into Cape Town and its status as World Design Capital 2014. Despite all of South Africa's progress, we learnt that the multi-racial democratic elections in 1994 – which the African National Congress famously won under Nelson Mandela – brought incredible freedom to the country but that it was, to some extent, a facade. Intimate sharing was still not happening and more confidence was required. White people did not necessarily get their jobs on merit and yet many still complained bitterly about handouts to blacks.  As an example of the continued divides, building work happened in the 1950s and 1960s on the Cape Flats, a marshland, but the quality of housing was poor and the area prone to flooding.
In short, people still live with divides – for example, freeways create barriers between races, and for many, language is a divide also. And this is where Cape Town as the World Design Capital kicks in. In part, the project aims to lift those barriers psychologically if they can't be lifted physically. Cape Town's famous Long Street is a good example of where cultures come together; it's where people historically go for arts and culture, and where there is a popular jazz scene.
We visited Oranjezicht City Farm, the aim of which is not to make a profit, but simply to bring communities together through the act of urban farming. They have a weekly market there every Saturday morning and the wonderful slogan of 'give peas a chance'. It's never going to be hugely commercial but is instead a demonstration farm which shows what can be possible with both urban agriculture and social cohesion, and plans are already afoot for others to follow suit.
We also visited Langa Quarter to get an insight into other planned projects. Among them was a disused school where the aim is to transform the area into a night market, coffee shop and possibly a bar or two. There will be free WiFi and hopefully a trendy hub of activity which will bring people together. Just outside the school grounds, there's also a number of colourful homes that have been turned into "galleries" that you can visit.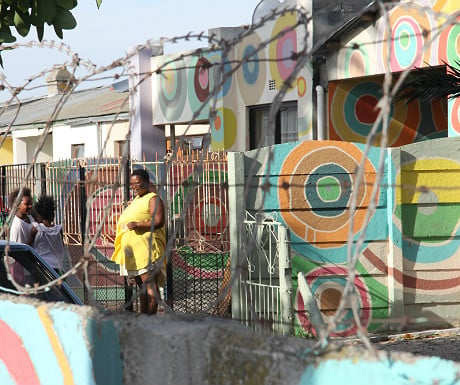 Don't be put off by the barbed wire – the photograph was simply taken from within the old school grounds. We actually wandered the streets here and went into one of the homes to look at the artwork they had on display. Children quickly surrounded us, seeking nothing more than to hold hands as we ambled or, better still and much more fun, to be swung in the air between two of us!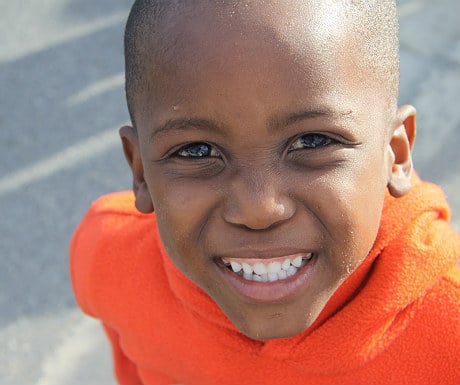 The people here were very friendly, talkative and eager to share their stories, and what's going on in Langa demonstrates a project that is trying to make new centres within the city. It is aiming to be a locally-used facility and tourism will hopefully become a secondary element of that, as tourists visit to be there for the local buzz. Capetonians don't typically move much out of their zones but now possibilities such as those at Langa are slowly opening up.
I think we could have listened to Iain for much longer but, before we left, we had one final dinner to squeeze in at The Bungalow Restaurant and Lounge at Clifton, near Camps Bay – a delicious starter of prawn tempura with a honey, ginger and soya dip, followed by grilled Norwegian salmon with crushed rosemary salt served with basmati rice – along, of course, with an opportunity to take in one last sunset.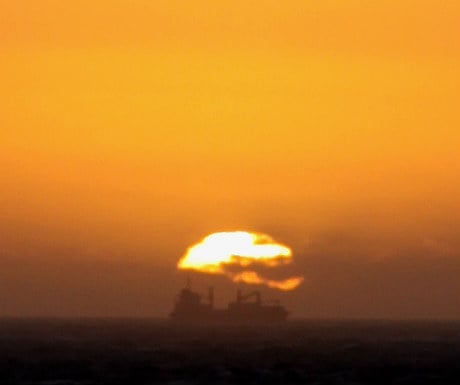 This restaurant is very casual and relaxed and part of The Kove Collection which also has a hotel in Constantia (The Alphen), in addition to a beautiful property just opening in Camps Bay (The Marly), but sadly all good things have to come to an end. Our visit had been a very enjoyable one – in many respects, little had changed since I was last there, but in a number of other ways there had been significant change; and Cape Town's year in the limelight as World Design Capital 2014 will hopefully continue to bring about further change for the good.
Thank you to Virgin Atlantic and Cape Town Tourism for their support with this trip.
Virgin Atlantic has re-launched its seasonal Cape Town service, which flies daily from London Heathrow between October and April, and is this season offering 5,000 extra return seats on the route in order to meet high demand for the city.