By
Joy Davidson
on Dec 20, 2013 in
Accommodation
,
Austria
,
Bars
,
Europe
,
Food and Drink
,
Going Out
,
Hotels
,
Regions
,
Restaurants
,
Travel Miscellany
,
Western Europe
Vienna is a city of Rorschach-like elements that evoke personal, idiosyncratic responses. It is, after all, the city that gave birth to psychoanalysis and spawned the dramatic art of Egon Schiele and Gustav Klimt. So it makes sense that, like the town itself, Vienna's great hotels should leave us with strong impressions.
The hotels I visited excelled in providing the expected 5-star services, and all offered reliable, speedy technology. However, if these factors were the only ones that mattered in a luxury hotel, we could choose our lodgings by flipping a coin.  No, in Vienna, I found each property to be individually, emotionally resonant.  In that spirit, my impressions follow.
Key impressions: calming, timeless, elegant, sensual
Hotel Sacher is a beautiful, family run hotel that has catered to the European elite since 1876, yet now embraces contemporary life with gusto. For instance, the Sacher group permitted their name and location to become part of the popular US television series, "Grimm," though remaining appropriately in character as the home to a group of fictional "royals."  This is but one illustration of the just-right combination of cool and cultured that's so essential to the Sacher experience. It's a merging of two worlds in which I could happily cocoon for a year—and it still wouldn't be enough.
Rooms and suites have been recently redesigned and refreshed by the gloriously creative French interior designer Pierre-Yves Rochon, yet they retain a sense of Viennese refinement. The spacious, all-marble bathrooms are smartly turned out, while the signature "A Time for Chocolate" bath products inspire a long soak in the roomy tub—best enjoyed with a tiny goblet of Sacher's addictive Chocolate Liqueur. (I first sampled this dazzling elixir in the hotel bar.  Afterward, I couldn't resist purchasing it in the Sacher shop, where all their other chocolate temptations can also be found–most notably the world-famous Original Sacher Torte.) This is an environment where you will not only taste chocolate, but you will be prodded to think chocolate, smell chocolate, and, quite literally, bathe in chocolate.  It is all yummily whimsical; an appealing counterpoint to the classic grace of the surroundings.
Naturally, where there is a chocolate theme, there must be a spa. Sacher Spa is serene, and, like every other corner of this hotel, understatedly lovely.  The workout room is airy, containing a surprising range of up-to-date equipment given the size of the space, yet it doesn't feel crowded.
An array of restaurants and cafes are part of the Sacher property, including two fine-dining spaces inside the hotel: the Anna Sacher and the Rote Bar. Inspired, chef-driven interpretations of Austrian cuisine reign supreme here. While the food is delicious, it does tend to be heavy on the butter and cream. You'll find few light versions of classic Austrian dishes at the Sacher, or anywhere else in Vienna for that matter.  "Light Austrian fare" may be an oxymoron, for, if such a concept exists, I didn't run across it during nearly a month in Vienna.
The Sacher name is known beyond Vienna's city limits, too, with hotels in Salzburg and Seefeld. The Hotel Sacher Salzburg is the only truly luxurious hotel in that precious little picture-postcard city. At the same time, it exudes an unexpected "small-town" friendliness that is at the heart of its charm. Although many rooms were undergoing renovations at the time of my visit, construction activity was so well managed that noises never intruded upon guests. The completed new rooms, similar to those at the Vienna hotel, are richly decorated in soft neutral tones, with fine carpets, silk wall coverings, original paintings, window shutters to ensure utter quiet, and even flatscreen TVs integrated into bathroom mirrors. The strikingly redesigned public spaces have an especially open, expansive feel.
Here, the gourmet restaurant, Zirbelzimmer, did offer some exceptionally well-prepared lighter items in addition to Austrian dishes.  Of course, the bountiful breakfast could do plenty of damage on its own, but, thankfully, I was able to cull healthier options from amidst the glory of scrumptious pastries (including the ubiquitous Sacher Torte), cheeses, and sausages. Still, maybe this was when I should have run off to the third Sacher property – the Relax & Spa Hotel Astoria. Just north of Innsbruck in the hills of Seefeld, the hotel (also recently renovated) boasts a 2000 square meter spa and a wealth of exercise programs designed to rejuvenate mind and body.
Key impressions: calming, historic, vast, impeccable
The grand Hotel Imperial was originally the residence of Duke Philipp of Württemberg and Duchess Marie Therese, but they sold their home only five years after moving in, and it was converted into a hotel in 1873. Interiors reflect 19th Century aristocratic Viennese style: ornate marble, gilt-edging, massive crystal chandeliers, and an impossibly wide Royal Staircase that winds toward suites and rooms. At the Imperial, every detail of architecture and decor tells its own tale of Austrian history.  It could probably whisper the secrets of the many luminaries who have slept there, too, from crowned heads of state to  Richard Wagner and Mick Jagger.
But, let's get back to the present and a humorous tale of my own:
When I arrived at my junior suite and looked around, I was impressed to see a nice little "half bath" tucked just beyond the entry.  This was in addition to the enormous marble bathroom, easily the size of a small bedroom in most hotels.  It was only later, when I meandered to the bathroom for a more practical purpose, that I realized there was no toilet there at all!
Apparently, the space I'd seen near the door was the only WC.
This is how I learned about an odd feature of Austrian hospitality law: toilets are required to be separated from bathing areas.  As I understand it, that law can be properly addressed by encasing the toilet in a cabinet inside the larger bathroom space (looking much like a second shower stall), or by placing the toilet elsewhere entirely, in it's own little closet.
The Imperial managed this legal quirk via "the closet" method – which, after a few months in Austria, I came to regard as the "old school" style.
Now, "old school" is not necessarily a bad thing at all. In the case of the Imperial, the phrase describes its very essence, especially the hotel's approach to service–which is absolutely flawless in the highest "old school" tradition.
Actually, the Imperial's Concierge is legendary in Vienna for having the best connections in the city and the near magical ability to access the rare and difficult on behalf of guests.  For me he managed to secure ideal seats at an otherwise sold out performance of the Vienna State Ballet, held at the world renowned Opera House, just a five-minute walk away.
Rooms and suites at the Imperial are astonishingly huge. One could fit an entire New York City apartment inside even the junior suites, and the largest suites are so spacious that voices actually echo.  Furnished with precious antiques, walls adorned in jewel-toned silks, 19th Century Vienna comes alive in this palatial home. But there is a penalty for such authentic décor, no matter how pristinely preserved: short-lived comfort. After about thirty minutes perched on the sofa, the bed begins to look seriously inviting.  (Once there, do try lying on your back and staring up… and up … and up!  The perfectly painted, ornate ceiling moldings and pure crystal chandelier are ever so far away, and gazing at them is quite mesmerizing—a bit like staring into the glow of a candle's flame.)
The Imperial is the idyllic home for travelers who relish the embrace of history, who love vast expanses of space, and who appreciate deeply dedicated, thoughtful service.  My personal butler was a gem and on a daily basis provided fresh flowers and afternoon treats, which included luscious bite-sized portions of the hotel's signature chocolate confection, the Imperial Torte. However, after noting that I had ordered soup and vegetables via room service the evening before, my gift the following day was a three-tiered tray of crudités instead of the usual pastries and chocolates. A wise man, indeed!
Key impressions: stimulating, vibrant, cosmopolitan, "new school"
I didn't expect to love the Hotel Sans Souci.  The decor reminded me too much of my own apartment in New York and I wasn't sure how I felt about encasing myself in a clone of my "other life." As it turned out, I truly appreciated this hotel for all the same reasons I expected not to.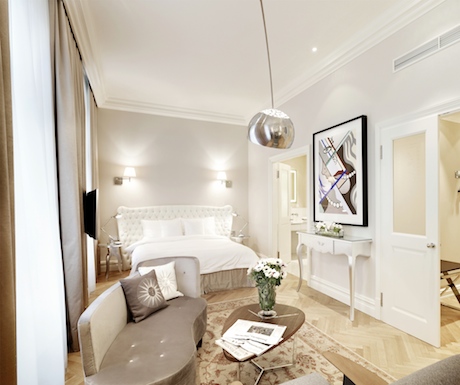 If the Hotel Imperial is 19th Century, the Sans Souci contrasts by being all about the 21st Century—and then some.  Designed by "yoo Studio," the in-house design team of the company founded by Philippe Starck, it can boast a generous collection of modern art in public spaces as well as rooms. Guests are just as likely to stumble across original works by Roy Lichtenstein or Allen Jones as to be seated on designer furniture by Tom Dixon or Egg Chairs by Arne Jacobsen.
I only wish New York apartments sported bathrooms and bathtubs the size of those at the Sans Souci. And, though the hotel may be "old school" in its WC placement, the rooms are decidedly "new school" in having fabulous automated toilets with a half-dozen push-button, wash and dry features.
The restaurant is thoroughly modern, too, with cuisine that nods to various cooking styles, from molecular gastronomy to the inevitable Austrian classics, yet remains flavorfully grounded in its own contemporary eclecticism. Breakfast brings an array of healthy and vegetarian options, including multiple preparations of tofu and homemade whole-grain cereals. The gym is spacious, fully equipped, and houses the incredible Technogym Kinesis Wall, which the staff trainer taught me to use. I've seen it before but didn't know how to work with it.  Now that I do, I can't wait to encounter this system again.
Hotel Sans Souci can be found in the trendy Burggasse area, near the Museum Quarter. It's part of the residential neighbourhood of Vienna's 7th district, and wandering around one feels far less like a tourist and more a part of the community than at the previously noted hotels, which are all within the central ring of the city and a stone's throw from most tourist sites. Sans Souci was my last home in Vienna before renting a car and moving on, but its location and restaurant was my favourite. For those who prefer hip urban chic topped off by luxury, this is surely the place to be.